Dollhouses for All Ages: The Art Institute's Thorne Miniature Rooms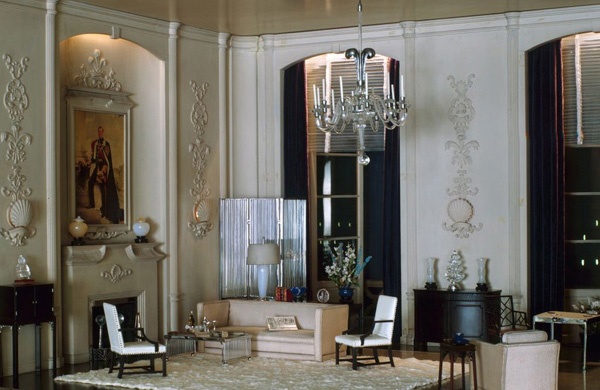 Lindsay Mican Morgan, the keeper of the 68 Thorne Miniature Rooms at the Art Institute of Chicago, is deciding where she would live if a ray gun shrank her down to the rooms' scale, where one inch represents one real-world foot.
"I want to go to the modern rooms … the London nighttime scene [above] is gorgeous. But I think in reality, I would most enjoy some of the kitchens. I love all the pots and pans."
Mini kitchenwares made to scale, such as the ones in the 1752 Pennsylvania kitchen above, are just some of the gallery's incredible, historically accurate details crafted by hand in the 1930s. To wit: one of the rooms boasts a gentleman's secretary, complete with a drawer within a drawer and a key that really works. In others, viewers can just barely glimpse a side room through a doorway, but it's fully furnished anyway. And tables throughout the rooms are scattered with in-progress checkers games or half-finished drinks.
Despite their lived-in feel, one element is purposely omitted from every room: residents. According to Mican, it helps viewers, especially young ones, imagine themselves inside. In fact, it's not uncommon for Mican to see kids in the gallery planning adventures in each room, or picking out the bed they would most like to sleep in.
"I think the most charming thing is, sometimes I'll hear [adults] talking about coming when they were a child," says Mican. Mrs. James Ward Thorne, the dollhouse and miniatures enthusiast who commissioned the collection, gifted it to the museum in 1941. Since then, perusing the rooms that span specific eras and regions has become a cross-generational tradition for many.
Flashback: The Making of the Rooms
The Great Depression was a stroke of luck for basically no one, except Mrs. Thorne. For a woman of her stature, it made her project extremely affordable—even commissioning custom mini couches—and allowed her to build one of the largest miniature collections on record.
Her collection isn't just large, though. It's also accurate, thanks to Mrs. Thorne's "a little outside the normal" passion for style and design, as well as her plentiful source material. When her tiny rooms were being built, World War I had just ended, and many of Europe's struggling upper-class families were displaying their insular households to the public. Mrs. Thorne took to touring those homes and visiting American museums, where displays of period rooms were in vogue.
In Mrs. Thorne's era, even Queen Mary was so fascinated by miniatures that the English people gifted her an elaborate dollhouse complete with working plumbing. "Whatever the Queen does, every society lady wants to be involved in [it]," Mican notes. So it's not a surprise that soon after, Mrs. Thorne and her team of master craftsmen began work on these now-famous miniature rooms.
Flash Forward: Mrs. Thorne's Miniatures Today
The rooms are now decades old, and Mican reports that maintaining them is a challenging task, sometimes requiring tiny needlepoint. Arguably, the hardest part of Mican's job is honoring the exacting vision Mrs. Thorne laid out in her sketches, which covered everything from each room's particular layout to its lighting. "She was very specific about the time of day, the time of year. There was supposed to be a very specific type of lighting," she says, which included natural lighting.
Occasionally, hewing to Mrs. Thorne's vision means that "romanticism trumps reality." In the Pennsylvania kitchen above, for example, a gun complete with a powder horn is stored above the fireplace. "[It's] a horrible idea, to have explosives over a fireplace," Mican says, pointing to the small lapse from reality. But Mican doesn't linger on it. In a collection that's otherwise so perfect and intricate, the rogue powder horn is charming—and even humanizing.