Don't Noodle Me: Where to Find Seattle's Freshest Noodle Dishes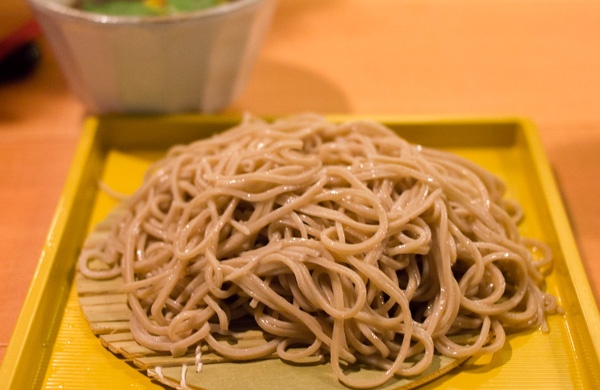 Seattle has a noodle problem. The city's standards are too low: a half-million people willing to accept as lunch bowls teeming with strands of limp dough lazily floating, the sins of a thousand factory noodles covered in a murky pond of sauce.
A great noodle has the stretch of silly putty, the snap of a rubber band, and a bite that is its very own. The meltingly-thin, precisely-cut fresh pastas of Italy stand at attention, grabbing life by the (meat)balls. Thick, doughy, irregular Chinese mein snake about, tails flinging, as they're slurped up. Earthy but delicate, strands of soba sit with the quiet attention of a geisha, ready to perform their most beautiful skills. What makes the difference isn't the flour used or the shape being pulled, rolled, or extruded, a great noodle comes from being freshly made for that day's meal.
It's time for the eaters of Seattle to remember the culinary heights to which a great noodle can slither its way.
Miyabi 45th
Seattle's most consistently underrated restaurant, Miyabi 45th starts out a little on the defensive, serving neither the American favorite of Japanese cuisine, sushi, nor the trendy darling, ramen. Instead, the restaurant's beautiful stoneware presents diners with immaculately made bowls of fresh soba noodles. The delicate buckwheat strands are served, depending on the dish, hot, cold, mixed, or with broth, but the spot-on servers are always around to provide guidance on choices and instructions on the best way to eat them.
Sichuanese Cuisine
The imperfections in Sichuanese Cuisine's noodles are as integral to the International District restaurant's dishes as perfection is to Miyabi 45th's. The soft doughiness makes the noodles prone to irregularities, tiny depressions in which pockets of sauce hide out, making every bite just a little bit different from the one before.
Il Corvo
Chef Mike Easton says he didn't learn to make pasta in Italy, he just learned how to think like an Italian. So each morning, he thinks like an Italian about what three fresh pastas he'll make to match up with the produce in that day's delivery. The combinations of pasta shape and sauce are infinite, but Easton's steady hand on the dough means that no matter what's on the menu, it'll have that perfect pasta texture.
Shanghai Garden
The menu proclaims "high nutrition barleygreen hand shaven noodles," and one wonders just how nutritious the lumpy green bits that arrive on the plate could be. But with a nibble of the bouncy dough, all doubt about the deep jade color and the claims of nutritional benefit will be forgotten. The restaurant has held up its corner of the ID through multiple decades, and these noodles are a big part of the reason why.

In need of an outlet for her effervescent enthusiasm for all things edible, Naomi Bishop started sharing her thoughts on food at her blog, TheGastroGnome, in 2006. Her lack of fear—she'll eat anything and go anywhere—lead her to discover restaurants hidden in plain sight or find the most delicious needle in the haystack of a menu. Her writing appears on Serious Eats, Eat Your World, and in the Seattle Weekly. Download her app, Unique Eats of the Northwest to find the best restaurants you've never tried.