Meet the Artist: Actress Claire Kander of "Pullman Porter Blues"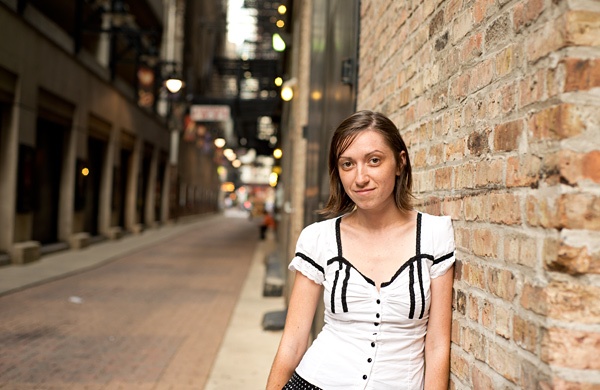 THE ARTIST: Actress and singer-songwriter Claire Kander
THE SHOW: Pullman Porter Blues
THE DATES: Through Sunday, October 20
Claire Kander has made a name for herself in the Windy City, having recently graduated from roles in storefront productions to a part in the Chicago premiere of Pullman Porter Blues at the Goodman Theatre. The story centers around African American train workers on the luxury cars of the 1930s, and to get the feel of the time period, the show is backed by an onstage blues band. Kander's character—who's also part of the music ensemble—plays harmonica, an instrument that the actress wasn't too familiar with when cast. However, Kander's time spent as one half of the folk duo Scuttlebuggs has given her plenty of experience with music, as well as flying by the seat of her pants.
In fact, she just returned from an adventurous four-month tour that, between sending the band camping at Yellowstone National Park and scouring San Francisco for the best espresso, consisted largely of open-mic sets. "We tried not to schedule too much," she says. Now she's back in Chicago for the Goodman show, jumping, as she puts it, "right from one great life experience to another."
Although some might find a life of sporadic gigs and constant movement exhausting, Kander seems to thrive on it. Sometimes her dual careers even inform each other; the formation of Scuttlebuggs was a result of her unpredictable acting schedule and, in true Chicago fashion, the weather. "There [are] always lulls in an actor's life when ... there are just no roles to be had or you're hibernating because it's 30-below. That's when music happens," Kander explains. "You gotta do something when you're holed up."
Scuttlebuggs's quaint harmonies and starry-eyed introspection—which have led to frequent gigging at local venues such as Martyrs', Uncommon Ground, and Beat Kitchen—are a far cry from the gritty stomp of Pullman Porter Blues. However, Kander believes that different musical styles are all "related as long as you mean it. And I always try to mean it."
Photo: © Timothy Burkhart, Groupon