Set the Table: Backyard Dinner Party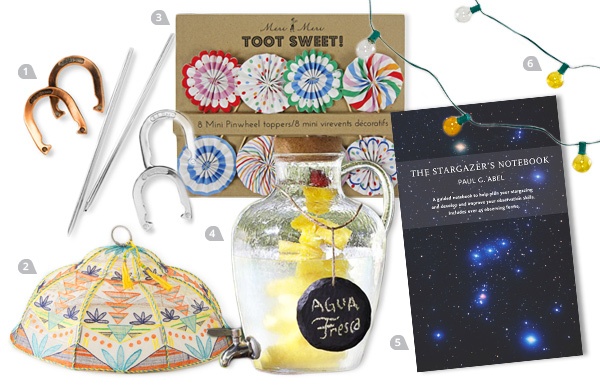 Summer afternoon. To Henry James, they were the two most beautiful words in the English language. Unfortunately for most Chicagoans, they never last long enough. To make the most of the few warm evenings left this year, throw one more carefree backyard dinner party, complete with colorful table settings and several rousing rounds of horseshoes, played barefoot in the grass.
The Spread
An embroidered food cover keeps snacks safe from uninvited six-legged guests, while pinwheel-topped toothpicks evoke vintage bunting or a summer circus. After the sun sets, plug in strands of twinkle lights, or turn them off for some stargazing with help from a handy guide from The Book Cellar (4736 N. Lincoln Ave.).
1. Horseshoe set; LL Bean ($69)
2. Loomed Palmae food cover; Anthropologie ($24.95 on sale)
3. Toot Sweet mini pinwheel toppers; Meri Meri ($6.95 for eight)
4. Jug outdoor drink dispenser; Pottery Barn ($59)
5. The Stargazer's Notebook: A Guided Notebook to Help Plan Your Stargazing and Develop and Improve Your Observation Skills; The Book Cellar ($17.95)
6. Mimosa-colored 10-bulb string lights; World Market ($16.99)