What to Wear: Celebrate the Fourth of July in Stars and Stripes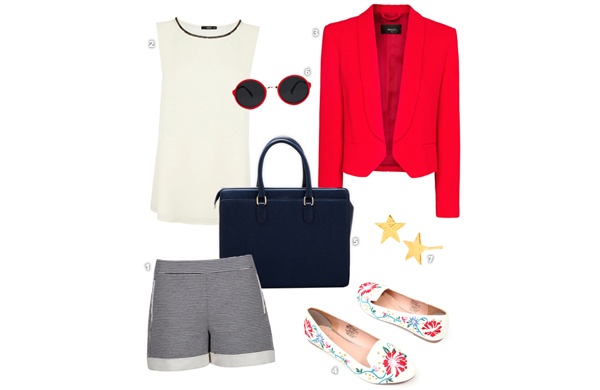 Life, liberty, and the pursuit of happiness—these are the principles we honor with loud noises on the Fourth of July. After the Declaration of Independence was signed in 1776, Americans celebrated with gunfire, bonfires, and fireworks. The vibrant lights and celebratory booms screamed into the sky above the happy brouhaha, kicking off what would become the holiday's most beloved tradition. This Fourth of July, carry the torch onward at Navy Pier's annual fireworks spectacle; in Pilsen, the site of perhaps the city's best neighborhood display; or by staying home and flicking the lights on and off. Wherever you choose to celebrate, this red, white, and blue outfit is likely to be the subtlest expression of patriotism you see.
The Look:
Pay subtle homage to Betsy Ross's design with stripes, star earrings, and the flag's color palette. To keep your look from looking too costume-y, pair it with floral-patterned shoes and a structured, contemporary tote.
1. Striped shorts; Ted Baker ($118)
2. Sleeveless top; Oasis ($49)
3. Cropped tuxedo blazer; Mango ($59.99)
4. Senorita embroidered loafers; Akira ($34.90)
5. Structured navy tote; Lori's ($84.90)
6. Red circle sunglasses; Nasty Gal ($18)
7. Gold star earrings; Gorjana ($35)