$10 for $15 at La Marsa
Troy Location
| Value | Discount | You Save |
| --- | --- | --- |
| $15 | 33% | $5 |
Be the First to Buy!
Limited quantity available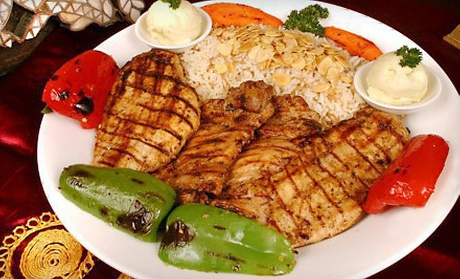 In a Nutshell
A mediterranean mix of charbroiled meats and vegetarian dishes is served beneath the eatery's elegant ceiling drapery
The Fine Print
Expires Nov 29th, 2012. Limit 1 per person, per visit. Merchant is solely responsible to purchasers for the care and quality of the advertised goods and services. See the rules that apply to all deals.
A mediterranean mix of charbroiled meats and vegetarian dishes is served beneath the eatery's elegant ceiling drapery
The Groupon Guide to: Hotel Amenities
Most people choose a hotel based on what amenities it offers and how many of its TV channels show a live feed of the local city council. Here are some of the amenities that you might be lucky enough to experience on your next trip:
Pool full of people who can swim but not as well as you

Room service delivered directly to the hotel restaurant

Dogs that will keep your sheets warm when you're not using the bed and special electric jackets that will keep the dogs warm

Spa where they at least brush your teeth for you instead of just squishing your muscles

Unlimited wigs, so you can really feel like you're escaping

Rooms where families can go to yell at each other

An in-room safe for keeping items so valuable you would never trust yourself to touch them

Free wireless Internet that only goes to the hotel's email provider, Hotelwhispers.net