Bermuda Triangle Bar - Country Road
$10 for $20 at Bermuda Triangle Bar
| Value | Discount | You Save |
| --- | --- | --- |
| $20 | 50% | $10 |
Be the First to Buy!
Limited quantity available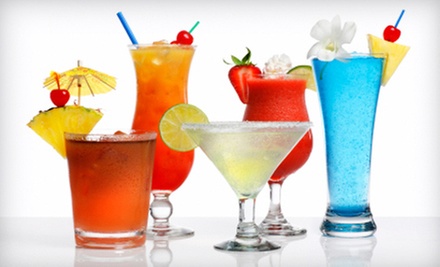 In a Nutshell
The Fine Print
Expires Dec 19th, 2012. Limit 1 per person, per visit. Merchant is solely responsible to purchasers for the care and quality of the advertised goods and services. See the rules that apply to all deals.
For those looking to get out of the house with the ladies
Late-night spots for those who don't sleep, from bowling to last call
The Groupon Guide to: Barbershop Chatter
The barbershop has gained a reputation for being the place to go for listening to all sorts of lively chatter. Here's a sampling of what you might hear your barber say next time you get a haircut:
"Take 2 inches off the top? Yep, that's something I can do when these casts come off."


"I've been thinking about labeling the scissor jar 'Scissors' and the comb jar 'Not Scissors.' Thoughts?"


"Ha! No, this isn't the kind of barbershop that sweeps up the hair clippings."


"Someone stole all of our magazines, but you can read this letter I've been meaning to send to my estranged wife."


"Welcome to the barbershop, where men are kings and kings are giants and giants are half off before noon."