$10 for $20 Worth of Ethiopian Cuisine at Enat
Lincolnia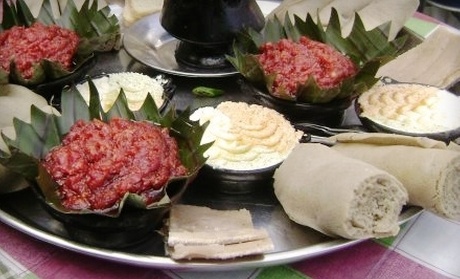 In a Nutshell
Meaning "mother," Enat houses chefs versed in Ethiopian fare—including minced beef specialty kitfo—plus wood furniture & plasma TVs
The Fine Print
Expires Dec 21st, 2012. Limit 1 per person, per visit. Merchant is solely responsible to purchasers for the care and quality of the advertised goods and services. See the rules that apply to all deals.
Meaning "mother," Enat houses chefs versed in Ethiopian fare—including minced beef specialty kitfo—plus wood furniture & plasma TVs
The Groupon Guide to: Dressing Up Dogs to Make Them Even Cuter
When sweater companies began making sweaters specifically for dogs, the world got a whole lot cuter. Here are some other things you can dress your dog in so that the world we live in remains on top in terms of being cute:
Doggy jeans

Regular jeans

Pieces of jeans attached to dog in random places with masking tape

Four coffee cups, one for each paw

Shawl that smells kind of like peas probably because it has dried pea soup on it

Shoebox with no top so dog can just sit in it

Upside-down bread-bowl hat

Tiny cane

Someone's hospital wristband

Necklace of chicken bones

A smaller dog who can remain still for long periods of time so it can form a scarf around a bigger dog's neck

Just a man's belt

If you've read up until now, you've probably figured out the point of this piece—dogs will look cute no matter what they're wearing as long it's one of the items listed above.