Iron Dragon Fitness - Robinson Ranch
$10 for 6pm 1-Hour Kickboxing and Bootcamp Session at Iron Dragon Fitness
| Value | Discount | You Save |
| --- | --- | --- |
| $20 | 50% | $10 |
Be the First to Buy!
Limited quantity available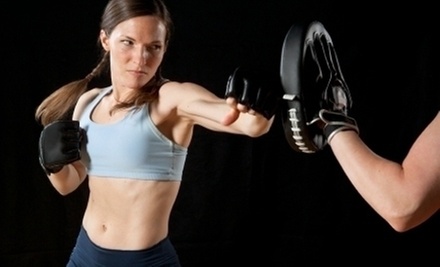 In a Nutshell
Janell Vela-Smith teaches basic kickboxing skills founded on centuries of knowledge & students sculpt new shapes with boot-camp workouts
The Fine Print
Expires Nov 5th, 2012. Limit 1 per person, per visit. Merchant is solely responsible to purchasers for the care and quality of the advertised goods and services. See the rules that apply to all deals.
Janell Vela-Smith teaches basic kickboxing skills founded on centuries of knowledge & students sculpt new shapes with boot-camp workouts
Thrilling and heart-pounding experiences
The Groupon Guide to: Teaser Trailers
While all movies are uniformly great, financial practicalities dictate that movie studios must build "buzz" around a movie, often before the footage exists to make a proper trailer for it. By having any combination of the following phrases fly toward the screen, you can craft a teaser trailer so compelling that it will make the final film look like garbage:
In a World

One Man

Everything You Thought You Knew

This Summer

Or Die Trying

And the Producers Who Brought You

Is Our Only Hope

Happy Feet 3