$10 for Food and Drink at King Kabob Express
Main Location
| Value | Discount | You Save |
| --- | --- | --- |
| $15 | 33% | $5 |
Be the First to Buy!
Limited quantity available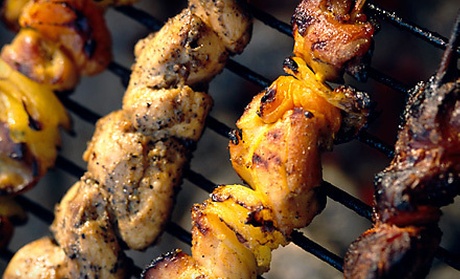 In a Nutshell
The Fine Print
Expires Dec 7th, 2012. Limit 1 per person, per visit. Merchant is solely responsible to purchasers for the care and quality of the advertised goods and services. See the rules that apply to all deals.
The Groupon Guide to: Science-Fair Projects
As the school year continues to heat up, it's time to start thinking about this year's science fair. Here's a list of science projects that will help you win the science competition at your school:
A homemade volcano, but you add chunks of hot dog to the baking soda/vinegar mixture to get texture and flavor

Use your homemade potato battery to send an electric current through your braces. Then tell people at your table, "My mouth's an outlet, plug in your phone."

In front of poster that says "What would life be like without photosynthesis?" place two pizzas side by side, one with green peppers and one without.

Just put out a clear plastic case and label it "air."

Perform the most challenging live science experiment of all—seeing if you can get your parents back together at your grade-school science fair.