$12 for $25 Worth of Merchandise at Nomad
Aggasiz - Harvard University
| Value | Discount | You Save |
| --- | --- | --- |
| $25 | 52% | $13 |
Be the First to Buy!
Limited quantity available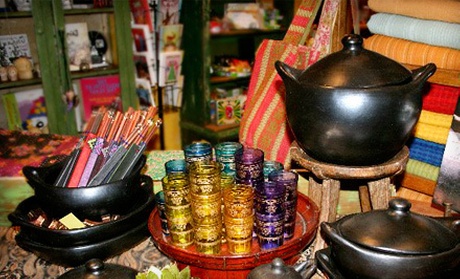 In a Nutshell
Handcrafted jewelry and eco-friendly clothing, folk art, and home decor in a globally inspired boutique that supports fair-trade artisans
The Fine Print
Expires Nov 30th, 2012. Limit 1 per person, per visit. Merchant is solely responsible to purchasers for the care and quality of the advertised goods and services. See the rules that apply to all deals.
Handcrafted jewelry and eco-friendly clothing, folk art, and home decor in a globally inspired boutique that supports fair-trade artisans
Lifestyle luxuries and décor for a cozy home
For those who dress to thrill
The Groupon Guide to: Healthy Snacks
The temptations of junk food are everywhere in the modern workplace, but you can get a natural afternoon boost by partaking in any of these healthy snacks:
• Carrot sticks
• Regular sticks
• High-protein Carrot Stix™ (carrot-flavored pressed vital wheat gluten)
• Gluten-free Carrot Stix™ (made of 100% carrot)
• For nonvegetarians, 6 pounds of elk—the leanest meat in the forest
• One of those little wheels of cheese encased in wax that can later be sculpted into a kitty
• Carrots (not in stick form)