$12 for Two Tickets to a Show at 9:30 p.m. at The Speakeasy Comedy Lounge
South Scottsdale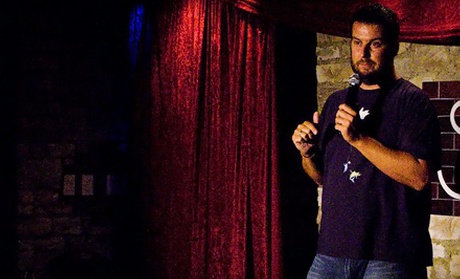 In a Nutshell
Located within Papi Chulo's restaurant at Hotel Clarion, comedy shows feature comics seen on lots of big-time shows & up-and-comers
The Fine Print
Expires Nov 24th, 2012. Limit 1 per person, per visit. Merchant is solely responsible to purchasers for the care and quality of the advertised goods and services. See the rules that apply to all deals.
Located within Papi Chulo's restaurant at Hotel Clarion, comedy shows feature comics seen on lots of big-time shows & up-and-comers
Great date experiences and other fun two-person activities
For those looking to get out of the house with the ladies
The Groupon Guide to: New Plays
Anyone who thinks live theater is a dying art hasn't experienced the magic of an actor creating an explosion on stage using only sounds from his mouth or changing into a different character using only a switch of the hat. Take a look at some of the fascinating contemporary plays coming to a theater near you:
The Sanders Family Chronicles: When the family dog dies, the Sanders family's 14 adult children must return to the small Southern town where they grew up. Getting these 14 very different people to agree on one dog's burial plot won't be easy, and you can bet secrets are going to be revealed.
Oh! To Move! or The Weather in Cincinnati Has Never Been So Clear: Don't ever say an old lady can't dance. Ever since her husband passed, Eva Marie can't stop boppin' to the beat. This 67-year-old has a new lease on life, and she's swingin' her stuff at every pub in town when she meets a stranger who loves dancing just as much as she does. This feel-good hit has critics saying "Go, Eva Marie, go!"
The Last Soldier of Queens: When a major corporation comes in and wants to turn all of Queens into a Dormart, a regular working-class man named Reginald Guy stands his ground. As Dormart razes the town to prepare for construction, Reg Guy watches his hometown transform into a postapocalyptic wasteland. It all comes to a head in a climatic showdown between Reg and his nemesis, The Bulldozer Monster.