Parks Old Style Bar-B-Q - 7444 Beaubien Street
$15 for $20 at Parks Old Style Bar-B-Q
| Value | Discount | You Save |
| --- | --- | --- |
| $20 | 25% | $5 |
Be the First to Buy!
Limited quantity available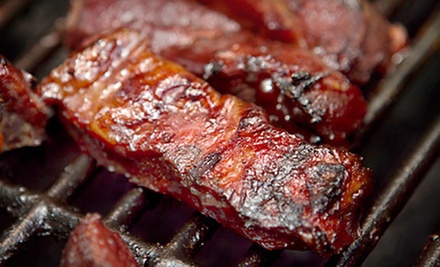 In a Nutshell
Old fashioned barbecue joint serves up smoky deliciousness with mouth-watering portions of sauce-slathered ribs, chicken & more
The Fine Print
Expires Oct 18th, 2012. Limit 1 per person, per visit. Merchant is solely responsible to purchasers for the care and quality of the advertised goods and services. See the rules that apply to all deals.
Old fashioned barbecue joint serves up smoky deliciousness with mouth-watering portions of sauce-slathered ribs, chicken & more
Uncomplicated dining experiences that won't waste your time or budget
The Groupon Guide to: Cool Scars
Fall is one of the worst times of the year because wearing a jacket, scarf, and long pants will cover up all of your cool scars. Here are some of the coolest scars you can have:
A face scar that has given you a permanent, perfectly symmetrical flesh goatee
A scar anywhere on your body that you got from a rich person throwing a wad of money at you
A mark on your stomach that resembles your favorite food—a roast turkey—which you got from swallowing one whole and having it pressed up against your stomach for a few weeks
A scar that either looks like a cigarette or was caused by a famous person carelessly holding a cigarette
Anything caused by a big, fat sword