Chic Couture - Chic Couture Littleton
$15 for $30 Worth of Merchandise at Chic Couture
| Value | Discount | You Save |
| --- | --- | --- |
| $30 | 50% | $15 |
Be the First to Buy!
Limited quantity available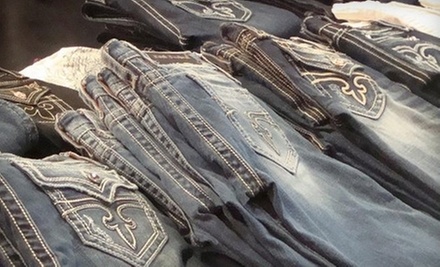 The Fine Print
Expires Nov 14th, 2012. Limit 1 per person, per visit. Merchant is solely responsible to purchasers for the care and quality of the advertised goods and services. See the rules that apply to all deals.
The Groupon Guide to: Types of Hugs
Hugs are a universal symbol of affection. How many of these hugging techniques have you mastered?
The Bear

The Bear from Behind

The Manly Half Hug

The Uncomfortable Roller-Coaster Harness

The Back Patter

The Back Patter ("I Love You, Bro" Variant)

The Every Last Bit of Toothpaste

The Pretend to Be a Statue and Then Leap Out When Their Back Is Turned

Robert Ludlum's The Containment Artifice

The No-Touch AKA "The Hoverer"