$3 for a 10oz Frozen Yogurt at Yofresco Frozen Yogurt
Las Vegas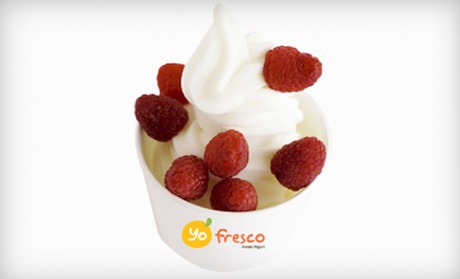 In a Nutshell
Healthful yogurts crafted with high-quality ingredients are adorned with dry toppings & fruit including mango, cantaloupe & carob chips
The Fine Print
Expires Dec 2nd, 2012. Limit 1 per person, per visit. Merchant is solely responsible to purchasers for the care and quality of the advertised goods and services. See the rules that apply to all deals.
Healthful yogurts crafted with high-quality ingredients are adorned with dry toppings & fruit including mango, cantaloupe & carob chips
The Groupon Guide to: Making a Music Video
Music videos are short movies designed to add nonexistent layers of meaning to a song. Here's what you'll need to put together a hot, happenin' vid:
Costumes: The costumes are for the portion of your audience that doesn't really care for music but goes insane for fashion hats.
Sets: Your sets should include a bedroom, a car, a farmers' market full of loose fruit you can accidentally knock over, a mall from the future, a room that's just full of shapes, and a cell-phone store where you can be filmed purchasing Vincinity's brand-new SuperGalactic Screenless 4G.
Backup Dancers: This group of sassy hard bodies will make you look like you know what you're doing by mimicking the dance moves you're inventing on the spot.
Hit Song: It might seem difficult to write a hit song, but it's not hard to write a rock 'n' roll cover of already-popular "We Three Kings."