Moe's Southwest Grill - Annapolis - Annapolis
$4 for $8 at Moe's Southwest Grill - Annapolis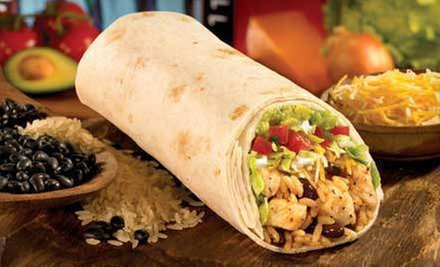 In a Nutshell
Whole-grain tortillas wrap around handmade guacamole, grass-fed steak, and choices from more than 20 fresh ingredients
The Fine Print
Expires Oct 12th, 2012. Limit 1 per person, per visit. Merchant is solely responsible to purchasers for the care and quality of the advertised goods and services. See the rules that apply to all deals.
Whole-grain tortillas wrap around handmade guacamole, grass-fed steak, and choices from more than 20 fresh ingredients
The Groupon Guide to: Baby Proofing Your Home
For some parents, keeping a new baby safe is their highest priority—even above their own comfort. What are some ways to make your home safe for the new baby?
• Block exposed electrical outlets with a glob of nontoxic baby wax.
• Replace curious, slobbering pets with more cuddly stuffed animal versions.
• File down the sharp corners on any table or, better yet, throw your furniture out and eat everything standing over the sink.
• Stop swearing! Babies can sense when you express your emotions in order to feel better—instead, keep it bottled up throughout their childhood.
• Keep your newly safe house clean and organized by never bringing an unpredictable baby into it.