Naughtical Comedy Show - The Brixton
$5 for a Ticket to the Nautical Comedy Show at 8 p.m. at Naughtical Comedy Show
| Value | Discount | You Save |
| --- | --- | --- |
| $10 | 50% | $5 |
Be the First to Buy!
Limited quantity available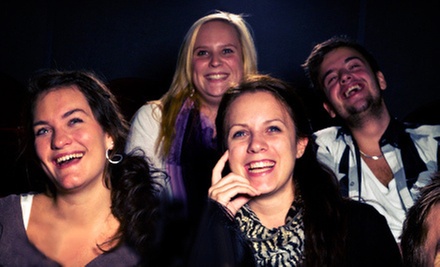 In a Nutshell
Julie Weidmann leads a crew of LA comedians who mix standup comedy with sketches, hilarious songs, and videos
The Fine Print
Expires Dec 11th, 2012. Limit 1 per person, per visit. Merchant is solely responsible to purchasers for the care and quality of the advertised goods and services. See the rules that apply to all deals.
Julie Weidmann leads a crew of LA comedians who mix standup comedy with sketches, hilarious songs, and videos
The Groupon Guide to: Football Statistics
Football box scores only list the most popular football statistic—touchdowns—but there are actually millions of other statistics kept each game. Here are some lesser-known football stats that you should be familiar with if you ever want people to call you Professor Pigskinsworth:
YAS: Yards After Smiling

TOPA: Time of Playing Around

INTTFG: Interceptions Thrown for Goofs

ST: Soft Tackles

QBRPN: Quarterback Rating Post Nap

PBHF: Points Before High-Fiving

PAHF: Points After High-Fiving

PDHF: Points During High-Fiving

PTCIC: Passes to Child in Crowd

SRSSSCCY: Slow Runs So Someone Can Catch

LRWSD: Longest Run While Silly Dancing

OFHIU: On-Field Ham-It-Ups

HUGS: Hugs

TDS: Totally Dreamy Substitutions