Whiffies - Whiffies
$6 for 2 Savory Pies at Whiffies
| Value | Discount | You Save |
| --- | --- | --- |
| $10 | 40% | $4 |
Make room under the tree! Print a beautiful gift envelope and card or send a stunning e-card. Check Them Out
Be the First to Buy!
Limited quantity available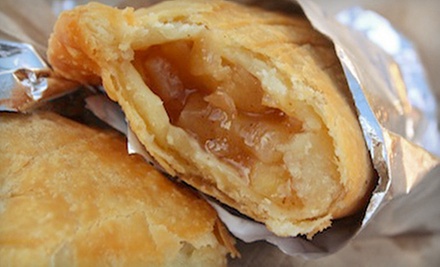 In a Nutshell
Golden pastry crust envelops daily rotations of beef brisket, tofu pot pie, or mac-n-cheese stuffing
The Fine Print
Expires Jun 15th, 2013. Limit 1 per person, per visit. Merchant is solely responsible to purchasers for the care and quality of the advertised goods and services. See the rules that apply to all deals.
Golden pastry crust envelops daily rotations of beef brisket, tofu pot pie, or mac-n-cheese stuffing
The best culinary experiences and epicurean products
Uncomplicated dining experiences that won't waste your time or budget
The Groupon Guide to: Types of Bread
"Oh, that sweet wheat wonder!" is the way our national anthem used to begin before the media began its unjust campaign against carbs. Check out this list of all the good breads you could get back in those wonderful days:
Whole wheat

Half oat

All seeds

Garbled corn

Kid-approved crustless

Double white

Grandpa's rye

All-milk insides

Meatloaf

Flav-O-Less American

Tons and tons of buttered buns

Last-Minute Gift Delivery Options
OPTION 1
Print Style
Get your scissors, tape, and printer ink ready. Delight them with a gorgeous do-it-yourself gift envelope and card! Watch The Video
OPTION 2
Electronic Style
Deliver your gift in electronic style with one of our stunning e-cards. Choose from four themes and select a delivery date at checkout. Experience It Yourself