Bob Shop Salon - Downtown Portland
$63 for a 90 Minute Therapeutic Deep Tissue Massage at Bob Shop Salon
| Value | Discount | You Save |
| --- | --- | --- |
| $95 | 34% | $32 |
Make room under the tree! Print a beautiful gift envelope and card or send a stunning e-card. Check Them Out
1 bought
Limited quantity available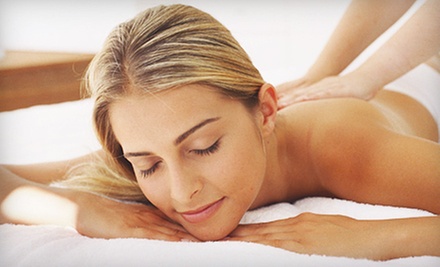 In a Nutshell
The Fine Print
Expires Jun 19th, 2013. Limit 1 per person, per visit. Merchant is solely responsible to purchasers for the care and quality of the advertised goods and services. See the rules that apply to all deals.
The Groupon Guide to: Naming Your New Baby
The name you give your baby will follow it the rest of its life, shape its early development, and eventually be etched onto its trophy for "Best Son or Daughter Ever." Here are the steps to naming your new baby:
Step One: Does it look like a "Kyle?"

Step Two: Check the largest depository of names known to man, Facebook. See if anyone has said anything funny enough lately to have a baby named after them.

Step Three: Wait wait wait is it a boy or a girl, that might be important. We're not saying it is definitely important, but some people may find it important.

Step Four: Have you tried asking the baby what it would like to be named? Babies will smile and release a small amount of gas when presented with a name that pleases them.

Step Five: Probably go with Kyle.

Last-Minute Gift Delivery Options
OPTION 1
Print Style
Get your scissors, tape, and printer ink ready. Delight them with a gorgeous do-it-yourself gift envelope and card! Watch The Video
OPTION 2
Electronic Style
Deliver your gift in electronic style with one of our stunning e-cards. Choose from four themes and select a delivery date at checkout. Experience It Yourself