Three-City Tour of China with Airfare - Beijing, Xi'an, and Shanghai
10-Day, 8-Night Tour of China with Airfare from Los Angeles or San Francisco, Domestic Airfare in China, Accommodations, and Daily Breakfast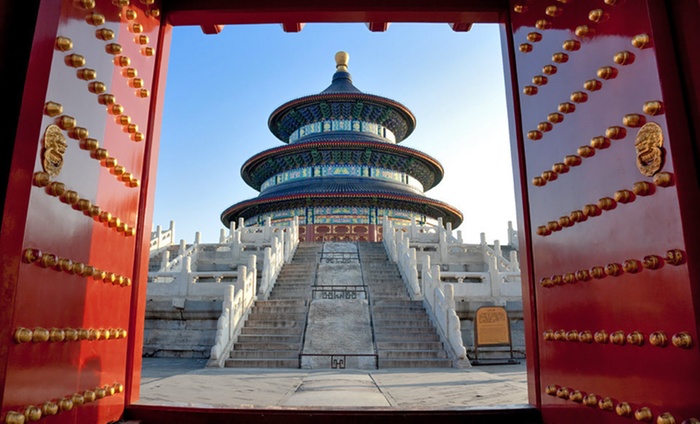 Visit Ancient Wonders and Modern City Centers on a Three-City Tour of China
On this 10-day, 8-night tour of China from AffordableAsia.com, you'll discover three of the country's major cities—Beijing, Xi'an, and Shanghai—with guided tours and optional excursions at each stop. The trip also includes round-trip international airfare from Los Angeles (LAX) or San Francisco (SFO) on Air China, domestic airfare between each city, accommodations in luxury hotels, and a daily American breakfast.
For a full itinerary, click here.
Days 1–4: Beijing
Your tour of China's capital city begins with a visit to Qianmen Street, a pedestrian-only boulevard lined with traditional shops. Then you're off to Tiananmen Square, also known as the "Gate of Heavenly Peace" since it served as the main gate to the Imperial Palace during the Ming and Qing dynasties. Today, the square is flanked by the National Museum of China and the Mao Zedong Memorial Hall, which displays the former chairman's remains. Next up, head to the world-famous site of the 2008 Summer Olympics, where you can take pictures at Olympic National Stadium (a.k.a. the "Bird's Nest") and Olympic National Aquatics Center (a.k.a. the "Water Cube"). You'll also have some free time to explore Beijing on your own, or take an optional excursion to the Forbidden City or the Great Wall of China.
Days 5–6: Xi'an
At more than 3,100 years old, Xi'an is one of China's oldest cities. On the way into the city center, you'll stop at the Drum Tower and Bell Tower, a pair of ancient structures that date back to the 14th century. The rest of the time in Xi'an is yours to sightsee at your leisure, or you can take a tour to see the famous Terra Cotta Warriors. Often called the "8th Wonder of the World," the 7,000 life-size terra-cotta soldiers and horses were built in the 3rd century BC and placed here in the mausoleum of Emperor Qin.
Days 7–10: Shanghai
Your first stop in Shanghai, the country's most populous city and its center of commerce, is the Shanghai Museum, where you can browse Chinese bronze works, ceramics, and calligraphy. Then, head to Nanjing Road for an afternoon of shopping along a 3.4-mile stretch lined with name-brand retailers and specialty shops selling fine silks and jade. In the evening, you'll have the option to attend a Chinese acrobatics show with dinner. The next day, stick around Shanghai and explore the city on your own, or take an optional trip to Suzhou, a nearby water village with Old-World stone bridges and pagodas.
What You Get
Valid for a Travel with a Friend package (two Groupons required), or pay single supplement fee to travel solo. Read about package structures here.
$1,199 for an eight-night China tour with round-trip airfare from Los Angeles departing on 2/12, 2/26, or 2/28; or from San Francisco on 2/26 or 2/28.
$1,285 for an eight-night China tour with round-trip airfare from Los Angeles departing on 3/3, 3/7, 3/10, 3/14, 3/17, 3/21, 3/24, 3/28, or 3/31; or from San Francisco on 3/3, 3/7, 3/10, 3/14, 3/17, 3/21, 3/24, 3/28, or 3/31.
$1,199 for $1,349 toward an eight-night China tour with round-trip airfare from Los Angeles or San Francisco. Departure dates are between 4/12 and 10/18; see a full list of available dates here.
Book by: 2/15/13
Travel by: 10/27/13

Solo Traveler Fee: $320 for January–March departures; $360 for April–August departures; $420 for September–October departures
Included in all options:
Read the Fine Print for important info on travel dates and other restrictions.
What Makes This Getaway Great
We're confident in your Groupon experience and back it with the Groupon Promise. Learn more.
Groupon-Exclusive Discounts. We negotiate directly with hotels and tour operators to get you the deepest discount available -- as only Groupon can.

Handpicked Travel. Our travel experts and writers research every getaway for you.

Booking Guarantee. If the merchant is unable to book the stay you want during the available dates and before the book-by date, we'll refund your purchase.
Be the first to post!
The Fine Print
Book by 2/15/13
Travel by 10/27/13
Limit 1/person, +3 as gifts
Limit 1/visit
Must cancel in writing
120-day notice or $100 fee, 60-day notice or $200 fee; 30-day notice or $300 fee; 15-day notice or $500 fee; 3-day notice or $1000 fee; less than that, fee up to Groupon price
Redemption occurs upon booking w/ merchant; no refunds will be processed by Groupon after redemption
Merchant responsible for customer refunds and fees once voucher is redeemed
Airfare not refundable after booking
18+ to check in
Credit card req'd at booking
$100 fee to depart from JFK after 4/1/13
$320 fee to travel solo Jan-Mar; $360 Apr-Aug; $420 Sep-Oct.
Merchant is solely responsible to purchasers for the care and quality of the advertised goods and services.
See the rules that apply to all deals.
Getting There
By plane: includes round-trip airfare from LAX or SFO; includes domestic airfare between Beijing, Xian, and Shanghai
By transit: includes in-country transfers
Traveler's Tips
A passport is required for all travel outside the U.S.
Before international travel, always check the State Department's website for important info on the destination and its entry/exit requirements.
The Groupon Guide to: Talking to Celebrities
Everyone knows that celebrities are just as excited to see you in real life as you are to see them. Here are the best ways to initiate conversations with your favorite stars of stage and screen:
"Hi, I loved you in [name of movie or chef competition]. Speaking of love, would you ever consider playing tennis with me, a fan? Speaking of fans, have you ever been on one of those weird boats in the Everglades?"


"Whoa! It's you! My parents are always trying to tell me you aren't real and that you're one of those computer-generated cartoons like Shriek from Shriek 2. You should talk to them. They're at the other end of this rope."


"Hey, you're from that movie where the characters ate the pizza! Will you autograph this coupon for free breadsticks with the purchase of a large eight-meat?"


"You must hear this all the time, but I've gotta ask. Is that your real hair?" [tug hair jokingly] [tug again depending on response]


"Where do I know you from? Don't tell me. Don't ever tell me. I need to do this myself. I can't say for sure what would happen if you told me."