Waterfront Resort with Charleston Harbor Views
Charleston Harbor Resort & Marina - Greater Charleston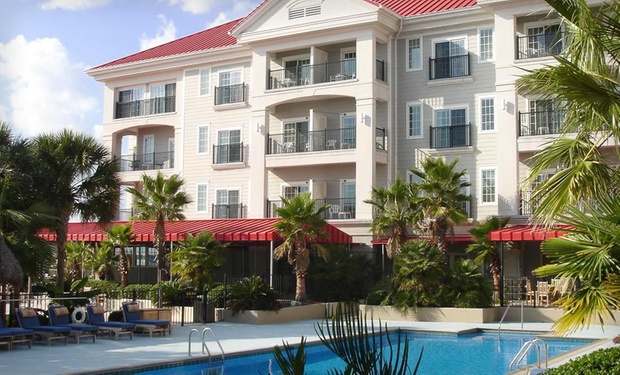 Family-Friendly Resort with Harbor Views
At the top of the water fountain in front of Charleston Harbor Resort & Marina, there's a statue of a leaping marlin. It's a tribute to an 881-pound blue marlin that was caught in the resort's private marina—the largest fish of its kind ever snagged in South Carolina. The marina is the center of the action here: you can sit on the harbor and look out to Fort Sumter and the Charleston skyline as sailboats, schooners, and yachts come in. The marina also features its own concierge service, a floating dock, and access to a private beach.
A solid-teak bar made from the wood of an old sunken ship is on display at The Reel Bar, which serves casual bar fare amid old-fashioned tackle gear and antique dinner bibs made of fishnets. A companion restaurant, Indigo Grille, serves up seafood-centric fare with a southern twist. Guest rooms are decorated with bright colors and a nautical motif. In deluxe rooms, you can cuddle up next to an electric fireplace, which sits beneath a mounted flat-screen TV. .
Mount Pleasant, South Carolina: Shallow Saltwater Bays and Naval History near Charleston
Situated across the water from downtown Charleston, Mount Pleasant is lined with shallow bays and creeks. On guided saltwater tours, you can paddle through the water on kayaks to see the remnants of 4,000-year-old Native American civilizations. A half-mile from the hotel, you can find the Patriots Point Maritime and Naval Museum, which houses the antisubmarine aircraft carrier USS Yorktown. Visitors can explore the flight deck, engine room, and wardroom of this 888-foot centerpiece, or check out any of 25 eclectic aircraft.
Read the Fine Print for important info on travel dates and other restrictions.
Amenities
Private beach and harbor
Onsite restaurant and bar
Pool and jacuzzi
Trolley and water taxi
WiFi
Free parking
What Makes This Getaway Great
We're confident in your Groupon experience and back it with the Groupon Promise. Learn more.
Groupon-Exclusive Discounts. We negotiate directly with hotels and tour operators to get you the deepest discount available -- as only Groupon can.

Handpicked Travel. Our travel experts and writers research every getaway for you.

Fearless Booking. Book your dates directly on Groupon. If your plans change, you can cancel your reservation with just one click, up until the cancellation deadline.
39 Questions
The Fine Print
Valid only for night(s) purchased
72-hour cancellation notice required prior to check-in or reservation is non-refundable
No-shows will be charged total Groupon rate, no refunds, rescheduling, or rebooking allowed
Must be 21 or older to check in
Credit card required at check-in
Traveler name must match ID at time of check-in
Must provide traveler's name at purchase, which will be provided to Charleston Harbor Resort & Marina
Not valid with reward points
$12/day resort fee not included, due at check-in
12.5% tax not included, due at purchase.
Merchant is solely responsible to purchasers for the care and quality of the advertised goods and services.
See the rules that apply to all deals.
Other Details
Room Details
In All Included Rooms
One king bed or two queen beds
Standard occupancy: 2
Maximum occupancy: 2 in traditional rooms; 4 in deluxe Yorktown-view rooms
Adding occupants above standard: $10 per night for each additional guest 18 or older; guests 17 or younger stay free
Flat-screen TVs
Hotel Policies
Check in: 4 p.m.
Check out: 11 a.m.
Resort fee includes: wireless Internet access, bike rental for four hours, trolley service, free parking, coffee in the lobby, treat of the day, and other activities
Parking: included in resort fee
Rollaways: not available
Smoking policy: no smoking inside the property
Pet policy: pets are not allowed inside the property.
Accessibility: handicap-accessible rooms are available upon request by calling the property.
Room upgrades: not available
Getting There
By plane: about 14 miles from Charleston International Airport (CHS)
By cab: about $35 from CHS
By car: about 6 miles east of Charleston
The Groupon Guide to: Odiferous Lunches
Whether you eat lunch with your coworkers, costudents, or coconspirators, you want to be packing impressive smells in your midday meal. Here are some of the smelliest lunches around:
Tuna: The "fish of the sea" gives off a strong odor when let loose from its can. Mix it with mayo and relish to up its pungent power.
Garlic: When it comes to filling a room with smells, garlic is Mother Nature's edible Glade PlugIn. Turn any sandwich into a psychedelic smellscape by adding whole cloves of garlic to it.
Blue Cheese: The cheese that makes sense as much as it makes scents! Melt blue cheese using your desktop fondue maker (bowl on top of warm computer) and you've got yourself an all-day smell factory.
Flowers: Did you know they're edible? Well, most of them are, but they're extremely fattening. Check with your local florist for nutrition facts and yummy samples.