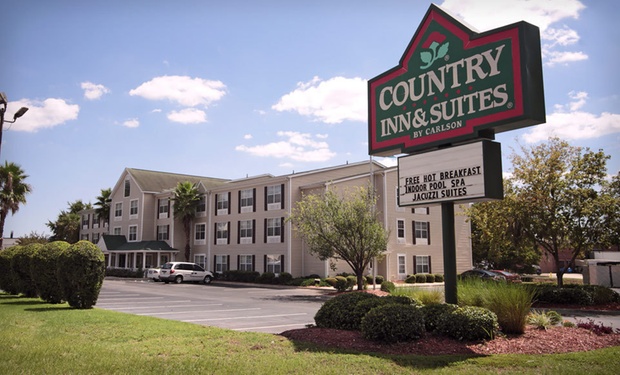 Savannah Hotel with Easy Access to Historic District and Tybee Island
With its 18th- and 19th-century architecture and tree-filled public squares, the Savannah Historic District draws millions of visitors each year—a portrait of the idyllic Old South. Locals, however, flock to a lesser-known destination: nearby Tybee Island, a quiet coastal town with some of the nation's oldest lighthouses still in operation. Both sites are easily accessible from Country Inn & Suites Savannah Midtown—the inn's street runs right into the heart of the city and is only two right turns from Tybee Island.
The hotel has elements of traditional Southern architecture—the front porch is topped with white rocking chairs and benches. Inside, the atmosphere is homey, with hardwood floors, a fireplace, and a grand staircase. There's also an indoor pool and hot tub, and a lending library replete with the middle-school diaries of esteemed authors.
Breakfast is served each morning in the inn's dining room. Staff member Phyllis Odom's favorite breakfast item is the make-your-own-burrito bar, where you can craft a southwestern wrap with eggs, ham, cheddar cheese, salsa and hot sauce. Coming in at a close second is the belgian waffle station—as Phyllis puts it, "Who doesn't love waffles?"
Savannah, Georgia: Historical Mansions and a Lively River Walk
Founded in 1733 as Georgia's first town, Savannah is not only one of the most graceful cities in the South but also one the most historic. The old but well-preserved architecture landed it on Forbes's 2011 list of America's Best Downtowns, and Travel + Leisure dubbed it one of the World's Best Cities in 2011 for the way it "reveres its heritage." You can see this in the city's 22 famous public squares, which play host to some famous landmarks, such as antebellum-era houses framed by moss-covered oak trees. Head to Oglethorpe Square to see the Owens-Thomas House, an English Regency–style mansion completed in 1819 that now serves as a museum; tours here depart from the original carriage house and go past its charming English-style parterre garden.
Another relic of Savannah's past, River Street, curves for about a mile along the Savannah River's south bank. The cobblestone walkway is lined with 100-year-old cotton warehouses that have been converted into antique shops, brewpubs, and galleries. Explore the riverfront in style aboard one of the Old Town sightseeing trolleys or during a horse-drawn carriage tour. Though the street is tamer than it was a few decades ago⎯when it was overrun with muscle cars and rowdy sailors⎯there's still plenty of energy here, with a lively pub scene and views of large ships lumbering toward the dock.
Read the Fine Print for important info on travel dates and other restrictions.
Amenities
Complimentary hot breakfast, cookies, and coffee
Indoor pool and hot tub
Porch with rocking chairs and benches
Fitness center
Free high-speed Internet
What Makes This Getaway Great
We're confident in your Groupon experience and back it with the Groupon Promise. Learn more.
Groupon-Exclusive Discounts. We negotiate directly with hotels and tour operators to get you the deepest discount available -- as only Groupon can.

Handpicked Travel. Our travel experts and writers research every getaway for you.

Fearless Booking. Book your dates directly on Groupon. If your plans change, you can cancel your reservation with just one click, up until the cancellation deadline.
29 Questions
The Fine Print
No-shows will be charged total Groupon rate, no refunds, rescheduling, or rebooking allowed
Traveler name must match ID at time of check-in
No refunds will be processed by Groupon after check-in
Valid only for night(s) purchased
Cancel 24 hours before arrival or reservation is non-refundable
Must be 21 or older to check in
Not valid with reward points
Credit card required at check-in
Guests must notify hotel after reservation to book additional occupants
$10 for additional occupants 18 or older paid at check-in
13% tax added at purchase.
Merchant is solely responsible to purchasers for the care and quality of the advertised goods and services.
See the rules that apply to all deals.
Other Details
Room Details
Standard Two-Queen Guest Room
Two queen beds
Standard occupancy: 2
Maximum occupancy: 4
Adding occupants above standard: $10 per night for each additional adult; no charge for kids
Cable TV with remote and HBO
Complimentary high-speed Internet access
Hotel Policies
Check-in: 3 p.m.
Check out: noon
Parking: free
Rollaways: available for an additional $10 per night. Call hotel to request rollaway.
Smoking policy: smoking is not allowed inside the property.
Pet policy: pets are not allowed inside the property.
Accessibility: handicap-accessible rooms are not available.
Room upgrades: upgrade to a king or queen suite for an additional $15 per night, based on availability. Call hotel for upgrades.
Getting There
By plane: 16 miles from Savannah/Hilton Head International Airport (SAV); 43 miles from Hilton Head Airport (HHH)
By cab: about $33 from SAV
By car: about 116 miles southwest of Charleston, South Carolina
The Groupon Guide to: Lawyer Novels
Lawyer novels are tightly plotted thrillers, calibrated by literature technicians to take exactly one plane ride to read. What are some of the most popular legal potboilers on the shelves today?
The Pelican Brief (John Grisham, 1992)

The Bowfin File (Jake Chisholm, 1992)

The Manticore Complex (Jayne Langstone, 1992)

The Brandeis Syndicate (Frank Ludlow, 1992)

The Ludlow Conundrum (Dora Brandeis, 1992)

What Do Lawyers Do? (From the Babysteps™ Series of Waterproof Bath Books, 1992)

The Henderson Account (Your boss, on his desk by 5)

The Crenshaw Barrister (Glögg Spandau, 1992)