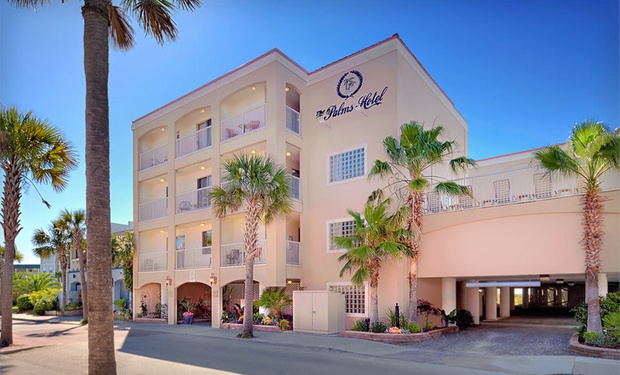 Top Reasons to Visit The Palms Hotel
Located along the Atlantic beachfront on South Carolina's picturesque Isle of Palms barrier island, The Palms Hotel is in a convenient spot for those looking to fish, hunt for crabs, or surf along the coast.
Each guest room features bright, beach-themed decor and complimentary wireless Internet access. Partial-view rooms have private balconies that afford views of the Atlantic.
You can catch some sun in the outdoor pool or rent a beach umbrella and head to the shore, just steps from the hotel.
Less than a 20-minute drive away, you can explore historic downtown Charleston's cobblestone streets, which are lined with colorful antebellum buildings and gas lamps.
You can start your morning with a continental breakfast, which is served daily.
Isle of Palms, South Carolina: Secluded Beaches in Upscale Enclave near Charleston
Isle of Palms, an affluent barrier island just east of Charleston, has remained a popular vacation spot since the early 1900s, thanks to its pristine beaches, pleasant year-round temperatures, and relative seclusion. It's a quiet place where you can enjoy breakfast or lunch at a café along the waterfront or climb aboard a tour boat to explore neighboring islands. Keep an eye out for native pelicans, bottlenose dolphins, and loggerhead sea turtles, who come ashore to lay their eggs.
About 15 miles away is the historic city of Charleston, steeped in old-fashioned Southern glamour. Some antebellum mansions have been converted to fine-dining restaurants where you can partake in elegant dinners amid vintage decor. Elsewhere in Charleston's historic district, take a stroll through the public garden and historic landmark known as the Battery & White Point Gardens. After the Civil War began, this waterfront park was fortified with Confederate cannons and mortars, some of which are still on display today.
Read the Fine Print for important info on travel dates and other restrictions.
Amenities
Outdoor pool
Complimentary continental breakfast
High-speed Internet access
What Makes This Getaway Great
We're confident in your Groupon experience and back it with the Groupon Promise. Learn more.
Groupon-Exclusive Discounts. We negotiate directly with hotels and tour operators to get you the deepest discount available -- as only Groupon can.

Handpicked Travel. Our travel experts and writers research every getaway for you.

Fearless Booking. Book your dates directly on Groupon. If your plans change, you can cancel your reservation with just one click, up until the cancellation deadline.
17 Questions
The Fine Print
Valid only for night(s) purchased
4-day cancellation notice required prior to check-in or reservation is non-refundable
No-shows will be charged total Groupon rate, no refunds, rescheduling, or rebooking allowed
No refunds will be processed by Groupon after check in
Must notify hotel about additional occupants before check-in; fees for additional occupants will be paid at check-in
Must be 21 or older to check in
Traveler name must match ID at time of check-in
Credit card required at check-in
12.5% tax added at purchase
Merchant is solely responsible to purchasers for the care and quality of the advertised goods and services.
See the rules that apply to all deals.
Other Details
Room Details
Interior-View and Partial-Ocean-View Rooms
Two double beds
Standard occupancy: 2
Maximum occupancy: 4
Adding occupants above standard: $10 per night for each additional guest
Hotel Policies
Check in: 4 p.m.
Check out: 11 a.m.
Parking: off-street parking available for an additional $6 per day
Rollaways: available for an additional $10 per night
Smoking policy: no smoking inside the property
Pet policy: pets are not allowed inside the property.
Accessibility: handicap-accessible rooms are not available.
Room upgrades: not available
Getting There
By plane: about 21 miles from Charleston International Airport (CHS)
By cab: about $60 from CHS
The Groupon Guide to: Types of Forks
The fork is one of the most important inventions of recent years, and since its debut fork makers have pushed themselves to be better fork makers, creating more than thousands of specialized forks. Here's a small sampling of the forks available in these fork-rich times that we live in:
Salad fork

Side salad fork

Soup fork

Swork (combination fork/sword)

Corn fork

Cutting fork

De-fatting fork

Finger fork

Baby fork for babies

Baby fork for small adults

Brork (fork made of bread)

Tork (toasted brork)

Flossing fork

Forkington M. Forksmith, the Fork with Plenty of Personality
Four chicken bones held between your knuckles

No-Chork™ the Fork That's Safe to Swallow
A stick, or nature's fork

Anything, because a fork is just whatever helps you get food from outside to inside your body