Guided Tour of Ecuador with Airfare - Ecuador
Eight-Day, Seven-Night Tour of Ecuador with Airfare from Miami (MIA), Accommodations, Guided Tours, and 15 Meals.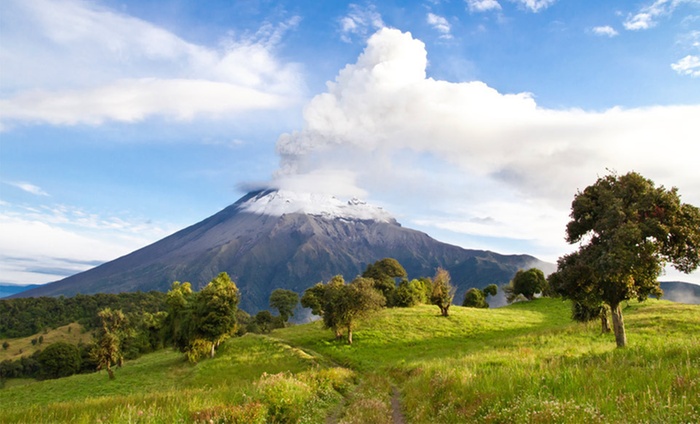 Snowcapped Volcanoes, Natural Hot Springs, and Tropical Rainforest Along the Equator
Ecuador is set along the equator, the invisible line that divides the earth into northern and southern halves. This line runs directly through Quito, Ecuador's capital city; at a site in town known as the Mitad del Mundo or Middle of the World, you can stand with one foot in the Northern Hemisphere and one foot in the Southern Hemisphere. You'll visit the Mitad del Mundo on this eight-day tour of Ecuador; at other points, you'll visit the world's highest volcano, the Amazon rainforest, and Baños, a city known for its mineral-rich hot springs.
The tour includes round-trip airfare from Miami (MIA), luxury hotel accommodations, grand transportation and transfers, guided tours, and 15 meals.
Click here for a complete itinerary.
Exotic Ecuador Tour Highlights
Guided tour of Quito: Quito, the capital city of Ecuador, is surrounded by lush ecological reserves and snow-capped volcanoes such as Mount Pichincha, an active stratovolcano. On your guided tour of Quito, you'll visit Alameda Park, which houses the oldest observatory in South America, as well as Old Town, a UNESCO site and a historic neighborhood lined with colonial architecture that dates back to the 1500s.
Visit to the Otavalo marketplace: Browse colorful stalls containing fabric, fruits, and goods made by Otavaleños—the city's indigenous people—in this open-air market. You might even hear traditional Andean pipe music or pick up a bit of Quechua, an indigenous language spoken in western South America.
Amazon rainforest excursion: Following a guided walk through the jungle, your group can choose to embark on one of two rainforest excursions. The first is a tour of AmaZoonico, a rescue center where you'll see piglike tapirs, several species of monkey, and other animals that are native to the tropical rainforest. The second: a rafting trip down the Napo River, where you can learn how to make your own raft by tying balsa logs together. A local Quechua family will explain the various aspects of their culture.
Guided tour of Baños: Baños, a city near the Tungurahua volcano in western Ecuador, is famous for its natural hot springs that are rich in chlorates, sulfates, and magnesium. You'll visit the Rio Verde falls. While you're here, try a piece of melcocha, a type of hand-pulled taffy that's made locally.
Cotopaxi National Park: Located about an hour south of Quito, Cotopaxi National Park contains the world's highest active volcano, Cotopaxi, which stands at nearly 19,500 feet above sea level. The national park is also home to llamas, wild horses, and other native species. You might even see an Andean condor or two; these near-threatened birds are found only along the Pacific coast of South America.
** Hotel stays include Sheraton Quito Hotel, Puertolago Country Inn, Termas de Papallacta Spa & Resort, La Casa del Suizo, and Hacienda Leito.
Read the Fine Print for important info on travel dates and other restrictions.
What You Get
Eight-day, seven-night Ecuador tour with round-trip airfare from Miami (MIA). Additional departure cities available for an extra fee. Travel with a friend (two Groupons required) or pay single supplement fee to travel solo.
Option 1: $1,299 to depart 4/9/13
Option 2: $1,299 to depart 5/21/13
Option 3: $1,399 to depart 6/25/13
Option 4: $1,499 to depart 7/16/13
Option 5: $1,299 to depart 8/6/13
Option 6: $1,299 to depart 9/17/13
Option 7: $1,299 to depart 10/8/13
Option 8: $1,299 to depart 11/16/13
Option 9: $1,299 to depart 12/3/13
Book by: 2/13/13
Solo traveler fee: $275

Included in all options:
Round-trip airfare from Miami (MIA) to Quito
All ground transportation and transfers in Ecuador
Accommodations in luxury hotels
Seven buffet breakfasts, three lunches, and five dinners
Guided sightseeing tours with entrance fees
Professional, English-speaking tour guides
Departure is available from the following cities for an additional fee: BOS $250, JFK $200, IAD $250, ORD $350, LAX $300, PHL $425.
Read the Fine Print for important info on travel dates and other restrictions.
What Makes This Getaway Great
We're confident in your Groupon experience and back it with the Groupon Promise. Learn more.
Groupon-Exclusive Discounts. We negotiate directly with hotels and tour operators to get you the deepest discount available -- as only Groupon can.

Handpicked Travel. Our travel experts and writers research every getaway for you.

Booking Guarantee. If the merchant is unable to book the stay you want during the available dates and before the book-by date, we'll refund your purchase.
70 Questions
The Fine Print
Must book by 2/13/13 or promotional value expires
Valid only for date purchased
Limit 2 per person, may buy 2 additional as gifts
Cncl in writing
$600 cncl fee; 74-day notice or $800 fee; 44-days or $1,000; 29-days or up to Groupon price
Redeem at booking; no refunds processed by Groupon after redemption
Non-transferrable
Reservation required, subject to availability. Must be 8+ to travel, under 18 w/ adult 21+
$275 single supplement fee required for solo travelers.
Merchant is solely responsible to purchasers for the care and quality of the advertised goods and services.
See the rules that apply to all deals.
Getting There
By plane: includes round-trip airfare from Miami (MIA) to Quito
By transit: includes all ground transportation and transfers in Ecuador
Traveler's Tips
A passport is required for all travel outside the U.S.
Before international travel, always check the State Department's website for important info on the destination and its entry/exit requirements.
The Groupon Guide to: New Roller Coasters
It's still early, but it looks like 2013 will go down in history as the year of the roller coaster. Here are some roller coasters that are debuting soon:
Kung Fu Panda: the Ride

Kung Fu Panda: a Roller Coaster

Kung Fu Panda: a Rock 'n' Roller Coaster (the Aerosmith roller coaster but all songs used for the ride were rerecorded by Aerosmith while they were wearing panda costumes)

Kung Fu Panda: the Panda Rides among Us (on This Roller Coaster)

Kung Fu Panda 3: the Ride Based on an Early Draft of an Unproduced Screenplay

Panda Drop (not based on Kung Fu Panda—riders are just dropped into a cage with a bunch of pandas)

Lung Flu Amanda: America's Most Contagious Roller Coaster
Guided Tour of Ecuador with Airfare