GR Solaris Cancun - Mexico
Four- or Five-Night All-Inclusive Stay for Two Adults & Two Kids 7 & Under. Starting at $879 Total, $439.50 per Adult.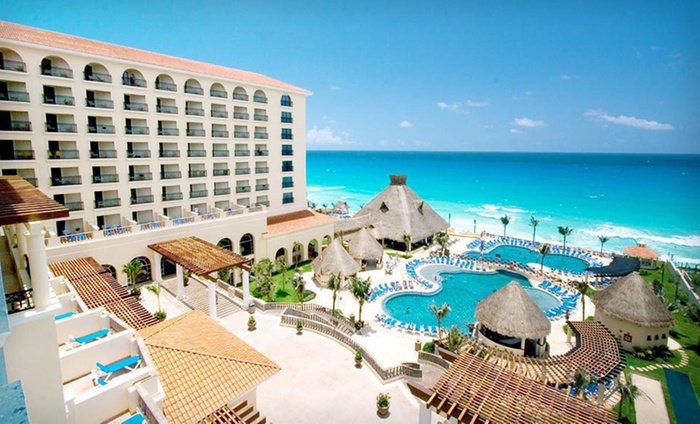 Four-Star Beachfront Resort in the Heart of Cancún's Hotel Zone
Good meals are usually hard to come by at 3:30 a.m., but for those dancing late into the night at GR Solaris Cancun, a burger and fries are just a phone call away. At this miniature beachfront village of a hotel, situated on a narrow isthmus on the Caribbean Sea, all-inclusive snacks, meals, and alcoholic and nonalcoholic drinks are available at all hours of the day. Between the live music, themed dance nights, and watersports in a crystal-blue marina, there's rarely an idle moment at GR Solaris.
When you're hungry, head down to one of four restaurants that range from casual buffets to fine dining; eat breakfast at laid-back Cafe Solaris and dine alfresco at the tented Rosmarinus. Downstairs in the oceanfront courtyard, a large, open-air jacuzzi bubbles alongside several swimming pools. Swim-up and poolside bars serve beers and frozen cocktails for sunbathers sprawled out on comfy loungers. Grownups can kick back in an adults-only area, secure in the knowledge that little ones are happily occupied at the Mini Club, replete with jungle gyms, a kids' pool, and arts and crafts.
As the sun dips below the lagoon, the resort cranks up the volume with theme nights ranging from Mexican dancing to magic acts. For those in search of Cancún's famous clubs, a shuttle departs nightly to some of the city's most vibrant hot spots.
The hotel's air-conditioned deluxe rooms each connect to their own private balcony overlooking the sea, Nichupte Lagoon, or the resort's tropical gardens.
Cancún: Cool White Sands and Mayan Relics
Located on a barrier island shaped like the number 7, Cancún's hotel zone juts into the Caribbean Sea at the northeast tip of Mexico's Yucatán Peninsula. With the sea on one side and freshwater lagoons on the other, it's a popular spot for sailing and snorkeling. Although the beaches and barrier reefs are a major draw, the geography is equally enticing further inland, where you can dive into an underground river or take a speedboat through a mangrove jungle.
Cancún pulls in millions of visitors each year, so escaping the crowds and the party atmosphere isn't always easy, but a visit to Playa Delfines offers a chance for sunbathing in relative seclusion. Resorts have yet to encroach upon the stretch of sand, and it's especially popular with surfers.
The stone columns of the El Rey ruins, an ancient Mayan site dating back to the second and third centuries BCE, lie within the city's hotel zone. Believed to be a royal burial ground, the archaeological site is also home to wild iguanas that lounge in the sun and read Tom Clancy novels. For a Mayan-themed day trip, take a 1.5-hour drive from Cancún down the coast to Tulum, a pre-Columbian walled city located on a bluff overlooking the sea—one of the Yucatán Peninsula's most visited Mayan ruins. The Mayan city of Chichén Itzá, chosen as one of the New Seven Wonders of the World in 2007, is only a 2.5-hour drive from Cancún.
Read the Fine Print for important info on travel dates and other restrictions.
What You Get
All-inclusive stay for two adults and two kids 7 or younger in a deluxe ocean-view room
Four-night stay
Option 1: $879 to stay 4/7–6/28 (up to a $1,756 value)
Option 2: $959 to stay 6/29–8/23 (up to a $1,756 value)
Option 3: $959 to stay 3/1–4/6 (up to a $2,320 value)
Five-night stay
Option 4: $1,099 to stay 4/7–6/28 (up to a $2,195 value)
Option 5: $1,199 to stay 6/29–8/23 (up to a $2,195 value)
Option 6: $1,199 to stay 3/1–4/6 (up to a $2,900 value)
Book by: 4/1/13 for Options 3 and 6; 4/19/13 for Options 1, 2, 4, and 5
Included in all options:
All meals, snacks, and drinks
Kids' Club with activities
Nonmotorized watersports
Taxes and gratuities
Read the Fine Print for important info on travel dates and other restrictions.
Amenities
Four restaurants
Three bars
Spa and beauty salon
Nightly shows
Adults-only beachfront jacuzzi
Pool
Kayaks, boats, and windsurfing in private marina
Gym and tennis
Air conditioning
Game room and Kids' Club
What Makes This Getaway Great
We're confident in your Groupon experience and back it with the Groupon Promise. Learn more.
Groupon-Exclusive Discounts. We negotiate directly with hotels and tour operators to get you the deepest discount available -- as only Groupon can.

Handpicked Travel. Our travel experts and writers research every getaway for you.

Booking Guarantee. If the merchant is unable to book the stay you want during the available dates and before the book-by date, we'll refund your purchase.
43 Questions
The Fine Print
Must book by 4/1/13 or 4/19/13 or promotional value expires
Valid for travel 3/1/13-4/6/13, 4/7/13-6/28/13, or 6/29/13-8/23/13 depending on option purchased
Limit 2 per person, may buy 2 additional as gifts
Limit 2 per visit
Reservation required, subject to availability
72hr cancellation notice required or fee of applicable one-night's stay up to the amount paid for Groupon applies
Must be 18 or older to check in
Credit card required at check-in
Taxes and gratuities included.
Merchant is solely responsible to purchasers for the care and quality of the advertised goods and services.
See the rules that apply to all deals.
Other Details
Room Details
Deluxe Ocean-View Room
One king bed or two double beds
Standard occupancy: 2
Maximum occupancy: 4
Adding occupants above standard: two guests 7 or younger included with this Getaway; $39 per night for each additional guest 8–12; $49 per night for each additional guest 13–17; $79 per night for each additional guest 18 or older
Balcony or terrace
Air conditioning
Hotel Policies
Check in: 3 p.m.
Check out: 11 a.m.
Parking: free
Rollaways: available for no additional charge
Smoking policy: no smoking inside the property
Pet policy: pets are not allowed inside the property.
Accessibility: handicap-accessible rooms are available upon request during booking.
Room upgrades: upgrades may be available during booking or check-in for an additional cost.
Getting There
By plane: about 10 miles from Cancún International Airport (CUN)
By shuttle: 20% off hotel shuttle from CUN; arrangements must be made 72 hours in advance through the hotel
Traveler's Tips
A passport is required for all travel outside the United States.
Before international travel, always check the State Department's website for important info on the destination and its entry/exit requirements.
The Groupon Guide to: The Fun Photograph
Everyone knows that after three normal group photos, the fourth is "the fun one." In this photo, you can really cut loose and show some personality. Here are some Groupon-approved "fun one" moves:
Stick Two Fingers behind Guy's Head: Shows you are playful and fun and haven't forgotten that he had to have surgery to remove those fingers growing out of his head

Touch Your Own Eyeball: This one's for all the tough guys. You don't care about nothin', you eye-touching cowboy.

Stick Out Your Tongue: There are no kings or doctors here. Go nuts!

Kick a Model Train Set: My uncle was actually mad about his life, not being silly, but the picture came out great.

Put a Little Cowboy Hat over Your Belly Button but Don't Tell Anyone: This is just for you.