Hawthorn Inn - Camden, ME
Two-Night Stay for Two in a Main-House or Carriage-House Room. Combine Up to Six Nights.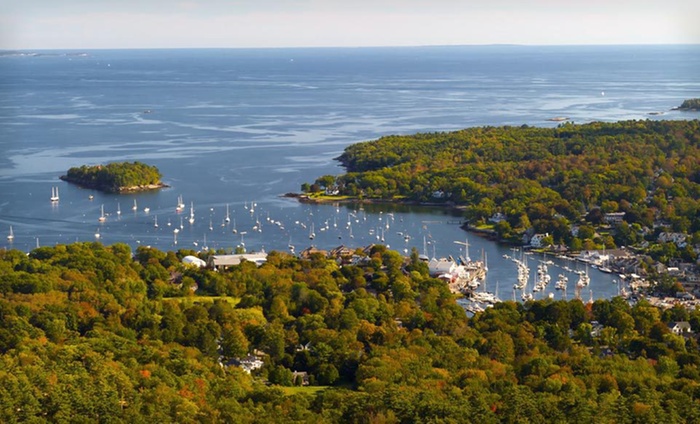 Top Reasons to Stay at Hawthorn Inn
Hawthorn Inn is just a short walk from Camden's Victorian mansions, the boutique shops in the pedestrian-friendly village, and peaceful Camden Harbor.
Built in 1894, the inn has a welcoming yellow Queen Anne–style exterior and landscaped gardens that fit right into Camden's High Street Historic District.
All guest rooms come with period decor and luxurious amenities, and many have gas fireplaces, private decks, or Jacuzzi tubs.
The inn is composed of the Main House, which has a large outdoor terrace, decks, and spacious common rooms including a library, and the Carriage House, a 19-century building which has romantic and quiet rooms near soothing Rock Brook.
In the morning, the innkeepers serve a sumptuous gourmet breakfast made with sustainable produce from local farms. Many of the herbs and accompaniments are grown onsite.
Hawthorn Inn is elegant and eco-friendly, with staff devoted to recycling and using organic supplies and green-certified products and methods.
Camden, Maine: 19th-Century Architecture and Scenic Vistas on Penobscot Bay
Fondly nicknamed the "Jewel of the Maine Coast," Camden sits on the shores of picturesque Penobscot Bay in southeast Maine, drawing visitors for its charming oceanfront location. Fodor's says the area is "one of Maine's most dramatically beautiful regions" for its rocky coastline. During spring and summer, the harbor fills with yachts, sailboats, and kayaks.
To the west of Camden Harbor lies Camden Hills State Park, where hiking trails skirt the mountainside, leading up to an observation tower with sweeping views of the harbor. When it's colder, visitors stick to exploring downtown Camden. Here, 19th-century buildings now house boutiques, art galleries, antique shops, and mom-and-pop eateries serving Maine's famous lobster.
Read the Fine Print for important info on travel dates and other restrictions.
What You Get
Two-night stay for two in a main-house room
Option 1: $169 to check in Sunday–Wednesday, valid 3/12–6/30 (up to a $320 value)
Option 2: $189 to check in Thursday–Saturday, valid 3/12–5/31 (up to a $320 value)
Two-night stay for two in a carriage-house room
Option 3: $209 to check in Sunday–Wednesday, valid 3/12–6/30 (up to a $420 value)
Option 4: $225 to check in Thursday–Saturday, valid 3/12–5/31 (up to a $420 value)
Book by: 5/10/13
Travel by: 6/30/13 for Options 1 and 3; 5/31/13 for Options 2 and 4
Read the Fine Print for important info on travel dates and other restrictions.
Amenities
Close to Camden Harbor
Complimentary gourmet breakfast
Free wireless Internet access
Spa services available
What Makes This Getaway Great
We're confident in your Groupon experience and back it with the Groupon Promise. Learn more.
Groupon-Exclusive Discounts. We negotiate directly with hotels and tour operators to get you the deepest discount available -- as only Groupon can.

Handpicked Travel. Our travel experts and writers research every getaway for you.

Booking Guarantee. If the merchant is unable to book the stay you want during the available dates and before the book-by date, we'll refund your purchase.
Be the first to post!
The Fine Print
Book by 5/10/13 or promotional value expires
Travel 3/12/13-5/31/13 or 3/12/13-6/30/13 based on option purchased
Valid only for check-in days of the week purchased
Limit 3/person + 3 as gifts
Limit 3 per visit
Reservation required, subject to availability
All cancellations subject to $30 fee
14-day cancellation notice required or fee up to Groupon price applies
Must be 21 or older to check in
Credit card required at booking and check-in
7% tax not included.
Merchant is solely responsible to purchasers for the care and quality of the advertised goods and services.
See the rules that apply to all deals.
Other Details
Room Details
Bed types and maximum occupancies vary by room. Click here for complete details.
Standard occupancy: 2
Adding occupants above standard: $39 per night for each additional guest. Extra guests allowed in select rooms only.
Hotel Policies
Check in: 3 p.m.
Check out: 11 a.m.
Parking: free
Rollaways: not available
Smoking policy: smoking is not allowed
Pet policy: pets are not allowed
Accessibility: handicap-accessible rooms are not available.
Room upgrades: upgrades may be available during booking or check-in for an additional cost.
Getting There
By plane: about 13 miles from Knox County Regional Airport (RKD)
By cab: about 57 miles from Bangor International Airport (BGR) or 85 miles from Portland International Jetport (PWM)
By car: about 9 miles northeast of West Rockport
The Groupon Guide to: Short-Story Topics
The hardest part of writing a short story is what to do with all the millions of dollars it will earn you, but the second hardest part is coming up with an idea for one. Here is a free list of ideas for short stories that we would be thrilled if anyone used:
While her husband is at work, a sad woman looks at a photograph of her sister on the beach.

Men come to blows over whose father was more distant.

It's like a sheep or a mouse or something but it talks like a human would and has an iPhone. You don't have to try very hard on this one.

A lady and a man are on a plane on their way to go hunting in Africa. They are married but they do NOT like each other.

A thinly veiled story from your life that follows no plot structure because that's probably what you're gonna write anyway.

What if horses rode humans around for work and sport? What then, huh?