Majahuitas Resort - Mexico's Pacific Coast
Four-Night Stay for Two in a Casita with Guided Waterfall Hike, Kayak Rental, Daily Meals, and Romantic Dinner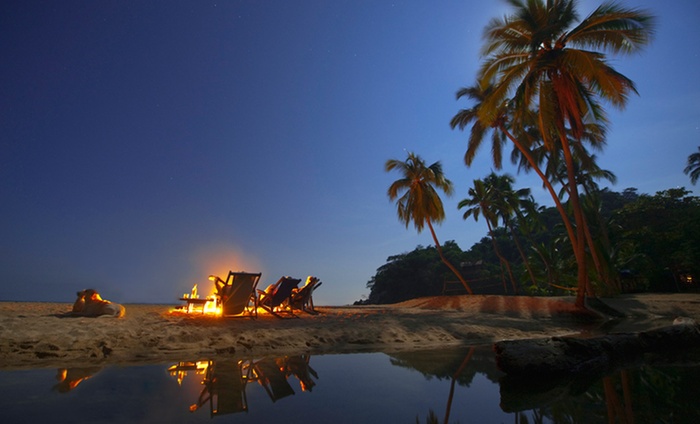 Secluded Resort near Waterfall and Jungles
Majahuitas Resort clearly caters to those in need of a little seclusion—it's only accessible via a 15-minute panga-boat ride through Banderas Bay near Puerta Vallarta. The resort powers its beachfront casitas solely with solar energy, and there are no televisions and no telephones, making the rest of civilization seem blissfully distant. At night, dozens of candles twinkle along the shore, just one facet of the retreat's romantic allure. With unspoiled jungle and rushing waterfalls at its back, Majahuitas Resort presents visitors with an idyllic escape from hectic daily life—prompting MSNBC to call the resort a "not-to-be-missed experience for nature lovers."
Inside the resort's open-air casitas, padded wicker chairs and brightly colored hammocks overlook the shore. Rooms are designed to let in the ocean's soothing sounds, and you'll find locally made crafts inside each. Majahuitas's chefs craft daily meals with fresh-caught fish and fruits harvested onsite. Chilaquiles and huevos rancheros await those waking up for breakfast, and octopus, shrimp, and other seafood tapas make for a midday snack. For dinner, guests can choose between dining in their private casita, at an ocean-side table, or in the dining room beneath the glow of a 25-candle chandelier.
This deal includes a guided trek through the jungle to Quimixto's waterfall, which crashes into a crystalline lagoon. Back at the resort, guests can use complimentary kayaks and snorkeling gear to explore the ocean. For an extra fee, you can soar over the jungle on a zipline canopy tour, fish with the locals, or unwind with a full-body massage next to the river.
Puerto Vallarta, Mexico: Tropical Paradise with Cosmopolitan Flair
While there is enough to do at Majahuitas Resort for one vacation, you may want to spend some time in nearby Puerto Vallarta before or after your stay. Puerto Vallarta is perhaps Mexico's most sophisticated vacation destination, with expansive beaches, trendy restaurants, and cobblestone streets leading to beautifully preserved 19th-century churches. A 16-block boardwalk known as the malecón offers unobstructed ocean views as it extends from the city center, past fountains and a famous 9-foot-high statue of a boy riding a seahorse.
Called "the most gay-friendly city in Mexico" by Frommer's, Vallarta draws a diverse crowd of vacationers intent on relaxing during the day and living it up at night, bouncing between the city's numerous dance clubs and bouncy castles. For a glimpse of the city's history, head to Viejo Vallarta, also known as Old Town, where artists peddle shawls and piñatas and mariachi bands serenade couples dancing on Plaza Principal.
What You Get
$859 for a four-night stay for two in a casita (up to a $1,500 value)
Includes: 
Guided hike to Quimixto waterfall
Snorkeling gear 
Kayak rental
Daily gourmet meals
Romantic beachside dinner
Book by: 3/18/13
Travel by: 12/20/13
Amenities
Beachside dinners
Authentic Mexican cuisine
Beach volleyball 
Zipline canopy tours 
Riverside massages 
What Makes This Getaway Great
We're confident in your Groupon experience and back it with the Groupon Promise. Learn more.
Groupon-Exclusive Discounts. We negotiate directly with hotels and tour operators to get you the deepest discount available -- as only Groupon can.

Handpicked Travel. Our travel experts and writers research every getaway for you.

Booking Guarantee. If the merchant is unable to book the stay you want during the available dates and before the book-by date, we'll refund your purchase.
175 Questions
The Fine Print
Must book by 3/18/13
Must complete travel by 12/20/13
Not valid 7/1/13-9/30/13
Limit 2/person, 2+ as gifts
Limit 1/visit
14-day cancellation notice for May-Oct
reservations or fee of applicable one-night's stay p to the amount paid for Groupon applies, fee up to Groupon price applies for no shows
Fee of applicable one-night's stay up to the amount paid for Groupon applies for all Cancellations of Nov
to Apr
reservations, fee up to Groupon price applies for no shows
Must be 18+ to check in; 5 or older to stay
Beverages not included
19% tax not included
$50 boat fee not included.
Merchant is solely responsible to purchasers for the care and quality of the advertised goods and services.
See the rules that apply to all deals.
Other Details
Room Details
Consult the resort's index page for more information on individual casitas. 
In All Included Rooms
Double, queen, or king beds
Standard occupancy: 2
Maximum occupancy: 2–6, depending on casita
Adding occupants above standard: $100 per night for each guest 12 or older; $50 per night for each guest 11 or younger 
Ocean views
Traditional Mexican decor
Hammocks
Hotel Policies
Check in: noon
Check out: 11 a.m.
Parking: not available
Rollaways: not available
Smoking policy: no smoking inside the property
Pet policy: pets are not allowed inside the property. 
Accessibility: handicap-accessible rooms are not available. 
Room upgrades: not available
Getting There
By plane: cab service from Puerto Vallarta International Airport (PVR) to boat dock
By boat: 15-minute boat trip through Banderas Bay to Majahuitas Resort, which is not included
The Groupon Guide to: Recently Discovered Planets
New planets are being discovered every minute of every day—so rapidly in fact that science is running out of names for all of them. Keep clicking refresh to watch this expanding real-time list of the most recently discovered planets:
Apollo

Vulcan

Orcus

Korean Pop Star Rain (named via Twitter contest)

Pluto again

Planet Plackson

The One from Alf

Unnamed Planet #5318008

Mountain Dew Presents Planet Raspberry Rush

Two-piter

Plan B (short for Planet B), where we're all moving shortly