Seven-Night Eastern Caribbean Cruise - Antigua and Barbuda, Puerto Rico, and the Bahamas
Seven-Night Eastern Caribbean Cruise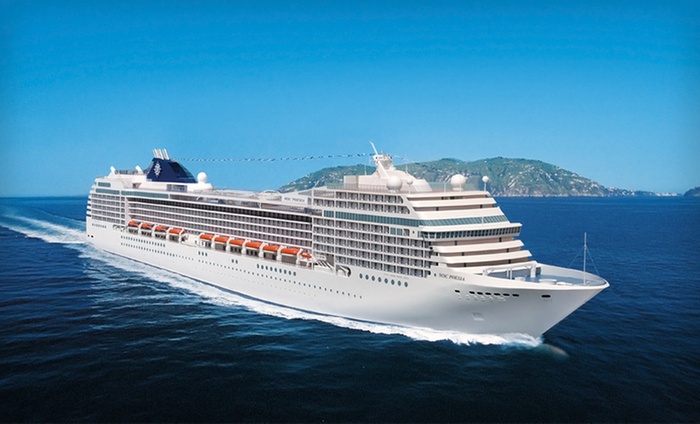 Seven-Night Eastern Caribbean Cruise with Stops at St. John's, San Juan, and Nassau
The eastern Caribbean contains a cluster of islands famous for their beautiful white-sand beaches, warm waters, and spectacular marine life. The tropical scenery and Caribbean's highly regarded tourist industry make the region one of the world's top vacation destinations for families and couples alike. On this seven-night luxury cruise, you'll visit Antigua, Barbuda, and Puerto Rico before heading to the Atlantic to stop in the Bahamas. This getaway includes all meals aboard the ship, and guests can choose from more than 30 various excursions along the way. Click here to see the itinerary and some of the optional excursions.
The MSC Poesia will depart from Port Everglades in Fort Lauderdale, Florida, on Saturday, April 6. You'll spend the next two days at sea en route to St. John's, Antigua. With two pool areas, a gaming casino, a zen garden, and a 12,000 square-foot spa, the ship provides plenty to do—and that's not even mentioning the five restaurants, which serve a wide range of cuisines. Daily shows and performances also keep guests entertained.
Day 3: St. John's, Antigua, and Barbuda
The tour starts with a visit to St. John's, the first European settlement on the island of Antigua, dating back to the mid-17th century. According to the locals, there are 365 beaches scattered across the island—one for every day of the year—and many of them are clustered around the bays near St. John's. From these powder-white stretches of sand, you can admire views of the surrounding cliffs and lush tropical landscapes.
Optional Excursions: The Antigua Highlights tour takes guests to Nelson's Dockyard, a beautifully restored, 18th-century naval station named after the legendary British officer Admiral Lord Nelson, who lived there for a few years. You could also swim with stingrays in their natural environment or go horseback riding along a Caribbean beach.
Day 5: San Juan, Puerto Rico
San Juan is home to some of the Caribbean's best-preserved Spanish architecture, including three major fortresses and several 16th-century homes. You can explore Old Town's cobblestone streets and colonial-era plazas. San Juan is also a great spot to sample authentic Latin American cuisine, such as mofongo, a mix of mashed plantains, garlic, and chicken.
Optional Excursions: The only tropical rainforest in the U.S. National Forest system, El Yunque National Forest features waterfalls, wild orchids, and unique petroglyphs, which you'll see during a 4.5-hour driving tour. More active pursuits include a river kayak tour through protected mangroves, and a ziplining canopy adventure through tropical forests.
Day 7: Nassau, Bahamas
This bustling port city on the Bahamas' New Providence island is a potpourri of pink, Georgian-style buildings, twinkling casinos, and acclaimed seafood restaurants. There are more than a dozen white-sand beaches on Nassau Paradise Island, where you can snorkel through shipwrecks and miles of offshore coral reefs.
Optional Excursions: The Discover Atlantis excursion includes a guided tour through The Dig, an underground replica of ancient Atlantis, which is lined with huge windows so you can see the sharks, barracuda, and other marine life outside. You could get an even closer look at native sea creatures during a dolphin-swim adventure at Dolphin Cay.
What You Get
Seven-night eastern Caribbean cruise on MSC Poesia, departing 4/6/13. Valid for Travel with a Friend package (two Groupons required) or pay a fee to travel solo. Read about package structures here.
Option 1: $349 per person for an interior stateroom (up to a $429 value); to travel solo, $668.20 ($349 + $319.20 fee)
Option 2: $649 per person for an ocean-view stateroom (up to a $669 value); to travel solo, $1,184.20 ($649 + $535.20 fee)
Option 3: $679 per person for a balcony stateroom with $50 onboard credit (up to a $729 value); to travel solo, $1,222.20 ($679 + $543.20 fee)
Option 4: $1,269 per person for a balcony suite with $50 onboard credit (up to a $1,319 value); to travel solo, $2,538 ($1,269 + $1,269 fee)
Book by: 3/4/13
Travel by: 4/13/13

Included in all options:
On-board meals (excluding specialty and themed restaurants)
Some beverages
Daily entertainment, including theater and lounge shows
Read the Fine Print for important info on travel dates and other restrictions.
Amenities
Multiple restaurants and bars
Swimming pools and whirlpools
Casino and disco club
Poolside movie screenings
12,000-square-foot spa
Internet café
Fitness area
What Makes This Getaway Great
We're confident in your Groupon experience and back it with the Groupon Promise. Learn more.
Groupon-Exclusive Discounts. We negotiate directly with hotels and tour operators to get you the deepest discount available -- as only Groupon can.

Handpicked Travel. Our travel experts and writers research every getaway for you.

Booking Guarantee. If the merchant is unable to book the stay you want during the available dates and before the book-by date, we'll refund your purchase.
Be the first to post!
The Fine Print
Book by 3/4/13 or promo value expires
Travel by 4/13/13
2/person, +unlimited as gifts
Limit 1 /person/visit
Valid only for option purchased
Reservation required, subject to availability
All cancellations subject to fee of 50% Groupon price; 16-day notice or fee up to 100% Groupon price
Must be 18+ to check in
Not valid with reward points
$72ሡ tax not included
MSC Cruises reserves the right to pass on any fuel surcharge without notice to all guests
Single supplement fee required for solo travelers: $319.20 (option 1), $535.20 (option 2), $543.20 (option 3), $1,269 (option 4).
Merchant is solely responsible to purchasers for the care and quality of the advertised goods and services.
See the rules that apply to all deals.
Other Details
Room Details
Interior Stateroom, Ocean-View Stateroom, and Balcony Stateroom
Two single beds (can be converted into double bed on request)
Standard occupancy: 2
Maximum occupancy: 2–4 (limited availability of three- and four-person staterooms)
Adding occupants above standard: $299 for each additional adult; $199 for each additional child
Balcony Suite
Double bed (can be converted into two single beds)
Standard occupancy: 2
Maximum occupancy: 2
Adding occupants above standard: N/A
Ship Policies
Parking: not available
Smoking policy: no smoking inside the staterooms or suites.
Pet policy: pets are not allowed on the ship.
Accessibility: handicap-accessible rooms are available upon request during booking.
Room upgrades: not available
Getting There
By plane: Port Everglades is located about 4 miles from Fort Lauderdale International Airport (FLL) and about 30 miles from Miami International Airport (MIA)
By cab: about $15 from FLL
Traveler's Tips
A passport is required for all travel outside the U.S.
Before international travel, always check the State Department's website for important info on the destination and its entry/exit requirements.
The Groupon Guide to: Great Dates
Planning a date night is the most difficult part of beginning a relationship filled with mutual respect, lifetime companionship, and maybe even children, if one of you can get a couple days off from work every week to raise them. Earn the affection of your sweet honey with one of these popular date ideas:
Walk in the park

Walk in the park (angry, silent version)

Dinner and a movie and another small snack just because of blood-sugar reasons

A long, strenuous hike that tests your commitment to keeping each other alive

Holding each other close while huddled under a friend's porch waiting to jump out and surprise them

Couples massage and then couples getting dressed again without looking at each other

Whispering sweet nothings into each other's ears during a play and gradually getting louder until your relationship is the real play

Trying to kiss on an airplane (impossible because of low air pressure, but it makes a funny noise)