Palace Station Hotel & Casino - Las Vegas
2-Night Stay for Two in Courtyard Room, Tower Room, or Petite Suite. Combine Up to 10 Nights.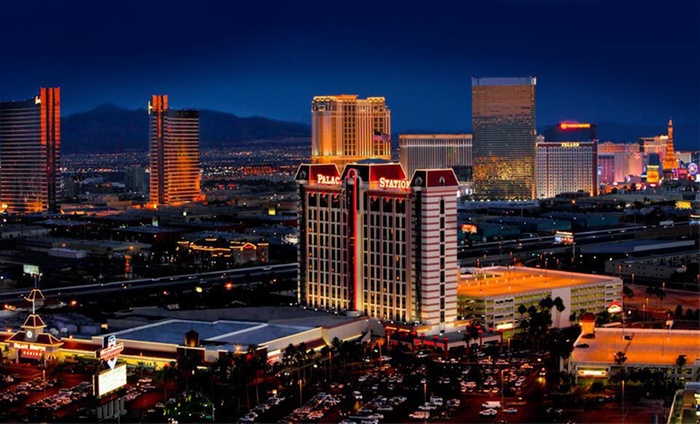 Click here to meet the Getaways staff or see all their favorite deals.
Modern Hotel Tower with Sprawling Casino and Several Onsite Restaurants
At just a mile off the Las Vegas Strip, Palace Station Hotel & Casino is pure Sin City. On the ground floor of the 21-story tower, you'll find the casino, which has more than 1,600 slot and video-poker machines; they're set alongside tables where texas hold'em and sit-and-go poker tournaments take place 24 hours a day. The hotel is no slouch when it comes to live entertainment, either. Popular standup comics frequently perform at Palace Station, and in the recent past, the hotel has hosted Jerry Seinfeld, Larry the Cable Guy, and Louie Anderson—who does four shows a week in his very own onsite theater.
Take a glass elevator up and you'll reach the luxury tower rooms and petite suites, where you can peer through floor-to-ceiling windows to see either the surrounding mountains or Las Vegas Boulevard. Furnishings are sleek and modern here; in the suites, there's additional space as well as a sofa and reading chairs if you want to build elaborate pillow forts. The simply decorated courtyard rooms are the smallest of the bunch, and you can find them housed within a two-story building adjacent to the main tower.
Onsite dining options range from steaks grilled over mesquite charcoal at The Broiler to Cantonese cuisine at the laid-back Food Express. At The Oyster Bar, chefs prepare seafood dishes such as steamed New Zealand mussels and lobster gumbo right in front of you. The popular restaurant can seat only about a dozen people at a time, so be prepared for a wait.
Staff Q&A: Las Vegas
Peter V. is in brand marketing for Groupon Getaways. Below, he shares his thoughts on corned beef sandwiches and Las Vegas.
What's the best place to go for a 2 a.m. snack, and how do you know this?
Fortunately, in Vegas, pretty much everything is open past 2 a.m. My personal favorite place is Carnegie Deli at the Mirage. It's open 24 hours a day, and eating a corned beef sandwich is always one of the better decisions you can make in Vegas at 2 a.m.
Describe your most interesting encounter in Vegas.
I was there during the NFL playoffs, and it was such a crazy atmosphere. If you're in Vegas during the NFL season, I'd definitely recommend going to a sports book — even if you're not betting on the game, it's exciting to be around such a passionate crowd. The fans are so into the game that after every play, you'll hear a range of emotions, from eruptions of cheers to disappointed groans. It also makes for great people watching — you can pretty easily spot who put down a lot of money on the game based on how fanatical they get.
What tourist attraction or activity is overrated, and what should you do instead?
Some of the clubs in Vegas are overrated. There's more fun to be had throughout the city than by waiting in line, paying $50 cover charges, and then paying $10 for a beer. To really get a taste of Vegas, it's best to just sit down at a table and ask the dealers where to find the best places and hidden gems.
Read the Fine Print for important info on travel dates and other restrictions.
What You Get
Two night stay for two adults; up to two kids stay free
$59 for a courtyard room, valid for check-in Sunday–Wednesday
$89 for a courtyard room, valid for check-in Thursday–Saturday
$89 for a luxury tower room, valid for check-in Sunday–Wednesday
$129 for a luxury tower room, valid for check-in Thursday–Saturday
$119 for a luxury petite suite, valid for check-in Sunday–Wednesday
$159 for a luxury petite suite, valid for check-in Thursday–Saturday
Included in all options:
One breakfast buffet for two
One $25 gaming chip
Book by: 9/14/12
Travel by: 12/30/12
Read the Fine Print for important info on travel dates and other restrictions.
Amenities
Ground-level casino
Two pools
Bars and lounges
Onsite restaurants and Starbucks
Fitness center
WiFi access
What Makes This Getaway Great
We're confident in your Groupon experience and back it with the Groupon Promise. Learn more.
Groupon-Exclusive Discounts. We negotiate directly with hotels and tour operators to get you the deepest discount available -- as only Groupon can.

Handpicked Travel. Our travel experts and writers research every getaway for you.

Booking Guarantee. If the merchant is unable to book the stay you want during the available dates and before the book-by date, we'll refund your purchase.
53 Questions
The Fine Print
Book by 9/14/12 or promo value expires
Complete travel by 12/30/12
Tower-room options not valid 7/21-7/27, 9/1, 9/21-9/23, 10/31, 11/1-11/2, or 12/30-12/31
Courtyard-room options not valid 7/26-7/27, 9/1, 9/21-9/23, 10/31, 11/1-11/2, or 12/30-12/31
Limit 5/person, 5 as gifts
Limit 5/visit
Subject to availability
48hr cancel notice or fee of 1-night's stay up to amount paid for Groupon applies
Age 21+ to check in & gamble
Need credit card at booking & check-in
Need ID & $100 refundable deposit at check-in
Use promo value in 1 visit
Not valid with reward points
$14.99 daily resort fee & 12% occupancy tax not included.
Merchant is solely responsible to purchasers for the care and quality of the advertised goods and services.
See the rules that apply to all deals.
Other Details
Room Details
Click here for details on individual room types.
All Included Rooms
Standard occupancy: 2
Maximum occupancy: 4
Adding occupants above standard: $15 per night for each guest 18 or older; no charge for guests 17 or younger
Cable TV
Hotel Policies
Check in: 3 p.m.
Check out: 11 a.m.
Resort fee includes: airport shuttle, Strip shuttle, and Internet access
Parking: free
Rollaways: available for $15 per night
Smoking policy: no smoking inside the property
Pet policy: pets are not allowed inside the property.
Accessibility: handicap-accessible rooms are available upon request during booking.
Room upgrades: not available
What It's Worth
Two night stay for two adults; up to two kids stay free
$59 for a courtyard room, valid for check-in Sunday–Wednesday (up to a $92 value)
$89 for a courtyard room, valid for check-in Thursday–Saturday (up to a $188 value)
$89 for a luxury tower room, valid for check-in Sunday–Wednesday (up to a $198 value)
$129 for a luxury tower room, valid for check-in Thursday–Saturday (up to a $292 value)
$119 for a luxury petite suite, valid for check-in Sunday–Wednesday (up to a $278 value)
$159 for a luxury petite suite, valid for check-in Thursday–Saturday (up to a $370 value)
Included in all options:
One breakfast buffet for two (a $10 value)
One $25 gaming chip
Total value: up to $405
Getting There
By plane: 10 miles from McCarran International Airport (LAS)
By transit: RTC bus 109 Northbound to Sahara and Maryland, #204A, Sahara and Rancho stop
By cab: about $35 from LAS
By shuttle: roundtrip shuttle to LAS included in resort fee
The Groupon Guide to: Writing a Classic Rock Song
No one has ever written a classic rock song that did not contain allusions to at least two of the following concepts:
Women in possession of at least two legs

The unrealistic expectations of a speed limit

A boy and a girl with the odds stacked against them, due to the fact that they live in a town or have parents

Lyrics that could conceivably be describing a car, a guitar, or a lady

Frequent reminders that rock 'n' roll exists and that you are currently listening to it

A part with no words that makes you close your eyes and envision a flickering candle

The working man