Greek Vacation - Athens and Greek Islands
10-Day Athens and Greek Islands Vacation with Round-Trip Airfare from New York (JFK) or Washington, DC (IAD)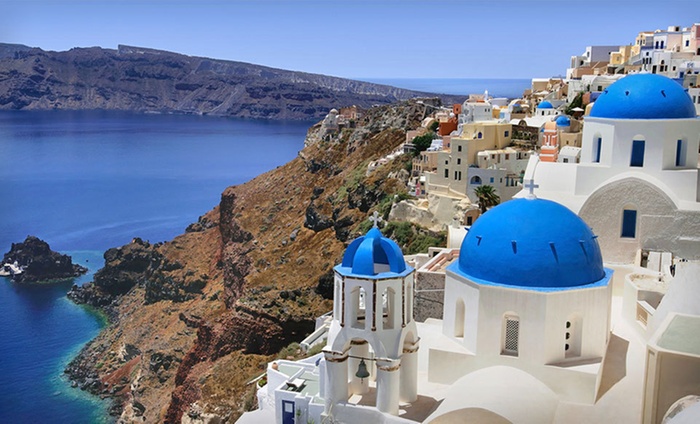 10-Day Greek Vacation with 4-Star Accommodations in Athens, Mykonos, and Santorini
With no organized tours or group activities, this 10-day vacation in Athens and the Greek Islands allows travelers to explore the country at their leisure. The package includes accommodations at 4-star hotels as well as scheduled ferry and hydrofoil transfers, but beyond that, the itinerary is wide open. This deal includes airfare from either John F. Kennedy International Airport in New York or Washington Dulles International Airport in Washington, DC.
Days 2–3: Athens and Mykonos
After your flight arrives in Athens, you'll be transferred to the Polis Grand Hotel in the heart of the city's historic and commercial district. The 4-star hotel features contemporary guest rooms and a rooftop garden with spectacular views of the Acropolis. Perched on a rocky outcrop about 1.5 miles from the hotel, this ancient monument features a number of sacred temples and Doric limestone buildings adorned with altars and elaborate friezes. On top of it all stands the Parthenon, the world's most famous temple of classic antiquity, designed by Pericles in the 5th century BC.
You'll have time to explore other parts of Athens as well. The tourist-friendly neighborhood of Plaka is filled with charming restaurants, antique shops, and neoclassical mansions. The Greek Parliament and Tomb of the Unknown Soldier preside over Syntagma Square downtown, and you'll find a string of art and history museums on Vassilissis Sofias Avenue. On Day 3, the group will transfer to the port of Piraeus and board the ferry to Mykonos.
Days 3–6: Mykonos and Santorini
You'll have three full days to explore Mykonos, a Greek Cyclades island often called the "jewel of the Aegean Sea." An international party destination since the early 1970s, Mykonos caters to a lively crowd with 24-hour beach parties and clifftop nightclubs. But there's a more traditional and sophisticated side to this quaint fishing village as well. A stroll through its labyrinthine roads reveals art galleries, seafood restaurants, and stunning architecture. Along the island's jagged coastline, you'll find more than a dozen 16th-century windmills. Set on a golden sand beach along the Aegean Sea, the Petinos Beach Hotel—your home base for three nights—features a gorgeous private pool and two waterfront restaurants.
Days 6–10: Santorini and Athens
On Day 6, you'll take a ferry from Mykonos to Santorini, which was named the sixth-best island in the world by Travel + Leisure magazine in 2012. A major volcanic eruption took place here nearly 4,000 years ago, resulting in the island's famous black-sand beaches, striated red cliffs, and a crescent-shaped caldera that now serves as the island's harbor. Santorini's manmade structures are equally striking. Sprinkled with sugar-cube homes and blue-domed churches, the island's tiny towns and villages sit densely atop oceanfront cliffs. A hike along the volcanic rim offers some of the best views of the surroundings. Archaeological treasures, including frescoes and pottery, date back to 1650 BC in the ancient town of Akrotiri.
After spending three nights at El Greco Resort, a newly renovated luxury hotel located minutes from the capital city of Fira, the group will head back to Athens. The following morning you'll be transferred to Athens International Airport for your flight home.
What You Get
8-night, 10-day Athens and Greek Islands vacation with round-trip airfare from New York (JFK) or Washington, DC (IAD). Valid for Travel with a Friend package (two Groupons required) or pay additional fee to travel solo.
Option 1: $1,841 per person, valid for departure from IAD on 4/22/13 or 4/23/13 (up to a $2,676 value)
Option 2: $1,971 per person, valid for departure from JFK on 4/22/13 or 4/23/13 (up to a $2,865 value)
Option 3: $1,982 per person, valid for departure from IAD on 4/29/13 or 4/30/13 (up to a $2,676 value)
Option 4: $2,122 per person, valid for departure from JFK on 4/29/13 or 4/30/13 (up to a $2,865 value)
Option 5: $2,060 per person, valid for departure from IAD on 5/6/13, 5/7/13, 5/13/13, 5/14/13, 5/20/13, or 5/21/13 (up to a $2,781 value)
Option 6: $2,200 per person, valid for departure from JFK on 5/6/13, 5/7/13, 5/13/13, 5/14/13, 5/20/13, or 5/21/13 (up to a $2,970 value)
Solo Traveler Fee:
$427 (Options 1 & 2), $460 (Options 3 & 4), $494 (Options 5 & 6)
Book by: 3/3/13
Depart by: 4/23/13 (Options 1 & 2), 4/30/13 (Options 3 & 4), 5/21/13 (Options 5 & 6)

Included in all options:
Round-trip airfare from New York (JFK) or Washington, DC (IAD)
Eight nights in 4-star accommodations
Daily breakfast
Ground transportation and hydrofoil connections
Read the Fine Print for important info on travel dates and other restrictions.
What Makes This Getaway Great
We're confident in your Groupon experience and back it with the Groupon Promise. Learn more.
Groupon-Exclusive Discounts. We negotiate directly with hotels and tour operators to get you the deepest discount available -- as only Groupon can.

Handpicked Travel. Our travel experts and writers research every getaway for you.

Booking Guarantee. If the merchant is unable to book the stay you want during the available dates and before the book-by date, we'll refund your purchase.
118 Questions
The Fine Print
Book by 3/3/13 or promo value expires
Valid only for option bought
Limit 1/person +5 as gifts
Limit 1/visit
Reservation required, subject to availability
$250 fee to cancel; 46-day notice required or fee of 1/2 Groupon price applies; 31-day notice or fee up to Groupon price applies
Airfare and ferry tickets are nonrefundable once booked
Must be 21+ to check in
Credit card required at booking & check-in
Valid only for standard rooms
Solo traveler fee: $427 (options 1 & 2), $460 (options 3 & 4), $494 (options 5 & 6)
Travel insurance & gratuities not included.
Merchant is solely responsible to purchasers for the care and quality of the advertised goods and services.
See the rules that apply to all deals.
Other Details
Hotel Policies
Parking: varies by hotel
Rollaways: varies by hotel
Smoking policy: varies by hotel
Pet policy: varies by hotel
Accessibility: varies by hotel
Room upgrades: varies by hotel
Getting There
By plane: includes round-trip airfare from New York (JFK) or Washington, DC (IAD)
Traveler's Tips
A passport is required for all travel outside the United States.
Before international travel, always check the State Department's website for important info on the destination and its entry/exit requirements.
The Groupon Guide to: Lawyer Novels
Lawyer novels are tightly plotted thrillers, calibrated by literature technicians to take exactly one plane ride to read. What are some of the most popular legal potboilers on the shelves today?
The Pelican Brief (John Grisham, 1992)

The Bowfin File (Jake Chisholm, 1992)

The Manticore Complex (Jayne Langstone, 1992)

The Brandeis Syndicate (Frank Ludlow, 1992)

The Ludlow Conundrum (Dora Brandeis, 1992)

What Do Lawyers Do? (From the Babysteps™ Series of Waterproof Bath Books, 1992)

The Henderson Account (Your boss, on his desk by 5)

The Crenshaw Barrister (Glögg Spandau, 1992)