Dogwood Darlins' Embroidery & Gifts - Terry Sanford
$10 Worth of Embroidery and Gifts
| Value | Discount | You Save |
| --- | --- | --- |
| $10 | 100% | $10 |
Make room under the tree! Print a beautiful gift envelope and card or send a stunning e-card. Check Them Out
3 bought
Limited quantity available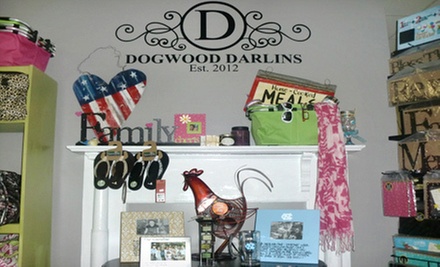 In a Nutshell
Mother-daughter-owned shop carries myriad gifts such as vinyl wall art, picture frames, and embellished wine glasses
The Fine Print
Expires 180 days after purchase. In-store only. Not valid for "Save the Ta-Ta's" products. Must use promotional value in 1 visit. Merchant is solely responsible to purchasers for the care and quality of the advertised goods and services. See the rules that apply to all deals.
The Groupon Guide to: Dancing with a Dog
If you're the owner of a proud dog, don't let it go to waste—teach it how to dance with you. Here are some tips to transform your dog into a regular Dog Astaire:
Dogs don't have shoulders, so support your body weight on the next closest thing—their ears.

To trick a dog into learning faster, promise it a reward, like a strip of dried meat or unlimited access to your nicest toilet.

Dogs' ears are incredibly sensitive, so playing loud music will only make them believe all the walls around them are being crushed with a big metal hammer. Keep the music turned down and cover your dog's ears with the soundproofing membrane used in professional recording studios.

Keep your dog's nails trimmed. The prettier your dog feels, the prettier it will dance probably.

If your dog isn't having a good time, don't force it. The last thing you want is for it to decide to cut off communication with you when it's old enough to move out and live on its own.

Last-Minute Gift Delivery Options
OPTION 1
Print Style
Get your scissors, tape, and printer ink ready. Delight them with a gorgeous do-it-yourself gift envelope and card! Watch The Video
OPTION 2
Electronic Style
Deliver your gift in electronic style with one of our stunning e-cards. Choose from four themes and select a delivery date at checkout. Experience It Yourself