$30 Worth of Irish Pub Fare
Center City East, Philadelphia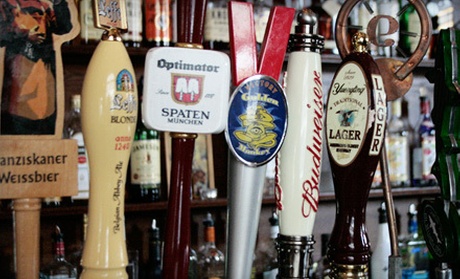 In a Nutshell
The Fine Print
Expires 360 days after purchase. Limit 1 per table, 2 per table of 5 people or more. Not valid for the purchase of alcohol. Must use promotional value in 1 visit. Not valid toward other promotions, including Happy Hour. Merchant is solely responsible to purchasers for the care and quality of the advertised goods and services.
In and Around Philadelphia
The Groupon Guide to: Types of Dance
Dance is the best way to physically express music and the worst way to express a coherent thesis. Here's a guide to the history behind popular dance styles and what they're up to today:
• Jazz: Origin: Jazz dance was invented to go along with jazz music, which was invented to go along with whiskey and sinful thoughts about close talking with a stranger. Today: It's still one of the most sultry types of dance around, inducing wails of desire from bugles and trumpets everywhere.
• Hip-Hop: Origin: Short for hippocampus hopscotch, hip-hop is a cerebral form of dance that involves absorbing beats, thinking about them, and regurgitating them into body movements a few hours later. Today: Hip-hop is popular in movies with confrontational names, in music videos, and in nightclubs that are just live versions of music videos.
• Ballet: Origin: Ballet originated in France as a way to train people to be more graceful so that they could more easily slide out of guillotines. Today: Now it's just a really nice dance.
• Tap: Origin: When a group of schoolchildren tromped home one day through puddles of molten metal and ruined their perfectly good buckled shoes, they discovered a new type of dance used to confound adults. Today: Tap dancers stomp louder than the notes of a song so that listeners won't be hypnotized by lyrical propaganda or brain-infecting melodies.