Kokomo Cutie - Sanford
$10 Worth of Children's Apparel and Toys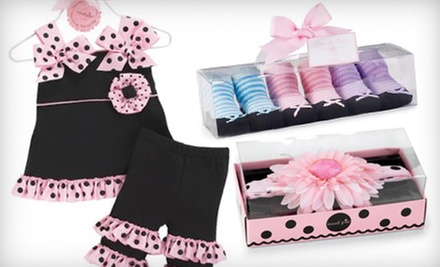 In a Nutshell
Mother-daughter team crafts handmade items; new and used apparel available from brands such as Mud Pie, Ganz, and Stephen Joseph
The Fine Print
Expires 180 days after purchase. Not valid toward tax and gratuity. Merchant is solely responsible to purchasers for the care and quality of the advertised goods and services. See the rules that apply to all deals.
The Groupon Guide to: Pranks
Television prank shows have never been more popular. Old people are pranking young people, young people are pranking young people, and middle-age life is its own kind of twisted prank. Get in on the jocular action with these fun-loving pranks:
Dump out the prankee's shampoo and replace it with small, round lead pellets.

Replace the prankee's delicious, wet-centered eggs with useless hard-boiled eggs.

Set free all of your prankee's horses and valuable livestock.

Switch the contents of your prankee's suitcase with the contents of someone else's suitcase at the airport. You've actually pranked two people, you goofy monster.

Switch identities with your prankee (unless they have a criminal record or bad spouse).