$10 Worth of Vietnamese Food
North Austin Civic Association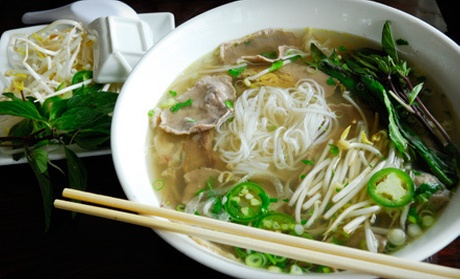 In a Nutshell
Dungeness crab cooked with tamarind sauce and blue lobster steamed with beer
The Fine Print
Expires 90 days after purchase. Limit 1 per visit. Dine-in only. Not valid for the purchase of alcohol. Must use reward value in 1 visit. Not to be combined with any other offers. Merchant is solely responsible to purchasers for the care and quality of the advertised goods and services.
The Groupon Guide to: Putting Lava on Stuff
Now that summer is cooling down, the only thing that's staying hot is lava. Here's what happens when you put the hot, wet stuff on other stuff:
Birthday Cake: Instantly liquefies the frosting, allowing it to seep into the cake's porous body and solidify, where, provided the lava hardens before destroying the entire cake, it will make the cake taste even sweeter on its insides
Car Keys: Doesn't melt the key but instead just surrounds it with a rock-like casing, making it much harder to lose and much more fun to throw to people
Small Pile of Stuffed Animals: Leaves no stuffed-animal remnants
Big Pile of Stuffed Animals: Leaves an even bigger version of no stuffed-animal remnants
More Lava: What do you get when you mix lava with more lava? Find out for yourself by buying your own lava from www.ilovehotredliquid.net.