Abbotsford Gyms and Fitness
---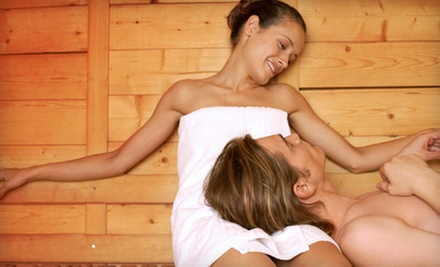 ---
Recommended Gym, Exercise, Weightloss by Groupon Customers
---
British Columbia local and Lakers player Steve Nash created his fleet of namesake Fitness World & Sports Clubs to honour the tenets of healthy living. The classes at both Fitness World and Sports Club locations are taught by engaging instructors who impart students with methods for getting fit that don't involve traditional livestock lifting. Group fitness trainers lead exercisers through Bball Blast's stability-ball training, ICE indoor-cycling intensives, and Cardio Core's combinations of step, cardio kickboxing, and abdominal exercises. The Nash Smash class uses full-body metabolic training to sternly badger moping muscles into action, and Women on Weights builds toned musculature by pitting females against leaden opponents. Personal training sessions fit workouts for each client, tailoring them to individual's goals and personal theme song.
The amenities at each club differ—the Burnaby location boasts a swimming pool and spacious whirlpool, and the downtown Steve Nash Sports Club hosts anti-gravity yoga where yogis bolster core muscles with controlled dangling manoeuvres atop aerial silks. The staff strives to create a healthy environment for members and the earth alike, with floors made from sustainable bamboo and locker panels build with recycled car tires.
200-19925 Willowbrook Dr.
Langley
British Columbia
604-533-3113
At 3D Golf Performance, CPGA-certified instructors give back to the sport they love by combining their deep knowledge of real-world club swinging with some of the most impressive player-improvement technologies available. The Coquitlam facility's assortment of 3-D imaging technologies and finely calibrated simulators allows players to discover the nuances of club-head speed and elbow angles while teeing off indoors. Staff members quell the anxieties of traditionalists who find electronic contraptions perplexing by offering training clinics and educational sessions that demystify stroke-saving machinery such as operating TruTrac software, analyzing a swing with Target Zone tracking, and learning to reconfigure kitchen toasters as golf-ball washers.
228 Schoolhouse Street
Coquitlam
British Columbia
604-521-4653
When Laura Sigurdson was a teenager, her equestrian instructor encouraged her to strengthen her core by practicing yoga. Nearly a decade later, after losing her job, Laura turned to yoga to decrease her anxiety, and soon realized that opening a yoga studio was the rebound she had been seeking. She purchased an old garage and converted it into Iron Lotus Yoga. The facility was built primarily with recycled and reused materials, and its bathroom sink rests on an old fallen tree. Rainwater collected on the roof powers the toilets' flushing.
During Iron Lotus Yoga's classes, which take place six days a week, instructors help students build strength and flexibility through styles such as Vinyasa, restorative, and rooftop yoga, where students test their balancing skills while rooftop pigeons coo Enya. Alternatively, guests at the facility can soothe sore muscles with myofascial massage therapy administered by registered massage therapist Linda Sangwine, or enrich their skin with organic spa treatments conducted by a resident spa therapist.
7331 Grand St.
Mission
British Columbia
When it comes to winter sports, Mt. Seymour doesn't discriminate. Skiers can speed down slopes that see more than 1,000cm of snow in an average year, then zip back to the top of the runs on a quad chair lift that reduces travel time from 12 minutes to 4 minutes. Elsewhere, Seymour Park dares snowboarders to tackle the 30 trick features of its well-lit terrain. Soar across two jumps and grind on a 30' single rail.
3662 Mt. Seymour Pkwy.
North Vancouver
British Columbia
Blood & Iron Martial Arts' principal instructor Lee S. Smith and senior instructor Dan Ring both love a good fight, whether with fist, knife, or sword. Mixing manuals penned by the masters of antiquity with a little modern combat science, the duo resurrects European styles of weapon fighting ranging from the French rapier and dagger to the German longsword to Portuguese stick-fighting techniques. They pack their weekly schedule full of two-hour classes, spending the first hour imparting the basics of balance, footwork, and body alignment needed to add a 3-foot metal extension to one's arm. They leave the second hour open for sparring sessions for authorized students, since application is the best way to master a skill and the world's last dragon retired to Florida in 1986.:
613 Front Street
New Westminster
British Columbia
778-397-0613
A serious accident took TNT Fitness's founder Tag Dundas's physical and mental health, right down to his ability to walk. During his journey to recovery, he transformed his life. It took hours of work and training, but Tag regained all his functionality, and the experience had him sticking with the gym until well after his time in physical therapy had come to an end. His new fitness far surpassed what it had been before the accident, and he decided to become a personal trainer to help others achieve those goals they always thought were impossible.
Today, he helps clients strengthen and condition their bodies in group fitness classes and personal training. He equips athletes to excel with tailored training that focuses on building the kinds of speed, strength, and agility needed for each sport. He has logged nearly 1,000 hours using TRX resistance bands in personal-training sessions and boot camps. He affectionately calls the camps T-ReX boot camps, after the dinosaur renowned for its strength, ferocity, and ability to perform a perfect unassisted sit-up.
2550 Yale Ct.
Abbotsford
British Columbia
604-302-9671
---
---
Gym, Exercise, Weightloss Deals - Recently Expired
---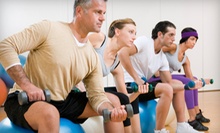 Chilliwack Proper Village West
Certified spin and group trainer infuses intense cardio and muscle-sculpting classes with fun, upbeat energy
---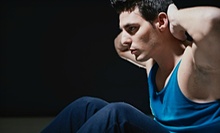 Instructors push students of all fitness levels during indoor boot camps that incorporate strength, cardio, and power-yoga techniques
---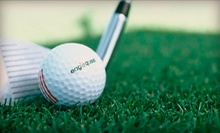 Nine-hole, par 27 course with grass tees tests short-game skills; mini-golf course shrinks the game and features fun obstacles
---
---