Acton, MA Health and Fitness
---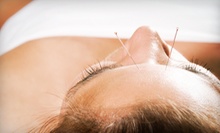 Acupuncture needles help boost circulation and decrease pain; facial treatment aims to minimize fine lines and wrinkles
---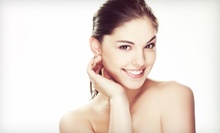 Board-certified aesthetician uses hyperbaric oxygen to infuse skin with hyaluronics, antioxidants, and vitamins
---
Recommended Health & Fitness by Groupon Customers
---
Each of Beacon Hill Athletic Clubs' cheerful neighborhood locations pairs group exercise classes with a phalanx of cardio, strength-training, and free-weight fitness equipment. Gym members can tone bodies with Precor treadmills or pound Cybex machines to be able to fight them when they become self-aware. A well-cultivated balance of strength and cardio equipment ensures that bodies don't become too lean, too muscular, or too attached to heartbreaking maverick dumbbells. Join the parked peloton in a group spinning class and meet fellow soma-slimmers while racing to the top of imaginary hills and bunny-hopping over make-believe lawn gnomes and very real leprechauns. Round out your gymsperience by signing up for group offerings, including Pilates, tai chi, and yoga classes.
1089 Washington St.
West Newton
Massachusetts
If your eyes are the windows to your soul, your teeth are the white picket fence that protects the soul from windpipe-sized pieces of taffy. Strengthen your defenses against attacks on the soul with today's deal for clean and healthy teeth: $50 gets you a cleaning (a $110 value), exam (a $45 value), and four bite-wing x-rays (a $75 value) from Monique Mabry, D.M.D., a $230 combined value.Follow @Groupon_Says on Twitter.
1400 Centre St #106
Newton
Massachusetts
US
The locally owned and recently opened facility offers state-of-the-art equipment and expert staffers to help you navigate the facility. Classes are offered multiple days of the week (except for Friday and Saturday) at varying times and include such hits as beginner's yoga, boot camp, Pilates, and cardio circuit, among others. Check out Lexington Fitness Club's photos for freeze frames of these action-packed classes as well as a virtual tour of the athletic stomping grounds. Other club amenities include towel service, babysitting service, and ample parking.
177 Bedford St.
Lexington
Massachusetts
Thomas Valentine Sullivan and several fellow evangelicals built the first YMCA on American soil in Boston in 1851. The building was a manifestation of Sullivan's goal to "meet the young stranger as he enters our city, take him by the hand, direct him to a boarding house where he may find a quiet home. . . and in every way throw around him good influences, so that he may feel that he is not a stranger," as stated on the YMCA's website and Sullivan's favorite T-shirt. This zest for helping mankind sparked the YMCA's rich history, which has seen its flagship location dedicated by President Taft and two of its locations give rise to basketball and volleyball. Sullivan's vision remains intact as the YMCA's staff and volunteers orchestrate an array of group classes and wellness-centered programs such as childcare, youth and adult sports, camps, and volunteer opportunities.
725 Lexington St.
Waltham
Massachusetts
781-894-5295
Soni Anderson has been a yoga enthusiast since infancy. As a baby in the Fiji islands, she received yoga massage from her grandmother while her grandfather danced and performed stories from ancient Hindu texts. Her village endorsed meditation and an Ayurvedic lifestyle, prompting Soni to practice her asanas alongside extended family and friends as she matured. Today, as the owner and head teacher of SoniYoga, she strives to combine her grandfather's playful mindset with the therapeutic customs of her homeland.
SoniYoga focuses on the Hatha style, though its two studios also embrace restorative, Kundalini, and yin and yang postures during certain classes. A serene atmosphere of acceptance welcomes all students to challenge themselves each time they visit, whether they wish to push the boundaries of their flexibility with a more advanced pose or with a more restrictive suit of armor. Soni also channels her holistic upbringing by offering Ayurvedic counseling, products, and massage services which can help customize a wellness plan for clients based on their body types.
279 Cambridge St.
Burlington
Massachusetts
617-876-9642
Since 1965, the family-run Ski Haus has kept customers coming back by adhering to the family motto: "Make sure we keep a fun environment and give everybody a fair deal. They get a ton of stuff for their money and we stay in business for a long time." Patrons can still expect the same low prices and see the same friendly staffers' faces year after year while shopping for winter gear.
Racks stocked with apparel by brands such as The North Face and Marmot, skis and snowboards by brands such as Atomic and K2, and a team of skilled technicians have earned Ski Haus accolades from Ski magazine, SnowSports Industries America, and New England Winter Sports Representatives, Inc. During tune-ups, technicians polish skis, stone-grind ski edges, apply hot wax, and repair bases damaged by treacherous slopes and sharp snowman noses.
1 Wheeler Rd.
Burlington
Massachusetts
---