Restaurants in Addison
---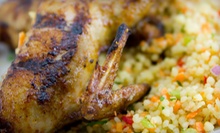 Chefs prepare authentic Mediterranean fare such as hummus, grilled lamb chops & grilled quail, served family style on shareable plates
---
Recommended Restaurants by Groupon Customers
---
With fondue, as with many things, there is an etiquette to be followed. Let the long, slender fork linger over the pot so that drops of blended gourmet cheese fall gently back in the fondue, rather than dotting the top of an intimate, two-person booth. Dip each piece of fresh, local produce only once, covering it fully in gruyére, beer-tinged cheddar, or dark chocolate laced with cabernet. Place the sumptuous cuts of meat and seafood on a plate after dipping using a traditional fork to then cover them with accompanying sauces, made fresh daily in the kitchen. While generosity never begs enforcement, it is traditional for the person who first loses a morsel in the pot to buy the next round, and basic courtesy dictates that you not finger-paint on the pressed-tin paneling with your cheese.
The masterminds behind Simply Fondue don't make the rules, they just provide them to customers, along with five blends of cheese and 15 chocolate creations, with gourmet ingredients that are imported weekly. They engage minds with tradition and taste buds with sweet and savory pots, but they don't neglect the eye, lining the walls with sculptures from artist Barrett DeBusk and vibrantly colored abstract paintings that brighten the room.
2108 Greenville Ave.
Dallas
Texas
214-827-8878
The average human has 10,000 taste buds, but eating the same meal every day only acknowledges one. Reach a multitude of taste receptors with today's Groupon: $15 gets you $35 worth of authentic Chinese dinner fare at Kirin Court Peter Abellard, Vow of Silence: Was banished from his order when he shouted, "Don't go in there!" during a screening of classic horror film Halloween. Ilya Petrov, Vow of Chastity: Says Petrov, "I broke my vow of chastity but I kept my vow of being the frickin' man! Woo! Give it up for P-Dog!"Anastasios Pappas, Vow of Poverty: The other monks suspected Pappas might have entered and won the lottery when he began taking a helicopter from the kitchen to the library.
221 W Polk St #210
Richardson
Texas
US
Gator's Croc & Roc, a retreat revered for its rooftop patio, douses its denizens in live rooftop performances, colorful, swamp-themed décor, and a menu loaded with American, Tex-Mex, and Cajun entrees. Southern specialties such as the jumbo wing sampler ($10.99) and fried pickles ($7.99) allow themselves to be passed around like a hot potato in a literal version of the game hot potato. The namesake fried gator, crispy cuts of croc served with fries and spicy dipping sauce ($14.99), sates untamed appetites, and the Santa Fe salad, packed with roasted red peppers, sliced avocado, and blackened chicken breast ($9.99), adds a southern touch to a leafy staple.
1714 North Market Street
Dallas
Texas
US
214-748-0243
Today's Groupon hugs your food zone with arms made out of breakfast potatoes. For $10, you'll get $20 of fare and liquid fare at Bonnie Ruth's Café and Catering, a quaint munchery favored for its fresh pastries and cozy qualities that make it perfect for taking a date or Michael Rapaport. Unsure of Brunch's effect on humans, Hooft first tested his discovery on baboons, who rejected both the meal's timing and its contents. Driven mad by his failures, Hooft's research took a terrifying and irresponsible turn: he began testing Brunch on his own family without their consent. Hooft, badly needing funding to continue his work, then sold his research to several rogue states. In 2006, Zimbabwean strongman Robert Mugabe was put on trial for imposing Brunch on his own people.
1152 N Buckner Blvd., Suite 126
Dallas
Texas
US
Naan Sushi Japanese Restaurant's skilled culinary artisans craft specialty sushi and upscale Japanese cuisine amid the restaurant's modernistic décor. Fresh sushi and entrees populate Naan's dinner menu with rolls such as the Texas Tornado, a spicy deep-fried vortex of jalapeños, scallions, and yellowtail served on a double-reinforced storm plate. Lighter fare gently cares for subtle hunger pangs with antidotes such as soups, salads, and deep gulps of fresh air. A line of cushioned couches snakes through the restaurant, separating the spacious dining room from the luminous bar and giving Naan's layout a one-of-a-kind shape. White-clothed tabletops and chairs fill the dining area and provide a bright contrast to the dark-leather armchairs, an accordion partition adorned with dragons, and a campfire surrounded by Eagle Scouts. Patrons can also show off their rock-star-imitating powers at karaoke nights each Saturday at the Dallas location and each Thursday at the Plano location.
2600 Cedar Springs Rd.
Dallas
Texas
214-772-6399
Don't let the cafeteria-style serving trays at Fadi's Mediterranean Grill fool you—the food on top of them "tastes gourmet," assures the Houston Press. Fadi's sweeping serving line of tabbouleh, hummus, and broiled lamb shank that's "fall-off-the-bone tender" earned the paper's award for Best Middle Eastern Restaurant in 2009 in addition to a slew of other accolades from across the state of Texas. Though guests may fill their trays with tender beef shawarma and chicken kebabs, vegetarian pitas stuffed with hot falafel and couscous salad are stars in their own right, according to Whitney Filloon of the Dallas Observer, who describes her herbivorous and omnivorous meals there as "pure gastronomical joy." Aside from the gourmet cuisine, the eatery avoids traditional cafeteria stereotypes of sterile color schemes and abstract spork sculptures with vivid displays of Mediterranean artwork illuminated by ornate purple and red chandeliers.
2787 Preston Road
Frisco
Texas
972-712-1600
---