Restaurants in Addison
---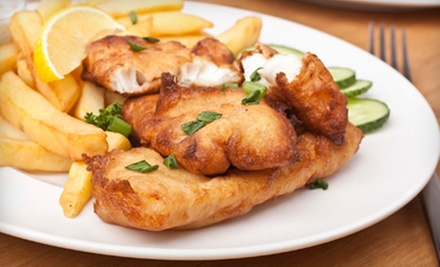 ---
Recommended Restaurants by Groupon Customers
---
Gator's Croc & Roc, a retreat revered for its rooftop patio, douses its denizens in live rooftop performances, colorful, swamp-themed décor, and a menu loaded with American, Tex-Mex, and Cajun entrees. Southern specialties such as the jumbo wing sampler ($10.99) and fried pickles ($7.99) allow themselves to be passed around like a hot potato in a literal version of the game hot potato. The namesake fried gator, crispy cuts of croc served with fries and spicy dipping sauce ($14.99), sates untamed appetites, and the Santa Fe salad, packed with roasted red peppers, sliced avocado, and blackened chicken breast ($9.99), adds a southern touch to a leafy staple.
1714 North Market Street
Dallas
Texas
US
214-748-0243
Today's Groupon hugs your food zone with arms made out of breakfast potatoes. For $10, you'll get $20 of fare and liquid fare at Bonnie Ruth's Café and Catering, a quaint munchery favored for its fresh pastries and cozy qualities that make it perfect for taking a date or Michael Rapaport. Unsure of Brunch's effect on humans, Hooft first tested his discovery on baboons, who rejected both the meal's timing and its contents. Driven mad by his failures, Hooft's research took a terrifying and irresponsible turn: he began testing Brunch on his own family without their consent. Hooft, badly needing funding to continue his work, then sold his research to several rogue states. In 2006, Zimbabwean strongman Robert Mugabe was put on trial for imposing Brunch on his own people.
1152 N Buckner Blvd., Suite 126
Dallas
Texas
US
Today's Groupon honors the sacred ode to dairy with $25 worth of globe-traveling cheeses from Molto Formaggio for $10. Round out your holiday shopping list or elevate your daily snacks with sophisticated slices and choice chunks.Follow @Groupon_Says on Twitter.
6025 Royal Ln
Dallas
Texas
US
Where there's smoke, there's a fiery Groupon; today's deal extinguishes blazing appetites with cooked cuisine. For $10, you'll get $20 worth of American eats and drinks Press Box Grill, D Magazine's pick for Best Bar Food.Follow @Groupon_Says on Twitter.
1680 Elm St
Dallas
Texas
US
If two heads are better than one, then two cuisine-noggins fused into one restaurant-body are better than one. Support admixed eateries and your local thesaurus with today's Groupon: for $10, you'll get $25 worth of delicious Brazilian and Vietnamese for lunch or dinner at Lumi Empanada & Dumpling Kitchen, an epicurean hybrid that helps you to expand your cultural palate.
3407 Mc Kinney Ave
Dallas
Texas
US
With green curries, vibrant orange shrimp, and a rainbow of veggies, Sawadika—the Thai word for "hello"—introduces eyes and mouths to the beauty and flavor of traditional Thai cuisine. Past polished wooden booths and earth-toned walls that alternate between a laddered wood pattern and a sea of pinks and creams, past paintings of sailboats and gardens, past a granite-topped bar with wine glasses dangling above, the chefs combine their spices and herbs like artists, dappling plate canvases with a menu of curries, noodle bowls, and seafood. They sauté salmon and catfish in coconut milk and curry, and they stir-fry meats in housemade sauces such as fragrant lemongrass and tangy sesame, creating balanced meals and edible portraits of their customers dressed in royal costumes. They also celebrate the sweeter side of Thai cuisine with desserts such as mango sticky rice and coconut ice cream.
220 W Campbell Rd.
Richardson
Texas
972-918-9888
---