Restaurants in Addison
---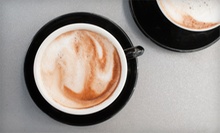 Baristas create decadent drinks, such as vanilla lattes, raspberry tea, and Chocolate Zado: a mix of frozen chocolate and coffee shake
---
Recommended Restaurants by Groupon Customers
---
The average human has 10,000 taste buds, but eating the same meal every day only acknowledges one. Reach a multitude of taste receptors with today's Groupon: $15 gets you $35 worth of authentic Chinese dinner fare at Kirin Court Peter Abellard, Vow of Silence: Was banished from his order when he shouted, "Don't go in there!" during a screening of classic horror film Halloween. Ilya Petrov, Vow of Chastity: Says Petrov, "I broke my vow of chastity but I kept my vow of being the frickin' man! Woo! Give it up for P-Dog!"Anastasios Pappas, Vow of Poverty: The other monks suspected Pappas might have entered and won the lottery when he began taking a helicopter from the kitchen to the library.
221 W Polk St #210
Richardson
Texas
US
Gator's Croc & Roc, a retreat revered for its rooftop patio, douses its denizens in live rooftop performances, colorful, swamp-themed décor, and a menu loaded with American, Tex-Mex, and Cajun entrees. Southern specialties such as the jumbo wing sampler ($10.99) and fried pickles ($7.99) allow themselves to be passed around like a hot potato in a literal version of the game hot potato. The namesake fried gator, crispy cuts of croc served with fries and spicy dipping sauce ($14.99), sates untamed appetites, and the Santa Fe salad, packed with roasted red peppers, sliced avocado, and blackened chicken breast ($9.99), adds a southern touch to a leafy staple.
1714 North Market Street
Dallas
Texas
US
214-748-0243
Today's Groupon hugs your food zone with arms made out of breakfast potatoes. For $10, you'll get $20 of fare and liquid fare at Bonnie Ruth's Café and Catering, a quaint munchery favored for its fresh pastries and cozy qualities that make it perfect for taking a date or Michael Rapaport. Unsure of Brunch's effect on humans, Hooft first tested his discovery on baboons, who rejected both the meal's timing and its contents. Driven mad by his failures, Hooft's research took a terrifying and irresponsible turn: he began testing Brunch on his own family without their consent. Hooft, badly needing funding to continue his work, then sold his research to several rogue states. In 2006, Zimbabwean strongman Robert Mugabe was put on trial for imposing Brunch on his own people.
1152 N Buckner Blvd., Suite 126
Dallas
Texas
US
Today's Groupon honors the sacred ode to dairy with $25 worth of globe-traveling cheeses from Molto Formaggio for $10. Round out your holiday shopping list or elevate your daily snacks with sophisticated slices and choice chunks.Follow @Groupon_Says on Twitter.
6025 Royal Ln
Dallas
Texas
US
Rustic charm meets opulent décor inside The Old Warsaw, where white tablecloths and burgundy drapes mingle with chandeliers and grand paintings, setting the scene for decadent plates of French continental cuisine honed over six decades. Dishes range from classic French fare such as escargot and chateaubriand to braised pheasant and roasted duck, all of which can be paired with any of 460 wines procured from regions such as Europe, North America, and South America. As diners sample rich seafood crepes and lobster bisque, live musicians tickle eardrums with soft melodies, special songs for birthdays and proposals, and occasional legal advice.
2610 Maple Ave.
Dallas
Texas
214-528-0032
From the tomato-red columns running along the wall to the fresh green basil that garnishes dishes on its tables, the dining room at Palio's Pizza Cafe bursts with color. Roma tomatoes, red peppers, and spicy, house-made red sauce paint thin, crisp pizza crusts. Farm-fresh salads host a kaleidoscope of colorful toppings, such as the Nutty Hawaiian's cashews, pineapples, and cranberries. By the entrance, the mural of a flamenco dancer brandishes a wine bottle like those used by waiters to pour out reds and whites. Above her head, the word Palio's unfurls like an artist's signature on canvas, lending a name to the colorful culinary scene.
Palio's chefs aim to make their dishes as healthful as they are vibrant. They craft crusts with whole-wheat or gluten-free dough upon request, and blend only fresh ingredients and locally sourced magic beans into their house-made pasta sauce.
1941 Preston Rd., Suite 1004
Plano
Texas
US
---