Things to Do in Addison
---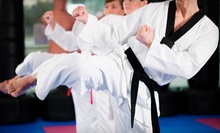 Instructors teach tae kwon do for self-defense and self-discipline, blending it with jujitsu and other martial arts
---
Recommended Things to Do by Groupon Customers
---
The sight of children playing with mounds of broken glass is not uncommon at Smashing Times studio. That's because each shard of tile, china, or glass has been tumbled to remove any sharp edges before the young ones transform them into multicolored mosaics. All of the shards, arranged by type and color like pieces of a yet-to-be-discovered puzzle, present themselves for collages of all sorts, including interactive glass-fusing projects.
When not helping artists create their own silver jewelry, glass pendants, or mosaic mirrors, the artists at Smashing Times create custom installations. Ranging from massive exterior murals to miniature mosaic lamps, the projects adorn ordinary surfaces with pinpricks of color, stylized to create geometric patterns or a grove of deceptively inedible citrus trees and grapevines.
308 Preston Royal Shopping Ctr.
Dallas
Texas
214-363-2088
When players take a tumble or dive at Gatsplat, they're cushioned by the same stuff that protects NFL players from harm. Both of Gatsplat's indoor paintball fields are padded by NFL-quality Astroturf, but these are not the only safety measures the staff puts in place. Professional referees keep watch over games, as opposed to off-duty clowns looking to score some free face paint. Players are also divided by experience level, and standard 68-caliber markers can be swapped out for lighter-weight 50-caliber markers so kids as young as six can play.
The 26,000-square-foot air-conditioned facility also has a comfortable viewing area with wide windows for non-players to keep an eye on the action. Free wireless internet access and a wide-screen television keep them occupied, and between games, players and non-players can discuss strategy or compare paint splatters as they snack at picnic tables.
582 E. Hwy 121
Lewisville
Texas
972-956-5500
Returning for their fourth year of family fun, Dallas Kids Expo's organizers thrill children and parents with a one-day whirlwind of activities, exhibition booths, and kid-friendly demonstrations at Dallas Market Hall. Amid the spacious expo grounds, a fleet of exhibitors—from pediatric dentists to craft stores—welcome wanderers into their booths, cordially introducing their wares and services via games of charades. Appearances by Bob the Builder bring smiles to kids' faces, and information sessions for parents on child-rearing topics are hosted by local child-rearing gurus. As the day continues, kids work off excess energy at the petting zoo or by starting their own five-cent tax-preparation-service booth.
2200 N Stemmons Fwy.
Dallas
Texas
Grasping hands constantly seek means of ascent as climbers scale the towering crags inside Exposure Rock Climbing's expansive gym. Route setters Kyle Clinkscales and Stan Borodyansky regularly put their USA Climbing certifications to good use, rearranging the colorful hand- and footholds that populate each wall to create fun and challenging routes that appeal to dedicated climbers and beginners alike.
The gym's experienced staff provides gravity-defying guidance during private lessons for climbers of all abilities and unlocks early interest in climbing with classes for juniors. The same savvy instructors have led Team Texas—Exposure Rock Climbing's competitive junior climbing team—to four USA Climbing national championships, including the 2012 title. The facility also hosts group and birthday-party packages and team-building programs for corporate workers, youth groups, and gravity deniers.
2389 Midway Rd.
Carrollton
Texas
972-732-0307
---