Auto Service in Affton
---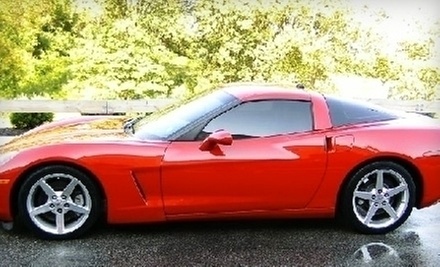 ---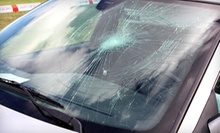 Certified auto-body technicians mend chips or replace entire windshields, often with same-day service
---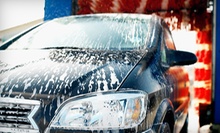 Drive-through deluxe washing beautifies buggies with tire cleaner, triple foam polish, undercarriage wash, bug removal & blow dry
Use Tuesday 10:00am - 5:00pm
---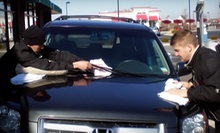 Use Today 2:00pm - 7:00pm
---
Recommended Auto Service by Groupon Customers
---
If your shady parking spot rests beneath bird-filled trees or someone has scrawled carpetbagger into the layer of grime on your car window, Complete Auto Wash and Wax can give your vehicle its original off-the-lot shine. With today's Groupon, $50 will get you three complete interior and exterior washes (a $15 value each) and one wash and wax (normally $65), for a $110 combined value. Buy multiple Groupons for perpetual shine and a better sense of humor. This deal isn't just great for sprucing up your own car: it also makes the perfect passive-aggressive gift for your dirty carpool driver. Follow @Groupon_Says on Twitter.
211 N Broadway
St. Louis
Missouri
US
Today's Groupon gets you a thorough interior and exterior standard detailing for $60 at Classic Car Studio (a $150 value). Classic Car Studio specializes in European luxury cars and impeccably restored American classics, so they know how to pamper your collectable Ford Taurus with the tender care most people reserve for friends, pets, and lonely mailmen. Please note: Your Groupon is for cars; extra charges for SUVs and vans will apply.Just then, Blondie Mondell came out of the bowling alley with a cotton-candy-pink sweater and an armload full of school homework. She was also late for singing practice. She gave him a once over, like the trouble he was.
1002 Hanley Industrial Ct
St Louis
Missouri
US
Smoke blasts from the wheels of a powerful Mustang as professional driver Vaughn Gittin Jr. drifts his screeching muscle car around a tight bend. The car glides and slides across an outdoor parking lot at the Saint Louis Auto Show, while inside, pint-sized guests guide cars through a remote-controlled NASCAR racetrack. Guests can explore a showroom floor of more than 500 vehicles, including top of the line cars, trucks, and SUVs from Chrysler, Cadillac, Toyota, Jeep, and more. The show's Million Dollar Mile flaunts exotic rides from Maserati, Lamborghini, and Bentley, while the EcoCity area showcases cutting edge electric vehicles. The four day event also features the Pistons and Pearls charity gala, where guests don their finest duds while enjoying unlimited food and drink and vie for a chance to slow dance with St. Louis' most eligible steering wheels.
701 Convention Plaza
St. Louis
Missouri
At Skyview Carwash, robotic washers and old-fashioned elbow grease collide to restore cars to a showroom shine. Vehicles zip through the sudsy tunnel for a thorough exterior wash and rinse, including spritzes of Blue Coral undersealant and triple coat and helpings of Rain-X protectant. Once exteriors are clean and shiny, car-wash attendants groom interiors by vacuuming up dirt, clearing smudges from windows, and donating old pine-tree air fresheners to the deprived lumberjacks of the world.
8304 Olive Blvd.
St. Louis
Missouri
314-997-6032
Local highways, driveways, and parking lots teem with sparkling cars thanks in part to Country Club Car Wash's 20-plus years of automotive grooming. The touchless wash systems and detailers at all five locations dole out doses of products seven days a week, catering to cars whose conditions range from "in need of a quick rinse," to "coated in ostrich feathers and silly string." Country Club's unlimited wash clubs allow motorists to sanitize their cars as often as they see fit, and the wash stations at each facility are flanked by a Mobil On the Run.
1700 Ford Ln.
St. Charles
Missouri
Auto Spa Etc. hosts a talented crew with a knack for freeing vehicles of filth and grime, using elevated water pressure to de-soil street steeds during a full-service wash and dry topped off with Rain-X surface protectant. The touchless car wash and gas station at Auto Spa Etc. also team up with expert technicians to retool vehicles with meticulous detailing and maintenance services.
5439 Telegraph Rd.
St. Louis
Missouri
---