Affton Gyms and Fitness
---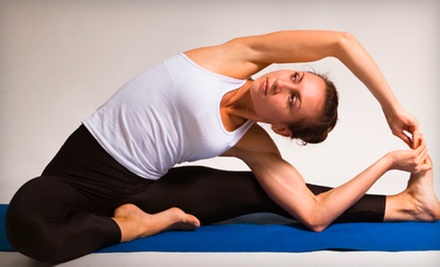 ---
Gym, Exercise, Weightloss Deals
---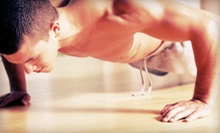 One-hour, full-body workout broken down into four 15-minute cycles of calisthenics, plyometric drills, running, and resistance-band training
Use Saturday 6:00am - 9:00am
---
Recommended Gym, Exercise, Weightloss by Groupon Customers
---
Having practiced since 1997, training under leaders in the field, and serving as the sole yoga instructor for the Kashi company in 2008, owner Brigette Niedringhaus opened Southtown Yoga with the goal of bringing a unique approach to the city yoga-studio concept. In doing so, Brigette built up a schedule replete with a variety of classes held in a warm and welcoming environment for students of all skill levels. The Riverfront Times recognized her efforts by naming Southtown Yoga its Best Yoga Studio in 2008. The staff that helped earned that award features 11 highly trained instructors who guide students through a series of poses during 45- to 90-minute group classes. Slow-paced Basics courses pave the way for Mixed Level sessions that expand on the fundamental concepts, and rooftop classes enable students to mix up the workout scenery, like lifting weights in a phone booth. Classes are available seven days a week, with some sessions beginning as early as 6:30 a.m. and as late as 7:30 p.m.
3719 S Kingshighway Blvd.
St. Louis
Missouri
314-353-1004
Rather than relying on awkwardly long hugs, Urban Breath instead welcomes yogis of all ages and skill levels with a variety of classes taught by knowledgeable instructors in a downward-dog-to-earth neighborhood studio. Yoga Basics lets absolute beginners take a crack at yoga for the first time and stretch the cobwebs out of their most haunted joints. From there, take the next step with Hatha yoga, which mines the deep core muscles—increasing flexibility, strength, and balance. For a more-meditative discipline that tightens the body, focuses the mind, and dispels the daily stress of being surrounded by chain-smoking coworkers at the fireworks factory, try Kundalini yoga. The Slow Flow Vinyasa class will lubricate squeaky muscle doors and top off your body-fuel tank with basic meditations, whereas the Happy Hour Yoga class uses upbeat music to energize and boost the mind with Vinyasa-style yoga that makes use of breath-synchronized, flowing poses. Classes take place several times a day, with most lasting 75 minutes. Although you can drop in at any time once you've registered, Urban Breath's WebScheduler lets you check for the latest bad-weather cancellations, teacher-rescheduling changes, and minotaur attacks.
1220 Tamm Avenue
St. Louis
Missouri
314-421-9642
The instructors at YogaSource strive to make yoga accessible to everyone, regardless of age or ability. To meet that goal, they offer eleven types of classes split between two studios, which are kept at different temperatures to accommodate those who prefer to stay calm and cool during practice, as well as those who like to sweat as they stretch. Yoga basics and intro to Hatha classes lead newcomers from pose to pose to build a foundation for future practice, and may incorporate props such as straps, blocks, and donuts that dangle just out of reach. Advanced options include power Vinyasa, where students flow through rigorous poses in 90-degree temperatures believed to help increase flexibility and promote detoxification, as well as the open-level class—known as The Practice—in which instructors and students attempt handstands and other challenging feats.
1500 Big Bend Blvd.
St. Louis
Missouri
314-645-9642
At Fitness Together, getting fit involves getting focused and fired up to achieve. Here, certified personal trainers guide clients of all skill levels through motivating programs designed to meet goals loftier than a giraffe's basketball hoop. To help their charges torch calories and tone muscles as efficiently as possible, the trainers incorporate evidence-based training methods, such as intervals, tempos, and fartlek, into each fitness regimen. Filled with cardio challenges and resistance training, workouts are tailored to individual needs and paired with nutrition tips that help the body build lean muscle. These sessions take place in a private, spa-like studio, flush with energizing red walls and functional training tools such as medicine balls, kettlebells, and gymnastics rings.
12528 Olive Blvd., Suite B
Creve Coeur
Missouri
314-985-6718
---