Agawam Automotive
---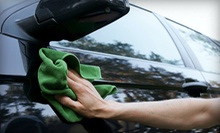 Thorough cleanings to vehicle exteriors include hand washing, bug and tar removal, rim and tire cleaning, and buff wax
---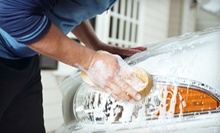 Spray shine and brake-dust removal augments a hand wash and dry; interior window cleaning and vacuuming spruce up the insides of rides
---
Recommended Automotive by Groupon Customers
---
From their three locations, the auto mavens at Platinum Car Wash & Oil employ advanced water-reclamation systems and power-conscious equipment during cleaning and maintenance services. The facility's full-service car-wash tunnels spray paint jobs with Simoniz soaps, waxes, and foams before staff members dab rides with microfiber towels. They continue hands-on touch during signature or 20-minute express detailing sessions that unfold as auto owners explore the waiting area's magazines, complimentary WiFi, or leather couch cushions.
Opposed to using recycled or reprocessed oils, the crew spurs pistons with Mobil oil and complimentary top-offs between services. They also help boost car with lube services, such as transmission drains, tire rotations, and VPS fuel-rail services that dislodge harmful debris and misplaced CDs from fuel- and air-intake systems.
1420 E Main St.
Torrington
Connecticut
Tyre Track Automotive Center's six-bay garage bustles with ASE-certified technicians rescuing ailing rides, shuttles running to and from local college campuses, and owner Tim Andrew amicably assisting both staffers and patrons. The hands-on owner has spent years in the auto industry, first manufacturing and selling tires before setting up his own wholesale supply shop more than two decades ago. Since then, Tyre Track Automotive Center has morphed into a full-service auto outfit that doles out routine maintenance services and repair work in addition to its ample stock of rubber wheels. During service appointments, Tim and his crew pull quality automotive products from the shelves, retooling vehicles with Valvoline motor oil, tires from Michelin, and Bosch wiper blades before sealing repair work with a kiss.
175 Chestnut St.
Springfield
Massachusetts
413-734-1746
At locations throughout the northeast, ScrubaDub Auto Wash Centers' computerized wash tunnels and detailing pros spiff up cars with advanced technology and minimal environmental impact. The robotic wash systems and photoelectric sensors not only clean finishes with a gentle, soft-cloth technique, but they can target white walls, wheels, and chrome with site-specific formulas. The eco-savvy automated systems also consume less water than home washing and recycle the water used to clean the wheels and undercarriage. Biodegradable SuperGlo soap keeps the run-off free of harmful compounds before it is funneled down the proper treatment channels, where it can't pollute neighborhood storm drains or be used to test the resiliency of carnival goldfish.
The centers' innovative equipment and Earth-friendly practices have earned them the title of Best Car Wash from CityVoter for three years running. Some locations also boast separate interior cleaning bays to address filthy dashboards and seats.
507 Boston Turnpike Rd.
Shrewsbury
Massachusetts
You can run a damp rag over the entire surface of your car's seats, console, and dashboard, but you'll never clear out 100% of the dust, dirt, and food crumbs. The team at Touch of Class Auto Detail specializes in these impossible-to-reach areas. Armed with a Tornado cleaning air gun and high-powered vacuum, the team at Touch of Class Auto Detail knocks out every speck of dust from cars' air-conditioner vents, seat crevices, and stereo knobs with an ultrafine spray of cleanser and sharp jet of hair that's gathered up by a lint-free chamois.
393 Ledyard St.
Hartford
Connecticut
860-296-8015
Voted 'Best of Auto Repair' by readers of Hartford Magazine, Roggi's Auto Service tends to the jalopies of its clients at its location in downtown Hartford. First opened in 1950 by Henry Roggi, the business has since passed down through three generations of the Roggi family.
278 Hudson St.
Hartford
Connecticut
The certified technicians at Advanced Automotive lead double lives. Before performing extended repairs or maintenance on cars, they act as chauffeurs to the vehicles' owners. The techs shuttle customers wherever they'd like to go—within reason, of course—including The Shoppes at Farmington Valley or a mani-pedi appointment at a local salon. This accommodating spirit, along with a commitment to fair and honest service, has kept the shop in business for more than 15 years.
In the office, Big Ron Dombrowski—Ron 2—runs the show, and his son and namesake—Ron 3—serves as the shop's foreman. With diverse skills that run the full gamut of foreign and domestic autos, team members tackle services such as repairing loose breaks, worn belts, or an uneven suspension, and they certify their hard work with a 24-month, 24,000-mile warranty on all parts and labor. Customers without errands to run can opt to wait in the onsite lounge, sipping complimentary coffee and using the free WiFi to buy a windshield-wiper metronome for their arrhythmic auto.
8 Cheryl Dr.
Canton
Connecticut
860-693-9070
---