Restaurants in Aiken
---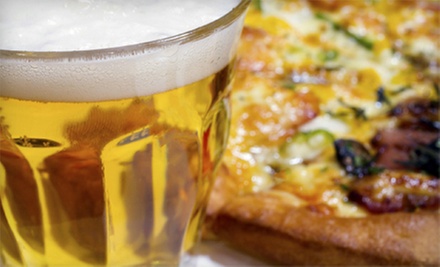 Central Business District
---
Recommended Restaurants by Groupon Customers
---
Saluda's Restaurant celebrates many histories. Its solid mahogany bar was part of Philadelphia's Blakely Hotel in the late 1800s, its walls sport vintage European posters advertising festive drinks, and its menu pays homage to timeless Southern staples, from shrimp and grits to artfully grilled rib eyes. Perhaps the greatest nod to the past is the building itself, which was constructed after World War I as a VFW officers club. There, veterans would gather to carouse and reminisce, fostering a convivial tradition that Saluda's has since restored and nurtured.
Executive chef Blake Fairies fuels the animated atmosphere with dishes whose down-home roots benefit from French and Italian influences. His prime concern is freshness—in an interview with Undefined magazine, he revealed how his fish du jour is often prepped the day after his friend Mark, a member of Abundant Seafood in Charleston, lures it onto his boat with promises of a free tropical time share. Like much of the kitchen's produce, chef Blake's flash-fried green tomatoes come from local farms, and his entrees incorporate seasonal ingredients to complement ones imported from across the world. The results are plates that blend classic taste with inventive zest: steaks in black-truffle butter, helpings of handmade pasta, and pork chops brined in sweet tea. At the bar, guests can peruse more than 300 wines as well as cocktails and small-batch bourbon.
751 Saluda Ave.
Columbia
South Carolina
The culinary team at Tsunami fixes up a veritable feast for the eyes with artfully plated Japanese delicacies festooned with sprigs of herbs, splashes of sauce, and colorful garnishes. Flames rage as hibachi chefs blast rib-eye steaks, scallops, and vegetables on their sizzling grills, and the restaurant's sushi-rolling savants coil specialty rolls such as the Emperor, which surprises tasters with hidden stashes of fried soft-shell crab, cucumber, eel, shrimp, and avocado. At Tsunami's four locations, diners polish off plates in a sleek, modern dining room with candles in faceted glass votives, a bar backlit with lights that slowly change colors, and waiters who can speak fluent binary code.
700 Gervais St.
Columbia
South Carolina
Chefs at Delhi Palace craft each piece of clay-oven-baked bread from scratch, evincing an attention to detail that helped earn them the title of Best Indian Restaurant 2010 from readers of the Free Times. Plain, topped with garlic, or stuffed with peppers or potatoes, this bread soaks up sauces from goat, lamb, and seafood dishes on the à la carte menu, and also pairs with vegetarian dishes formed from housemade cheese or roasted eggplants. In addition, lunch and dinner buffets lay out traditional dishes under the dark wood arches, ivory-painted columns, and Indian-style murals of the dining room.
542 St. Andrews Rd.
Columbia
South Carolina
Ismael and Silvia Villegas have been snipping off sprigs of cilantro and squeezing limes onto tacos inside Casa Linda Mexican Restaurant's kitchens since 1993. Beneath decorations such as papel picado and piñatas, staples such as chicken in mole sauce and tacos al pastor join specialties such as the Pollo Loco, a chicken breast topped with cream sauce and a medley of squash and other vegetables. The restaurant also shakes and blends specialty cocktails such as açaí cosmos and superfruit margaritas.
2009 N Beltline Blvd.
Columbia
South Carolina
803-873-6879
Carolina Deli has stood on the frontlines of the lunchtime rush for more than three decades, furnishing empty belly space with fresh sandwiches, salads, house-made sweets, and freshly brewed iced tea. Owners Travis and Melanie Mooney prevail over the homey, family-operated eatery, where Midlands munchers flock five days a week to tackle the shop's diverse menu with their mouths. Carolina Deli's specialty sandwiches, such as the Eagle, stuffed with roast beef, turkey, and bacon, challenge jaw-stretching capabilities with hefty stacks of meats and veggies, and the deli allows diners to design their own meaty, handheld creations. Luncheons, corporate events, and weddings can also treat taste buds to a catered Carolina Deli spread, including an optional, 3-foot tall chocolate fountain, in which guests can dip fruit or "accidentally" drop a penny into before diving in to retrieve it.
2 Richland Medical Pk.
Columbia
South Carolina
803-252-6646
There are two schools of thought at Harbor Inn Seafood Restaurant: fried or broiled. Whatever side you take, you'll enjoy the same flounder fillets, scallops, and crab cakes heaped with hearty helpings of baked potatoes, french fries, and hush puppies. Ten-ounce rib-eye and strip steaks provide a tasty alternative to seafood, and a children's menu includes pintsize portions fit for youngsters or the precocious wooden doll you call "son."
411 W Main St.
Lexington
South Carolina
---