Airdrie, AB Indoor Activities
---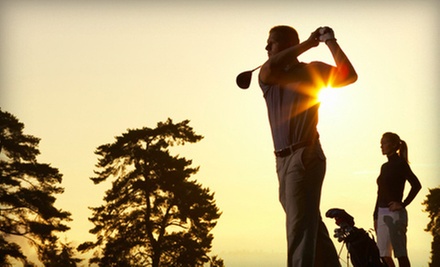 ---
Recommended Indoor Activities by Groupon Customers
---
Shakers Fun Centre's 7-acre facility includes an indoor space that's open year-round and outdoor attractions that open only during the warmer months. Indoors, youngsters can unleash their imaginations on an indoor playground or scale the climbing wall for a bird's-eye view of their peers. In the abutting laser-tag arena, kids practice their tactical manoeuvres and wield laser guns to prepare for the future, when they will have to fight in Saturn's army. On sunny days, patrons can tee off at the 18-hole mini-golf course, or hop into the driver's seat of a double- or single-seat go-kart, whipping around either a simple child's course or a more complex adult track.
9900 Venture Ave. SE
Calgary
Alberta
Olympic Billiards & Bar enchants sport enthusiasts with a plentitude of game tables, arcade attractions, and broadcasts of athletic contests. Brandishing chalked cues or disguised protractors, participants take aim at 8-balls on a trio of 3.5'x7' pool tables and a half-dozen 4'x8' billiards tables. A video arcade houses gamer favourites such as air hockey, ande a full bar dispenses 20 bottled beers as big-screen televisions and projectors air the latest football and hockey bouts. On Saturday nights, DJs pepper the dance floor with dubstep beats before harpsichord players take the stage to interpret Top 40 hits from the 1600s.
1312 17th Ave. SW
Calgary
Alberta
403-244-0606
At Capoeira Aché Brasil Calgary, Mestre Eclilson de Jesus and his staff of instructors impart the 400-year-old martial-arts and dance tradition of capoeira to students of all ability levels. Born in northeastern Brazil, capoeira's native country, he was exposed to the explosive combat art as a young boy. At age 10, he witnessed his first roda¬—the game in which two capoeiristas dance, spar, and flip to the beats of up-tempo, driving music played by a circle of raucous onlookers. Captivated by the movements and energy of the routine, he soon began training at the beach, where he discovered he had better kicks and leaps than most of the crabs and seagulls surrounding him.
Now with more than three decades of experience behind him, he brings the tradition to the northern hemisphere, synthesizing martial arts combat, acrobatics, dance, and music in classes at Capoeira Aché Brasil Calgary. Along with instructional classes, he and his instructors and students perform at festivals and events throughout Calgary, dazzling eyes with dynamic kicks, flips, and midair hand-jiving.
201 3811 Edmonton Trail NE
Calgary
Alberta
403-808-6924
Stage West Theatre Restaurant has been a beacon of dining and dramatics in Calgary for 30 years. General Manager Gary Tse and culinary wizard Chef Tsoi collaborate to create a night to remember six days a week, and the stage has been staffed with such stage-and-screen stars as Mickey Rooney, Abe Vigoda, Loretta Swit, and Sherman Hemsley. The company's history has seen more than 10,000 season subscribers each year, of whom more than 100 have continued to subscribe each year since the first production. They take in the wide-ranging cuisine and entertainment from an intimate 400-seat, ramped, tiered theatre designed for uniformly clear sightlines and maximal accessibility to patrons who prefer to somersault to their seats.
727 42 Ave. SE
Calgary
Alberta
403-243-6642
By combining soothing spa treatments and yoga classes for students of all levels, the staffers at Leela Eco Spa and Studio have created an urban, holistic oasis that boosts its clients' feelings of well-being. In addition to standard massages and Vinyasa classes, they cater specifically to new and soon-to-be mothers with prenatal treatments, baby sign-language classes, and yoga sessions designed for moms to bond with their wee ones.
849 1 Ave. NE
Calgary
Alberta
---