Shopping in Airdrie
---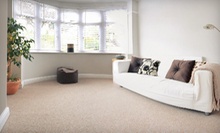 Technicians journey to the home, offering free measurements, estimates, and style advice as they help match carpeting to a desired room
---
Recommended Shopping by Groupon Customers
---
Between birthdays and holidays, there always seems to be a reason to buy a gift. And sometimes, the best time to buy a gift is when there is no reason at all other than to show you care. Nestled in West Market Square's rustic shopping getaway, Cobblestone Corner offers customers a wide selection of memory-making gifts for any loved one or occasion. Shoppers can pick out stylish, contemporary jewellery for a friend's birthday, gourmet dip mixes and soy candles to surprise a significant other, or treats and toys to congratulate the family dog on befriending the mailman. Bath products from Rocky Mountain invite recipients to relax and melt their cares away, and seasonal decor and gifts brighten homes for any holiday. Helpful, friendly staff members shepherd visitors through the smorgasbord of wares, with complimentary gift bagging for any purchase.
1851 Sirocco Dr. SW, Suite 319
Calgary
Alberta
Direct relationships with manufacturers overseas account for Beauty Saunas and Baths' sleek array of European-designed showers, sinks, and toilets. The showroom stocks elegantly designed bathroom staples and extras, such as all-wood infrared saunas, which may show promise in treating ailments such as arthritis and insomnia. A range of showers show off contemporary glass designs and spritz water to mimic falling rain, while bubbly whirlpools—unlike children—come equipped with self-cleaning abilities.
3429 12 St. NE
Calgary
Alberta
403-453-0086
Casablanca Video, like the Warner Bros. classic for which it was named, has become is a special ritual for local film buffs. The business was opened in 1982 by self-described "fan boy" Jon Lord, who at the time stocked only 150 movies. As the 1980s betamax tapes evolved into 1990s VHS, the shop's vibrant atmosphere and knowledgeable staffers gained the respect of renters. Loyal customers and Jon's commitment to serving up interesting titles from off the beaten path of Hollywood resulted in a rapid expansion. During one stretch, the business doubled in size annually for six straight years thanks to booming membership rolls and constantly self-replicating Ernest videos. Today, Casablanca thrives as a grand buffet catering to all filmic tastes, frequently garnering a top place on Fast Forward Weely magazine's readers' choice list. No fewer than 30,000 titles saturate aisles teeming with new releases, classics, and art-house fare—many available on current platforms such as DVD and Blu-ray as well as bygone movie formats.
2101-33 Ave. SW, Madra Loop
Calgary
Alberta
403-240-3472
The fitters at BraTopia believe that everyone is born perfect, and it is their job to find chic styles that fit each lady's form. To accomplish this, they assemble a vast array of stylish bras, underwear, shapewear, lingerie, and accessories. The chic boutique carries designers such as Cleo, Panache, and Miss Mandalay, which ladies can peruse and try on in private dressing rooms.
102A-1409 Edmonton Trl. NE
Calgary
Alberta
With more than 10,000 art products in stock, the owners at Swinton's Art Supply believe in maintaining a staff that has a working knowledge of their function. In doing so, they hire working artists to man the shelves and gallery-showing artists to instruct their classes, which can include painted landscapes and portraits in oil and nudes in pastel.
7160 Fisher St. SE
Calgary
Alberta
403-258-3500
With a mixture of degrees, residencies, and awards from lauded ocular institutions, Dr. Farah Sunderji draws upon years of educational and experiential expertise whenever she meets with a patient. One of several on-site optometrists stationed at Eye on 17th, Dr. Sunderji inspects and pairs eyes with appropriate prescription lenses. Those lenses can be affixed to more than 1,300 brand-name frames from designers such as Gucci and Jimmy Choo. Trained staffers can also abet clientele in finding befitting contact lenses within Eye of 17th's lounge-like facility, which features a bar-inspired counter and space-inspired spaciousness.
1039 17th Ave. SW
Calgary
Alberta
403-398-6050
---