Gyms & Fitness Centers in Ajax
---
Recommended Gyms & Fitness Centers by Groupon Customers
---
The founders of Fitness 4 Success established their business as a family-fitness facility so that they could help provide solutions to the growing instances of obesity among Canadians, especially children. In addition to physical-fitness programs designed for adults and kids and teens, the staff trains athletes in developing agility and endurance for specific sports such as hockey, basketball, and soccer. Because the staff trainers see themselves as ambassadors for all aspects of healthy living, they conduct educational programs for kids in elementary and secondary schools as well as full-day summer camps filled with activities such as Zumba, hiking, and meditation.
10 Westcreek, Suite 17
Vaughan
Ontario
905-850-2008
Light cascades through the windows, flooding the studio and illuminating the fierce women workouteers at Body Discipline Fitness Studio. Within this fitness haven for ladies only, certified instructors lead up to 25 pupils in a variety of class types—cycling through rhythmic flows during hot yoga, tightening torsos in boot-camp classes, and inspiring legs to dodge stray shoelaces in Latin-inspired Zumba sessions. Personal-training sessions pair exercisers with enthusiastic trainers, who customize workout plans to fit their clients' needs, elucidating proper technique and the average number of dumbbells the best trainers eat for breakfast.
2380 Royal Windsor Dr.
Mississauga
Ontario
905-823-1616
Eight CrossFit Level 1–certified trainers unite their backgrounds as professional firefighters, medical personnel, and hockey or snowboarding athletes to form a dedicated gym family, guiding apprentices in their journeys to fitness. Members of the tight-knit team took 3rd place in the 2012 Reebok/CrossFit Canada East Regional Competition, where they clambered onto the event podium to cement their finish by hand-bending a block of molten bronze into a trophy.
During guided classes, they welcome newcomers to the fold by committing each student's name to memory as they tackle intense Workout of the Day routines. CrossFit's catalogue of functional movements—actions relevant to real life and befitting how our anatomy works—include squats, dead-lifts, pull-ups, kettle bell swings, and box jumps among other exercises, all of which can be scaled to individual strength levels. Workouts might even call for the ascension of dangling ropes or heaving loaded sleds across the floor without opening any of the presents heaped on top. Such a reliance on muscle confusion aims to keeps physiques from settling into monotonous reps or hitting a fitness plateau.
2480 Cawthra Rd., Unit 22
Mississauga
Ontario
---
---
Gym & Fitness Center Deals - Recently Expired
---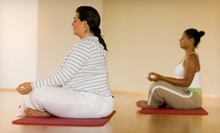 Non-judgmental, supportive environment for those not comfortable in regular fitness classes, from petite to plus-size and teen to senior
---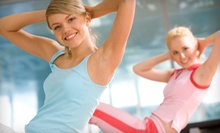 Drop-in fitness classes include Zumba Fitness, muscle conditioning, yoga, and Pilates
---
---