Things to Do in Ajax
---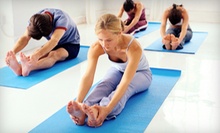 Boot camps help clients build muscle and burn fat; yoga facilitates relaxation and wellness; Zumba uses Latin beats to get hips shaking
---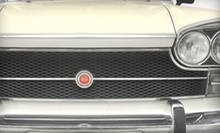 Museum showcases antique global & Canadian-made motorcycles, trucks, cars, pianos & washing machines alongside library collection
Use Today 9:00am - 5:00pm
---
Recommended Things to Do by Groupon Customers
---
From the 360-degree observation deck that crowns both of Yankee Lady Yacht Charters' ships, passengers can look up at the staggering height of the CN Tower or let their gaze drift upon the horizon of Lake Ontario. These two ships—the Yankee Lady III and Yankee Lady IV—boast three floors that accommodate up to 300 party guests as the vessels cruise around Toronto Harbour and the lake. Whether public or private, fetes find passengers digging into buffets at linen-dressed tables and then floating out to the dance floor as a DJ spins tunes or an understudy DJ hums classic winter-weather advisories. For private occasions, hosts can customize their festivities with casino games, decorations, and song requests.
390 Queens Quay W
Toronto
Ontario
The setting sun paints streaks of warm colours across the sky and the CN Tower looms over the harbour as a group of kayakers paddle toward a secluded island. This juxtaposition of city and nature sets the tone for Harbourfront Canoe and Kayak Centre's expeditions into Lake Ontario. During tours, their guides transport groups from the urban jungle of Canada's largest city to the natural environs of 13 Toronto Islands. Whether by kayak, canoe, or stand up paddleboard, the tour leaders blaze a watery path toward lagoons and sanctuaries teeming with wildlife, such as egrets, turtles, and turtles doing egret impressions. Tours also pass by historic man-made sights such as The Gibraltar Lighthouse built in 1808.
In addition to guided excursions, Harbourfront Canoe and Kayak Centre's experts schedule both private and group lessons for each of their watercraft types. They can help students obtain certification, or learn invaluable skills such as kayak rescue. The instructors also lead sessions at a pool, which lets students hone their skills regardless of weather conditions.
283A Queen's Quay W
Toronto
Ontario
Aboard a fleet of vessels that have cruised the Toronto Harbour for more than a quarter of a century, Toronto Harbour Tours converts landlocked guests into sightseeing day-sailors during scenic one-hour voyages. A licensed captain and crew colours each trip with informative narratives, casting entertaining facts into open ears while pointing out a continuous deluge of passing landmarks along the route. As tours drift by thriving parklands and across tranquil lagoons, Toronto's skyline glides into view to present passengers with unique opportunities to photograph the Skydome and the CN Tower's rippling Superman cape. During the summer, guests can disembark and explore Toronto Islands, catching a ride back to the mainland from another tour later in the day.
145 Queens Quay W, Pier 6
Toronto
Ontario
416-203-7786
At County in the City, samples of more than 50 different wines cascade across tongues to introduce them to some of the most beguiling flavours of Prince Edward County, a major part of the Ontario wine scene that Wine Spectator magazine dubbed the "world's least-known great wine zone." Approximately 20 small-batch and family-owned wineries will showcase their bottled arsenal throughout the evening, including many vintage and specialty wines that cannot be found on store shelves. Since it's illegal to deny possums housing in your wine cellar if it's empty, the event helps guests out by offering a Try and Buy program, which lets them sign up to have favourite selections shipped directly to their doorsteps.
315 Queen St. E
Toronto
Ontario
Alison Broverman of the National Post reported that "sewing machine phobia melts away" in The Make Den's studio. There, in a space resembling a 1950s kitchen, founder and Ryerson University grad Irene Stickney interweaves sound sewing principles and time-saving tricks into her workshops. Subjects range from an initial, embroidered letter of introduction to sewing techniques to bunting workshops and the otherworldly style of Lady Gaga. Several of the Den's instructors can also be seen gliding through the streets of the city in their own outrageous, hand-sewn matching creations as members of the Deadly Nightshades fashion-and-cycling posse.
1207 Bloor St. W
Toronto
Ontario
416-705-6925
Vintage One Wines puts the power of winemaking into the hands of Toronto's toasters. With this offer, clients have the opportunity to guide a malbec or chardonnay into flavourful fruition from grapes sourced from the vineyards of Chile and Argentina. The process begins with a tour of Vintage One Wines' 10,000-square-foot facility, followed by a one-on-one consultation with a professional winemaker. From there, clients can use a monthly production calendar to be as hands on as they like throughout the entire two-month winemaking process, including fermentation, filtration, and stabilization, or they can just let the wine take its own course while they spend the interim traversing the globe on a falcon-guided vision quest.
4896 Dundas St. W
Toronto
Ontario
---