Coffee & Treats in Akron
---
Recommended Coffee & Treats by Groupon Customers
---
The bakers at Bread Head Bakery & Coffee Shop have an obsession with freshness, imbuing their baked-daily breads with ingredients such as whole-wheat flour, oats, eggs, raw sugar, and cocoa powder. Using slices from these fluffy loaves, they craft delicious dishes all day, such as the Meat Head sammie—a blend of pepperoni, cheddar, honey ham, and house-made stone-ground garlic mustard served with a fresh-baked muffin. They also specialize in breakfast fare (which they cheekily name "wake-and-bakes") such as breakfast quesadillas, as well as premium coffee, which they grind fresh before brewing each batch.
113 West 3rd St.
Dover
Ohio
At Yummy's Bakery, visitors browse house-made baked goods oscillating from flavored fudge confections to savory yeast breads, complete with gluten- and sugar-free options. Eight flavored fudges such as chocolate peanut butter, maple walnut, and blueberry cheesecake keep classic chocolate fudge company in the display case. Meanwhile, chocolate-chip and oatmeal-raisin cookies ($8/dozen) consort with peanut-butter blossoms and gingersnaps ($7/dozen) fresh from the oven. Jalapeño-cheddar rolls ($2) and asiago bread ($5.50) temper the shop's sweetness, and unleavened orange-cranberry bread ($6) and pumpkin-walnut bread ($6) sneak produce past the grainy sentinels of the sugar cabal. Clients may also order cakes such as the Yule log ($8/half, $15/whole), a rolled pastry that customers can eat during the holiday season or burn in the fireplace to lure carolers and harvest their valuable sheet music.
1289 Edison Street Northwest
Hartville
Ohio
With an arsenal of fresh ingredients and rich recipes, Kretchmar's creative chefs conjure up spot-hitting sweet treats and oven offerings. Cookie options ($0.44–$0.47 each) include soft butter cookies with sprinkles, powdered-sugar butterballs, classic chocolate-chip bites, and drop cookies. Contemplate the cyclical circle of life with a doughnut ($0.69–$0.84 each), or scale a stack of sky-high scones ($0.58–$1.77 each) to climb beyond city limits and escape rampaging city councilors. Kretchmar's torte cakes have won the hearts of Beaver's bakery buffs. Sample the sweet splendor with the tres leches torte ($16.70), containing three different milks, and the toasted-almond torte ($15.40), the bakery's most popular torte.
664 Third St.
Beaver
Pennsylvania
---
---
Coffee & Treat Deals - Recently Expired
---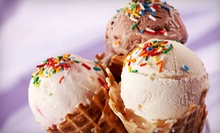 Housemade kustard comes in four flavors and seasonal selections with new ones always being unveiled
---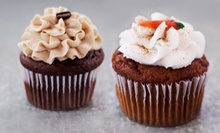 Large and mini cupcakes in more than 100 seasonal flavors such as pumpkin-spice latte, Oreo, and vanilla cherry bomb
---
---