Akron Health and Fitness
---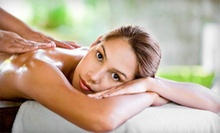 Holistic practitioners soothe, detoxify, and pamper clients with foot reflexology and full-body aromatherapy massage
---
Recommended Health & Fitness by Groupon Customers
---
Yoga Lounge was founded as a studio where yogis new and old could grow into their yoga practice. This explains the range of class styles that they offer: restorative yoga gently heals achy muscles, while challenging power flow whittles muscles and hones concentration. Over time, those who stick with the practice report a slew of health benefits, including improved flexibility body-wide, increased strength, and a deep-breathing technique that helps when challenging a dolphin to a diving contest.
89 First St. , Suite 207
Hudson
Ohio
Inside The Li'l Yoga Shop's powder-blue studio, students strengthen muscles, flexibility, and mind-body connections under the guidance of certified yoga and Pilates instructors. Instructors spread themselves across three levels of yoga classes that vary in difficulty to accommodate practitioners of all abilities, easing beginners into the practice with fundamental poses and breath work and challenging decorated warriors with advanced strengthening and balancing postures and flawless 21-sun salutes. The Li'l Yoga Shop's resident meditation specialist and spirit-animal tamer, Eden Kozlowski, leads peaceful meditation sessions to help pupils calm minds and enhance body awareness. Pilates and Yogilates instructors focus on pushing students through rigorous workouts to build up core strength, alignment, and flexibility through efficient floor exercises that isolate specific muscle groups across the entire body.
428 W Turkeyfoot Lake Rd.
Akron
Ohio
330-620-2875
When you look around the 150'x80' rink at Kent State University Ice Arena, you can't help but be amazed at the variety of things going on. Throughout the week, the rink plays host to skating lessons, hockey leagues, and public skating sessions in which families and couples can spend a day zooming around. Sports players learn the intricacies of being the best hockey player around or learn a new sport in the rink's broomball league. After hands and feet start to chill, guests can grab a snack and a hot beverage at the concessions stand, with the fireplace always crackling so guests can warm back up.
At Legacy Plastic Surgeons, Drs. James Lehman and M. Devi Prasad Tantri combine more than half a century of medical and cosmetic experience. With more than 70 published articles under his belt, Dr. James Lehman is well versed in all areas of cosmetic plastic surgery, specializing in breast reduction, breast implants, and abdominoplasty. His counterpart, Dr. M. Devi Prasad Tantri, boasts more than 25 years of medical experience, and demonstrates special proficiency in hand surgery, breast reduction, and the removal of cancers from the head and neck.
Together, the doctors lead a team of skilled clinicians—many of whom have served with the doctors for more than 10 years—who revamp and beautify faces with noninvasive techniques such as microdermabrasion, facial peels, and Botox injections. Before administering any procedures or treatments, doctors consult with patients to understand their subjects' expectations and tolerance for witty knock-knock jokes.
300 Locust St., Suite 590
Akron
Ohio
330-374-9100
Throughout the year, the USPTA-certified professionals at LaTuchie Tennis Center hone the on-court skills of adults and kids alike during social tennis courses. No more than eight students participate in each class, allowing the instructors to fully grasp each player's strengths, weaknesses, and areas that need the most attention. Lessons unfold on four outdoor courts and six indoor courts, helping students test their playing abilities in different settings regardless of outside or inside dust devils. LaTuchie Tennis Center also keeps players well equipped once their lesson days are over with gear and racquet-repair services at their full-service pro shop.
3200 Darrow Rd.
Stow
Ohio
Amid the fitness equipment of Advanced Performance CrossFit's facility, CrossFit Level 1 and Olympic weightlifting-certified instructors captain a high-intensity athletic training program used by police academies, military operation units, and hundreds of professional athletes around the globe. The innovative system strives to propel participants toward 10 core fitness domains—endurance, stamina, strength, flexibility, power, speed, coordination, agility, balance, and accuracy. The key ingredient to this effort is functional movement. In the company of a community of fellow fitness pursuers, students undergo varied regimens. These might incorporate cardio, plyometrics, weight training, and gymnastics, and they all take place under the watch of expert instructors and their team of assistants. Trainers can alter each workout to best suit a student's wellness goals and level of fitness, while working around restrictive issues such as injuries and cement socks.
201 Greak Oaks Trl.
Wadsworth
Ohio
330-962-3933
---