Yoga in Akron
---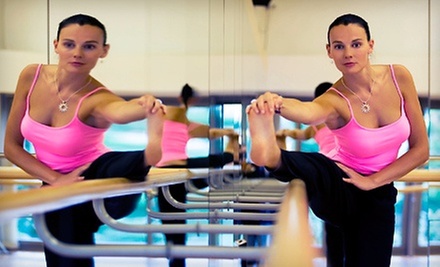 ---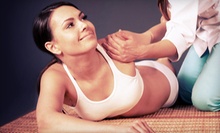 Seasoned instructors relax recipients with Thai yoga massage or lead students through strengthening poses during yoga and Pilates classes
---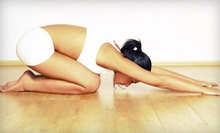 On 14th floor of Statler Arms building, yoga instructor and massage therapist Michelle Reed leads meditation, Vinyasa flow, and hatha poses
---
Recommended Yoga by Groupon Customers
---
Sometimes our dreams are within reach, but more often, those dreams are on the highest of high shelves, beside the BB gun and the cupcakes "for tomorrow." Reach that shelf with today's Groupon to stretch your muscles and muscle your stretches into a stretch of intense muscular moves. For $30, you get a five-class pass to Westside Yoga Studio in Lakewood, a $65 value. Upon your first visit, you'll receive your pass, which can be used toward any of the classes offered at the comforting studio. Once activated, you'll have 60 days to use your five classes, giving your card the considerable shelf life of a gallon of dehydrated milk.
17100 Detroit Ave.
Lakewood
Ohio
While critics laud Canadian-imported comedians, crooners, and hockey stars, Canada is also known for the liberal scientific-workout ethics that gave birth to a genetically engineered exercise more useful than square watermelons and seedless squares. Spynga is a hybrid exercise species of Canadian origin that combines the slow, focused poses and stretching of yoga with the heart-thumping intensity of cardio spinning. The two exercises are not performed simultaneously, as severe and violent tangling would be unavoidable; instead, they are performed one after the other. The skilled and motivational instructors at Buddhaful coach students through a stationary-bike session, revving hearts up to a maximum beating point. This calorie-burning workout is immediately followed by a yoga mat session on the studio's expansive hardwood floor. Muscles, joints, and tendons pushed to their limit by the bike session are stretched and relaxed, easing post-workout pain and tension while aiding in the development of core strength. The studio also offers classes that concentrate solely on yoga or spinning if students prefer to master the techniques separately before attempting a double major. Classes are offered daily; check the schedule and call to reserve a space.
1846 Coventry Rd.
Cleveland Heights
Ohio
Atma Center's classes reflect the techniques of Satyananda yoga, a combination of classic yoga traditions adroitly adapted to accommodate the needs of modern and futuristic persons, no matter their age or fitness level. It is also a teacher-training program, so you can be sure Atma's highly trained instructors have accumulated many a hour of individualized in-class wisdom and successfully squeezed through the awfully tight yoga-instructor rites of passage (pass-throughable by only the nimblest and most compassionate of bodies).
2319 Lee Rd.
Cleveland Heights
Ohio
Pole-dance fitness at Lifesource Yoga combines seductive shimmying with fun fitness exercises in a comfortable, women-only environment. The sampler pole-dancing workshop, held two or three Saturdays a month, introduces women to the fundamentals of cabaret and burlesque dancing, mixing saucy accents such as glove-, stocking-, and contact lens–removal techniques with calorie burning workouts and pole dancing. Supportive, experienced teachers lead classes through the leg-toning chair work of Cardio Cabaret, the bumps and grinds of Burlesque, and enticing floor work moves such as the "clock" and the "flirt." The two-hour long workshop furthers the hip-shaking revelry, familiarizing pupils with the personality of the pole during Pole Fitness Level 1. Students saunter through spins, climbs, and sits while improving flexibility, and shaking off calories.(https://clients.mindbodyonline.com/ASP/home.asp?studioid=5126) for class times.
300 N Cleveland Massilon Rd, Suite 02
Akron
Ohio
330-835-9945
Inside The Li'l Yoga Shop's powder-blue studio, students strengthen muscles, flexibility, and mind-body connections under the guidance of certified yoga and Pilates instructors. Instructors spread themselves across three levels of yoga classes that vary in difficulty to accommodate practitioners of all abilities, easing beginners into the practice with fundamental poses and breath work and challenging decorated warriors with advanced strengthening and balancing postures and flawless 21-sun salutes. The Li'l Yoga Shop's resident meditation specialist and spirit-animal tamer, Eden Kozlowski, leads peaceful meditation sessions to help pupils calm minds and enhance body awareness. Pilates and Yogilates instructors focus on pushing students through rigorous workouts to build up core strength, alignment, and flexibility through efficient floor exercises that isolate specific muscle groups across the entire body.
428 W Turkeyfoot Lake Rd.
Akron
Ohio
330-620-2875
To fulfill her mission of physically and spiritually transforming the individuals in her community, licensed massage therapist Sarah Cheiky transformed a high-ceilinged warehouse space into a health-and-wellness oasis. She and her staff splashed the rooms with sunny shades of yellow and orange, hung artwork from local artists on the walls, and warmed the floors with intricate rugs, successfully creating the holistic haven known as The Studio. Within this cozy domain, the team leads a variety of restorative sessions that focus on whole-body wellness, including yoga classes taught by certified instructors, massage sessions performed by licensed therapists, and traditional energy work to keep chi in check and life force from accidentally turning into magnetic force. Clients put aside the dowsing rod to seek their center during guided meditation classes, and footbaths and infrared saunas draw out toxins from all areas of the body. After emerging from private treatment rooms, clients can refresh themselves in the showers and don superhero costumes in the changing rooms before returning to the real world.
1395 W 10th St., Suite 120
Cleveland
Ohio
216-621-7085
---