Restaurants in Alameda
---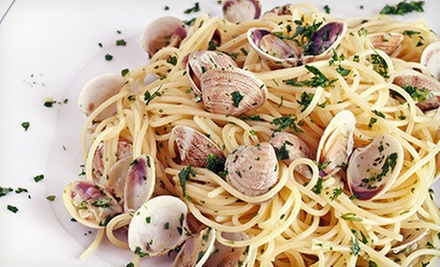 ---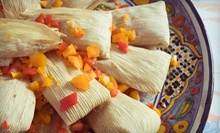 Jalisco-style Mexican food such as marinated pork tacos, burritos with housemade mango sauce, fajitas, and guacamole made tableside
---
Recommended Restaurants by Groupon Customers
---
Today's Groupon delivers a game-changing, pointier perspective on fast food. For $10, you get $22 worth of skewered chow and more at Asqew Grill. Asqew chefs skewer the basilisk of hunger with creative dishes that stimulate and satisfy anyone's appetite at temperatures piping-hot, at speeds piping-fast, and with attitudes piping-pleasant.Follow @Groupon_Says on Twitter.
800 Redwood Highway Frntg Rd
Strawberry
California
US
Split Pea's chefs choose the freshest produce from small farms every day to create eclectic plates such as chicken and rice with avocado soup (12 oz. for $4.75). Try a roasted cauliflower crostata (an open-faced sweet or savory pastry baked golden-brown) with shaved fennel and parmesan ($6.99). Salads such as a baby spinach bowl (with roasted yams, peanuts, and fresh mozzarella in a rice-wine vinaigrette, $5.99 for a small) or mixed greens with blood oranges, roasted almonds, and blue cheese in a tarragon and fennel vinaigrette ($5.99 for a small) satisfy any fresh-leaf craving and some forms of coryza. Split Pea's sandwich creations include roasted natural chicken with red slaw, aioli, and pickled cukes on a house bun ($5.99). Plus, everything can be custom combined; get a 12-ounce soup and half a crostata for $8.50 or sandwich and 16-ounce soup for $11.50.
138 6th St.
San Francisco
California
For those who generally wake up past the afternoon rooster's song, evening mealtime is the most exciting mealtime of the day. Sally's After Dark caters to supper cravings with a small but comfortable dining area graced by the familiar aromas of classic and elegant American comfort chow. Dinnertime happiness comes in all forms, including a penne pesto pasta with cauliflower, green beans, and toasted pine nuts ($13); spicy seafood jambalaya uniting prawns, calamari, and petrale sole in a spicy tomato-broth bath ($16); and a country pork chop grilled under a ground mustard shallot sauce ($15). Those who like a politely packaged meal are encouraged to build their own prix fixe with a soup or starter, an entree, and a dessert for $24.
300 De Haro St., #332
San Francisco
California
Chef Laurent Guillaume, who has helped open hotels and restaurants in Paris, brings years of culinary expertise to Chouquet's menu and adorns time-tested continental fare with surprising New World elements. Attentive servers emerge from the kitchen carrying escargot and niçoise salads, cruising past sleek stools at a bar accented by swirls of natural wood grain and designed by Dominique Maxime Genauzeau. On the patio, diners soak up the sun or choose least-favorite clouds for a sky writer to edit out. The dining room's sand-hued walls and burnt-orange accents resound with the sounds of glasses clinking together, bearing more than 70 wines from Europe, South America, and the Pacific Northwest and a rotating selection of draft beers from France and the United States.
2500 Washington Street
San Francisco
California
415-359-0075
Big Jim's BBQ entrances diners with a menu of tempting contemporary and barbecue cuisine arranged by chef Jim Modesitt. Like the annual westward migration of wood-smoking grills, the sauce-slathered bill of fare unites gourmet California treats with rustic southern cooking traditions, pairing juicy pulled pork, chicken, ribs, and brisket with hearty risottos, traditional cornbreads and beans, assorted cheeses, and crostinis. As clients sup on the tasty bounty or enroll in courses to learn the dark arts of cookcraft from the kitchen's professional chefs and caterers, rich flavors and aromas lavish the nose and palate with a sensory celebration of fine food.
620 W Francisco Blvd.
San Rafael
California
Taste of the Himalayas' chefs combine the international zest of Nepalese, Indian, and Tibetan spices with the homey flavors of locally sourced ingredients. They use free-range chicken or wild salmon to forge aromatic curries and tandoori-roasted entrees, as well as a selection of organic vegetables that rotates seasonally. In addition to praising the accessibility of the menu's southern Asian comfort foods, the Pacific Sun applauded the servers' dedication to creating a welcoming ambience, claiming, "it's as if you've come into their home for a meal."
This hominess lends warmth to the dining room's decidedly modern aesthetic, which includes large, oblong pendant lamps, dark-tile flooring, and burnt-orange walls with displays of unframed artwork. The open kitchen sits within full view of the main seating area, allowing diners to watch as the chefs plate orders and reenact the best scenes from Julia Child's autobiography.
2633 Bridgeway
Sausalito
California
415-331-1335
---