Restaurants in Alameda
---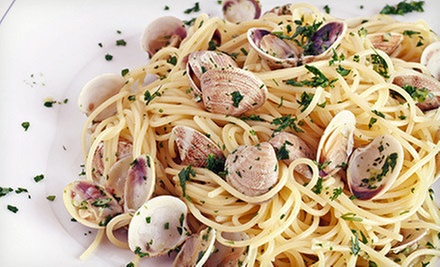 ---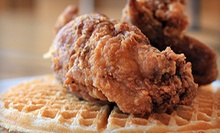 Chef brings her grandmother's original soul-food recipes to life with her take on Southern classics, including veggie and vegan options
---
Recommended Restaurants by Groupon Customers
---
Chef Laurent Guillaume, who has helped open hotels and restaurants in Paris, brings years of culinary expertise to Chouquet's menu and adorns time-tested continental fare with surprising New World elements. Attentive servers emerge from the kitchen carrying escargot and niçoise salads, cruising past sleek stools at a bar accented by swirls of natural wood grain and designed by Dominique Maxime Genauzeau. On the patio, diners soak up the sun or choose least-favorite clouds for a sky writer to edit out. The dining room's sand-hued walls and burnt-orange accents resound with the sounds of glasses clinking together, bearing more than 70 wines from Europe, South America, and the Pacific Northwest and a rotating selection of draft beers from France and the United States.
2500 Washington Street
San Francisco
California
415-359-0075
Turkish chef Coskun Bektas draws from his Turkish childhood in Turkey and his experience in working in Turkish and Mediterranean kitchens to craft a Turkish menu of freshly made fare using natural ingredients inspired by Turkey. Also, the cuisine is Turkish. Cold appetizers include hummus ($6) and grape leaves stuffed with rice, currants, pine nuts, and herbs ($7), with hot appetizers such as crispy falafels ($6) and crab cakes ($9) for those wishing to test out the novelty mouth fridge acquired in a white-elephant swap. Tuba brings the classic adage "Everything's bigger in Turkey" to life with its generous entree portions. Valiantly attempt to polish off the moussaka ($13), served with rice, or the hearty grilled lamb chops ($22), served with rice and sautéed vegetables. Diners have applauded Tuba's mixed-grill kebab combo ($24), with its myriad of Mediterranean meats, also available in their own kebab platters ($14–$17), all served with rice and sautéed vegetables. End your eats with Tuba's signature dessert, the kunefe ($7), two layers of shredded phyllo dough packed with sweet cheese, baked, and served with syrup and pistachio nuts.
1007 Guerrero Street
San Francisco
California
415-826-8822
Dip into an order of creamy hummus ($4) or refreshing tabouleh ($4), or try a lentil salad with cumin, green onion, and browned shallot tossed in lemon vinaigrette ($4). Safeeha, the Middle Eastern take on pizza, is available in three varieties ($5–$7). Vegetarians can feed on falafel smothered in pesto and blanketed with eggplant, roasted red bell pepper, green and red onions, shitake mushrooms, tomato, and a feta and goat-cheese blend. Mint-marinated lamb kebabs ($9 at lunch, $13 at dinner) appease the carnivorous end of the mealtime spectrum. The lunch and dinner menus are capped off with specialties and phyllo-dough dishes ($9 each for lunch, $13 for dinner). For brunch, diners can look forward to omelettes, phyllo dishes, and bean-based plates ($6.25–$7), as well as the joy of eating during the mysterious mealtime that simultaneously exists in two culinary dimensions.
1775 Fulton Street
San Francisco
California
415-567-4400
The anticipation of finding out what executive chef Eric Lanvert chose to include on today's menu is part of the charm of dining at Rue Saint Jacques, where dishes are crafted from organic and sustainably farmed ingredients whenever possible. Lanvert draws inspiration from his childhood in southern France's Roussillon region and relies on ingredients from local producers, area farmers' markets, and gourmet food fights. The San Francisco Bay Guardian remarked in 2009 that despite their Californian origins, "the dishes rely on a timeless appeal and are very much the ones you'd find in countless neighborhood bistros in Paris."
The intimately sized dining room strikes a balance between refinement and rustic allure, featuring plaster-textured walls and exposed ceiling beams that tower over crisp white tablecloths.
1098 Jackson St.
San Francisco
California
415-776-2002
Hot Spud's chef and owner Simone Powers combines the convenience of fast food with the taste of gourmet cuisine, stuffing piping-hot potatoes to the skin with fresh and organic fillings. Baked to perfection in an imported King Edward convection oven, each 12-ounce potato attains a fluffy interior and evenly browned exterior reminiscent of the Doughboy after spring break. Dungeness crab and lemon beurre blanc sauce tower atop the Wharf—the restaurant's signature spud—while other creations include toppings and sauces such as grilled shrimp, chipotle tartar and alfredo. Powers creates salads and soups with local and organic products when possible, and incorporates Idaho's state flower, the sweet potato, into desserts. Customers lounge in a sleek, modern dining area with tall picture windows and an interior wall covered in bright, multicolored panels.
2640 Mason Street
San Francisco
California
415-399-1065
Melody Lounge's meals start with fresh ingredients and daily-baked bread. The menu at the Mission Street café stretches like a bungee cord attached to a falling anvil—from American breakfasts and European coffee to Mediterranean standbys such as the chef's specialties, curry melody, tri-cheeses sandwich, and melody french toast.
3401 Mission Street
San Francisco
California
415-425-5022
---