Restaurants in Alameda
---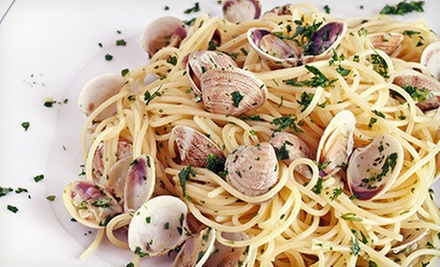 ---
Recommended Restaurants by Groupon Customers
---
Today's Groupon delivers a game-changing, pointier perspective on fast food. For $10, you get $22 worth of skewered chow and more at Asqew Grill. Asqew chefs skewer the basilisk of hunger with creative dishes that stimulate and satisfy anyone's appetite at temperatures piping-hot, at speeds piping-fast, and with attitudes piping-pleasant.Follow @Groupon_Says on Twitter.
800 Redwood Highway Frntg Rd
Strawberry
California
US
Taste the face-melting guitar solos a single sushi on Ace's menu can pull off with one grain of rice tied behind its back. Octopus nigiri ($3.50), scallop sashimi ($8.50), and chicken teriykai skewers ($7.80) crescendo appetites into the main course. Try Ace's signature mango lobster specialty roll with cilantro, spicy mayo, and macadamia nuts ($9). Creative rolls such as the Scorpion (crunchy rock shrimp, scallop, and caramelized pecans wrapped with mango and avocado, $11.50) and the Ozzy (tempura shrimp wrapped with crab, avocado, jalapenos, tobiko, and spicy mayo, $12.50) along with more traditional tastes such as a California roll ($5.25) and dragon roll ($13.50) satisfy any sushi ace.
3339 Steiner St.
San Francisco
California
Fattoush hosts a sunny environment with a dining room reminiscent of an indoor Middle-Eastern marketplace and a lush patio area accented by flowers and tree branches. Start with one of Fattoush's appetizers, like the shawarma, thinly sliced seasoned lamb or chicken garnished with hummus ($10). Entrees include tabsi, which layers seasoned lamb and beef under an eggplant, onion, pepper, tomato, and garlic sauce with mild curry, dry lime, and rice ($18), and fresh mashwi, which skewers lemon cumin-marinated prawns and Alaskan halibut in the company of grilled veggies and rice ($21). Vegetarian diners can try the m'shkaleh, with layers of mushrooms, grilled eggplant, cauliflower, tomatoes, and rice served with a tomato yogurt sauce ($15).
1361 Church St.
San Francisco
California
Split Pea's chefs choose the freshest produce from small farms every day to create eclectic plates such as chicken and rice with avocado soup (12 oz. for $4.75). Try a roasted cauliflower crostata (an open-faced sweet or savory pastry baked golden-brown) with shaved fennel and parmesan ($6.99). Salads such as a baby spinach bowl (with roasted yams, peanuts, and fresh mozzarella in a rice-wine vinaigrette, $5.99 for a small) or mixed greens with blood oranges, roasted almonds, and blue cheese in a tarragon and fennel vinaigrette ($5.99 for a small) satisfy any fresh-leaf craving and some forms of coryza. Split Pea's sandwich creations include roasted natural chicken with red slaw, aioli, and pickled cukes on a house bun ($5.99). Plus, everything can be custom combined; get a 12-ounce soup and half a crostata for $8.50 or sandwich and 16-ounce soup for $11.50.
138 6th St.
San Francisco
California
For those who generally wake up past the afternoon rooster's song, evening mealtime is the most exciting mealtime of the day. Sally's After Dark caters to supper cravings with a small but comfortable dining area graced by the familiar aromas of classic and elegant American comfort chow. Dinnertime happiness comes in all forms, including a penne pesto pasta with cauliflower, green beans, and toasted pine nuts ($13); spicy seafood jambalaya uniting prawns, calamari, and petrale sole in a spicy tomato-broth bath ($16); and a country pork chop grilled under a ground mustard shallot sauce ($15). Those who like a politely packaged meal are encouraged to build their own prix fixe with a soup or starter, an entree, and a dessert for $24.
300 De Haro St., #332
San Francisco
California
Big Jim's BBQ entrances diners with a menu of tempting contemporary and barbecue cuisine arranged by chef Jim Modesitt. Like the annual westward migration of wood-smoking grills, the sauce-slathered bill of fare unites gourmet California treats with rustic southern cooking traditions, pairing juicy pulled pork, chicken, ribs, and brisket with hearty risottos, traditional cornbreads and beans, assorted cheeses, and crostinis. As clients sup on the tasty bounty or enroll in courses to learn the dark arts of cookcraft from the kitchen's professional chefs and caterers, rich flavors and aromas lavish the nose and palate with a sensory celebration of fine food.
620 W Francisco Blvd.
San Rafael
California
---